United States Categories
Justice News
Posted by Joan Russow
Friday, 27 March 2020 06:07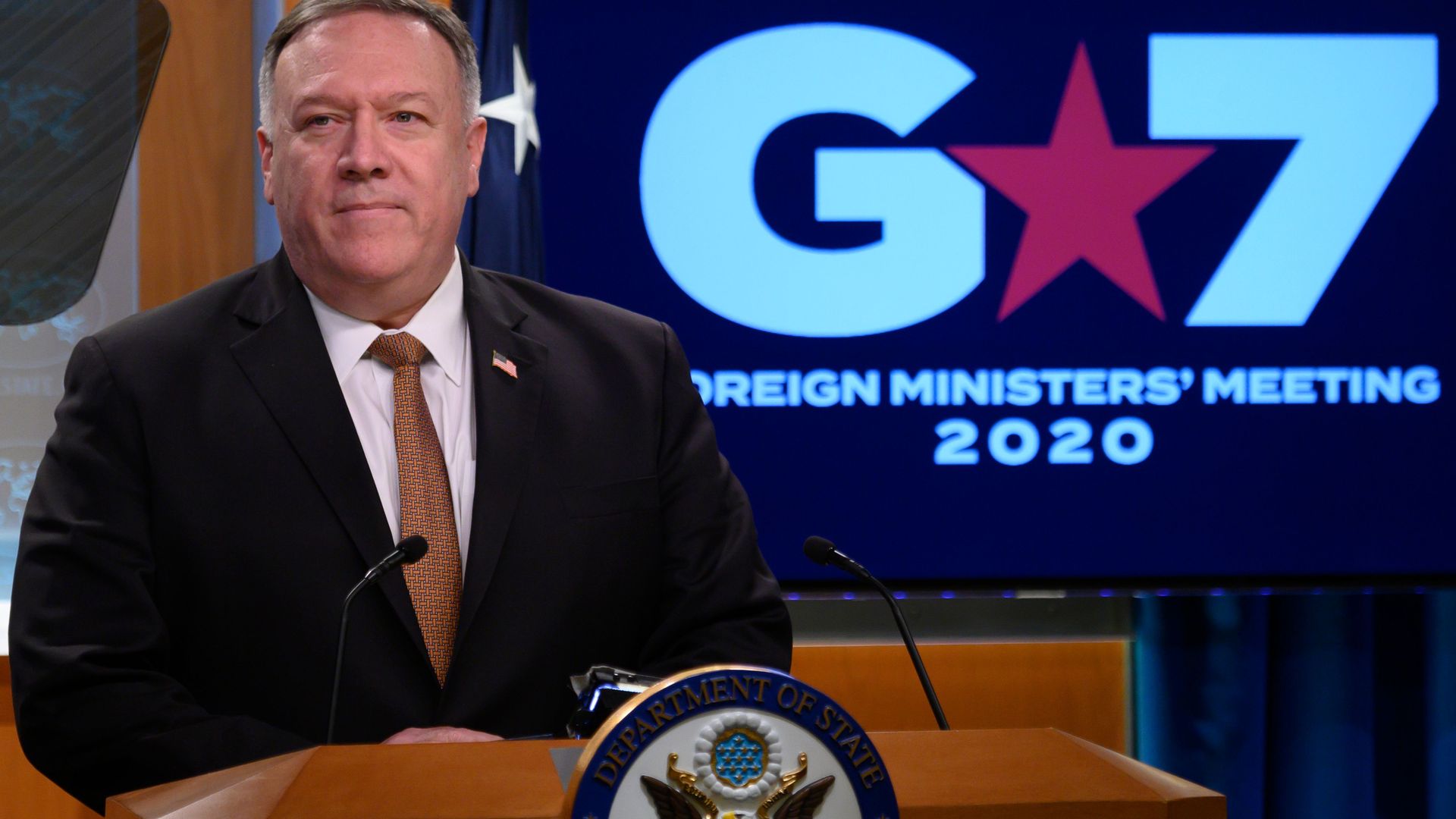 Pompeo briefs reporters Wednesday. Photo: Andrew Caballero-Reynolds/AFP via Getty Images
Foreign ministers of the G7 countries failed to agree to a joint statement following a video conference Wednesday in part because the Trump administration insisted the statement refer to COVID-19 as the "Wuhan virus," Der Spiegel first reported and multiple U.S. outlets have confirmed.
Why it matters: The world's two most powerful countries are in a battle of narratives over the pandemic, with some in Beijing spreading disinformation about its origins and U.S. officials like Secretary of State Mike Pompeo increasingly blaming the Chinese government.
The phrase "Wuhan virus" has not been adopted by other countries, and G7 members considered it needlessly antagonistic.

The countries ultimately agreed on a common set of principles and actions to confront the coronavirus, and each released their own statements after the video conference.
Justice News
Posted by Joan Russow
Tuesday, 11 February 2020 12:20
The mega-billionaire should be running against Trump in the Republican primaries, not as a Democrat. If he actually cared about this country more than stroking his massive ego that is exactly what he would be doing.
by Robert McChesney, Common Dreams 
For anyone who is not a billionaire, it is almost impossible to grasp just how much money this is for a single human being. It would be like calculating the distance of our planet to a distant galaxy in centimeters. Bloomberg could spend $100 million every single day on his presidential campaign between now and election day in November—basically more than any candidate except Bloomberg and fellow billionaire Tom Steyer have spent so far in the entire 2019-20 election cycle—and he would still have a net worth greater than $30 billion. He would remain one of the 30 richest people in the world.
Read more...
Justice News
Posted by Joan Russow
Sunday, 26 January 2020 09:19
10 Commandments of the Christian Right Industrial Military Establishment (CRIME)
Last Updated on Sunday, 26 January 2020 10:33
Read more...
Justice News
Posted by Joan Russow
Sunday, 26 January 2020 09:09
10 Commandments of the Christian Right Industrial Military Establishment
(CRIME)
1. Thou shalt covet thy neighbour's resources
2. Thou shalt foresake social programs to reduce national debt; thou shalt not tax the rich
3. Thou shalt condemn public education and universal health care
4. Thou shalt rejoice in nationalism, military expansion and intervention
5. Thou shalt venerate the gun and the right to bear arms, especially concealed and assault weapons
6. Thou shalt couch anti-reproductive choice as "right to life"
7. Thou shalt not honour the rights of indigenous peoples
8. Thou shalt clothe intolerance in the cloak of "freedom of expression"
9. Thou shalt not allow environmental protection, equity or human rights to be a barrier to free trade and to private property privilege; thou shalt not impede industrial progress and nuclear expansion
10. Thou shalt punish for crime rather than prevent crime through social programs
Justice News
Posted by Joan Russow
Tuesday, 06 August 2019 06:48
omgram: Aviva Chomsky, How the Green New Deal Is Changing America
Posted by Aviva Chomsky at 7:23am, August 6, 2019.
Honestly, is the phrase "climate-change denier" appropriate for Jair Bolsonaro, the Trumpian president of Brazil, who has denied that climate change is anything to worry about. But far more important, in office, he has opened the planet's "lungs," the Amazon rainforest, to exploitation and devastation. He's a man who is essentially giving lung cancer to his country's former carbon sink. Under his reign, according to the New York Times, the Brazilian Amazon has already lost 1,330 square miles of forest cover. That, of course, is a planetary, not just a Brazilian, catastrophe and the man working so hard to make it so will, as a result, be partially responsible for the future warming of the planet. In other words, he's not a climate denier but an aider and abettor of the phenomenon.
That, at least, is the phrase I've started using for these guys. Maybe "climate change criminals" would be more appropriate. Yes, Donald Trump has "denied" climate change, calling it a "Chinese hoax," tweet-mocking global warming whenever it snows, and so on. Far more important, though, he and his cronies are working hard in just about every way imaginable to increase U.S. carbon emissions (which are, as of 2018, again on the rise). So TomDispatch regular Aviva Chomsky arrives just in the nick of time with a vivid description of how so many of the rest of us, particularly labor and environmental groups, are trying to get ourselves together on a planet where a number of our leaders are increasingly intent on taking us all down. Tom
Jobs, the Environment, and a Planet in Crisis 
Unions vs. Environmentalists or Unions and Environmentalists? 
By Aviva Chomsky
When it comes to heat, extreme weather, wildfires, and melting glaciers, the planet is now in what the media increasingly refers to as "record" territory, as climate change's momentum outpaces predictions. In such a situation, in a country whose president and administration seem hell-bent on doing everything they conceivably can to make matters worse, the Green New Deal (GND) seems to offer at least a modest opening to a path forward.
You know, the resolution introduced this February in the House of Representatives by Alexandria Ocasio-Cortez (D-NY) and Edward Markey (D-MA). Unsurprisingly, the proposal has been roundly attacked by the right. But it's stirred up some controversy on the left as well. You might imagine that labor unions and environmental organizations would be wholeheartedly for a massive federal investment in good jobs and a just transition away from fossil fuels. But does organized labor actually support or oppose the Green New Deal? What about environmental organizations? If you're not even sure how to answer such questions, you're not alone.
Last Updated on Thursday, 15 August 2019 22:39
Read more...
<< Start < Prev 1

2

3 4 5 6 7 8 9 10 Next > End >>


Page 2 of 231