Canadain Categories
Justice News
Posted by Joan Russow
Friday, 01 June 2018 13:27
By Joan Russow
Global Compliance Research Project
By Joan Russow PhD
Global Compliance Research Project
The Trudeau, Inc. expansion would contribute to the undermining of Canada's commitment  to implement the SDGs and of its obligations under the United Nations Framework Convention on Climate Change
In SDG13 on climate change, addressing climate change is described as urgent; climate change could also preclude the fulfillment of most of the SDGs 
In 1988, at the Changing Atmosphere Conference in Toronto, the participants including representatives from government, academia, NGO and industry expressed their concern about Climate Change in the Conference statement:
"Humanity is conducting an unintended, uncontrolled, globally pervasive experiment whose ultimate consequence could be second only to a global nuclear war. the Earth's atmosphere is being changed at an unprecedented rate by pollutants resulting from human activities, inefficient and wasteful fossil fuel use ... These changes represent a major threat to international security and are already having harmful consequences over many parts of the globe.... it is imperative to act now.
Last Updated on Wednesday, 06 June 2018 08:39
Read more...
Justice News
Posted by Joan Russow
Tuesday, 17 April 2018 16:49
First Nations facing down a pipelineJustin Trudeau is bailing out a Texas oil billionaire. He should be bailing out Canada's workers and the climate.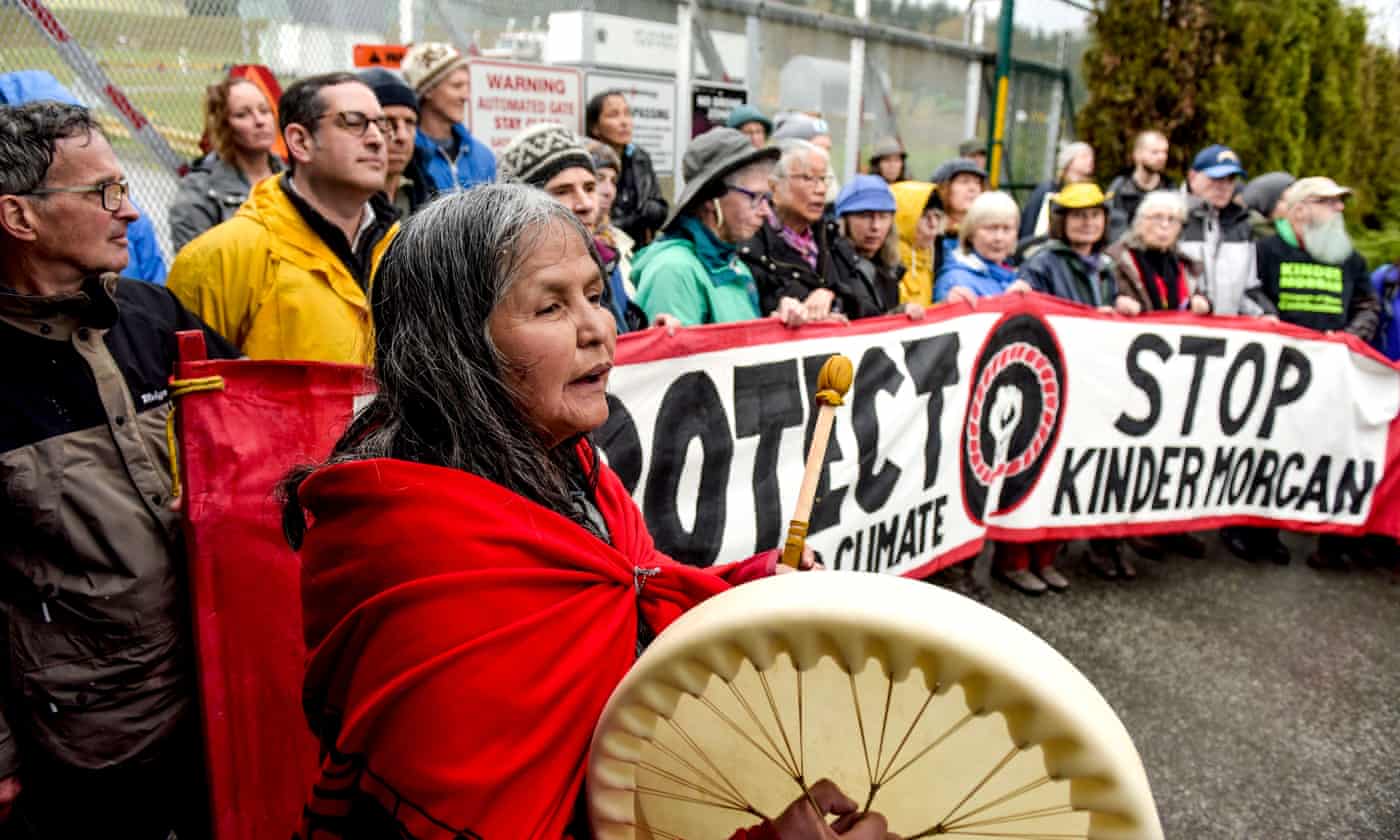 Last Saturday, Indigenous leaders stood arm-in-arm in front of the gates of Kinder Morgan's pipeline worksite in Burnaby, British Columbia.
For weeks before, hundreds of non-native people – environmentalists, federal parliamentarians Elizabeth May and Kennedy Stewart, even an engineer formerly employed by the Texas oil corporation – had marched to the same place. In each case, police approached, read aloud their violation of a no-go zone, and arrested and shackled them.
Last Updated on Tuesday, 17 April 2018 17:08
Read more...
Justice News
Posted by Dragonslayer
Sunday, 15 April 2018 18:56
FYI - From Wikipedia on the definition of National Interest. It appears to be more of a political term than a legal one. When Trudeau uses the term to justify a pipeline it may be useful to us to see what it means.
Quote from Wikipedia...
"As considerable disagreement exists in every country over what is or is not in "the national interest," the term is as often invoked to justify isolationist and pacifistic policies as to justify interventionist or warlike policies. It has been posited that the term is a euphemism used by powerful countries for geopolitical aims such as nonrenewable natural resources for energy independency, territorial expansionism and precious metals in smaller countries.[4] In that case, euphemism usage is necessary to stifle voices opposed to an interventionistic or warhawk foreign policy.[5]"
Last Updated on Sunday, 15 April 2018 19:10
Justice News
Posted by Joan Russow
Friday, 09 February 2018 09:35
By James Wilt • Saturday, January 20, 2018 - 08:25
https://www.desmog.ca/2018/01/20/fort-mckay-first-nation-fights-last-refuge-amidst-oilsands-development
First elected to lead Fort McKay First Nation in northeast Alberta more than three decades ago, Boucher has made a name for his cooperative relationship with industry, which includes launching a sizable oilsands service conglomerate, denouncing environmentalists and purchasing a 34 per cent stake in a $1 billion Suncor bitumen storage terminal.
But now, a proposed 10,000 barrel per day oilsands project is threatening to infringe on a nearby sacred region called Moose Lake that serves as the First Nation's "key cultural heartland" and is shared with the local Métis community for traditional activities. And Boucher is speaking out against the project — specifically targeting the provincial NDP for failing to finalize a management plan that would restrict development in the area prior to the regulatory hearings.
"This government does not want to do an agreement with Fort McKay," said Boucher in an interview with DeSmog Canada, during a break in the Alberta Energy Regulator hearings. "We've had discussions with them. As a result of these discussions, we have gone nowhere in terms of trying to resolve our issues with respect to the integrity of Moose Lake."
A spokesperson for Alberta's environment and parks department didn't provide a response before deadline.
Last Updated on Friday, 09 February 2018 09:41
Read more...
Earth News
Posted by Joan Russow
Saturday, 03 February 2018 16:23
2:38 PM Georgia Strait
Martyn Brown: Justin Trudeau declares war on British Columbia"
Alberta premier Rachel Notley and Prime Minister Justin Trudeau's alliance on pipelines could cause federal Liberal fortunes to crash in B.C.
"That pipeline is going to get built," Justin Trudeau on Edmonton's CHED radio.
"We will stand by our decision. We will ensure that the Kinder Morgan pipeline gets built."
With that, Canada's prime minister has declared war on British Columbia's efforts to stop that widely unwanted project, which our provincial government has taken new actions to frustrate, further to its other announced and ongoing efforts.
Last Updated on Wednesday, 07 February 2018 21:11
Read more...
<< Start < Prev 1 2 3 4 5 6 7

8

9 10 Next > End >>


Page 8 of 211