United States Justice Articles
Justice News
Posted by Joan Russow
Friday, 20 March 2015 08:11
Mark Weisbrot
US News & World Report, March 18, 2015
View article at original source.
Since the Obama administration decided last week to impose new sanctions on Venezuela, many people, including journalists, have inquired as to what motivated them to do this. Some are curious as to the apparent incongruity between this move and the White House decision in December to begin the process of normalizing relations with Cuba. Others are wondering why the administration would do something that so obviously hurts the opposition in Venezuela, at least in the short run. The main opposition group, the Democratic Unity Roundtable (MUD), issued a statement that did not support the sanctions: "Venezuela is not a threat to anyone," it said in response to the White House's absurd claim that Venezuela posed an "extraordinary threat" to U.S. national security. And then there is the problem of Washington's isolation in the hemisphere, which has certainly increased with this latest move.
The contradiction between the Venezuela sanctions and the opening to Cuba is probably more apparent than real. A majority of the U.S. foreign policy establishment has wanted to normalize relations with Cuba since at least the 1990s. There is money to be made there, and most of those interested in getting rid of the Cuban government seem to believe – correctly or not – that it will be easier to do so if the island is opened up to commercial relations with the U.S. So beginning to normalize relations with Cuba is generally consistent with the broader strategy of opposition to Venezuela and other left governments that have been elected and re-elected since 1998.
Read more...
Justice News
Posted by Joan Russow
Friday, 20 February 2015 06:57
By Ralph Nader
19 February, 2015
Nader.org
The Right Honourable Stephen Harper, P.C., M.P.
80 Wellington Street
Ottawa, ON K1A 0A2
Dear Prime Minister:
Many Americans love Canada and the specific benefits that have come to our country from our northern neighbor's many achievements (see Canada Firsts by Nader, Conacher and Milleron). Unfortunately, your latest proposed legislation—the new anti-terrorism act—is being described by leading Canadian civil liberties scholars as hazardous to Canadian democracy.
A central criticism was ably summarized in a February 2015 Globe and Mail editorial titled "Parliament Must Reject Harper's Secret Policeman Bill," to wit:
"Prime Minister Stephen Harper never tires of telling Canadians that we are at war with the Islamic State. Under the cloud of fear produced by his repeated hyperbole about the scope and nature of the threat, he now wants to turn our domestic spy agency into something that looks disturbingly like a secret police force.
Canadians should not be willing to accept such an obvious threat to their basic liberties. Our existing laws and our society are strong enough to stand up to the threat of terrorism without compromising our values."
Read more...
Justice News
Posted by Joan Russow
Friday, 23 January 2015 05:37
UNITED NATIONS, Jan 23 2015 (IPS) - When the East African nation of Somalia, once described as a "lawless state", ratified the Convention on the Rights of the Child (CRC) early this week, it left two countries in splendid isolation from the rest of the world: South Sudan and the United States.
South Sudan?
Last Updated on Friday, 23 January 2015 06:59
Read more...
Justice News
Posted by Joan Russow
Monday, 19 January 2015 06:47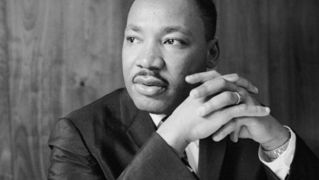 On  Democracynow.org   on  Martin Luther King day  is a phenomenal recording from 1964 just before he received the Nobel Peace award
Last Updated on Tuesday, 20 January 2015 09:09
Read more...
Justice News
Posted by Joan Russow
Monday, 05 January 2015 19:04
By Inquisitor January 4, 2015 http://www.inquisitr.com/1727066/gmo-lawsuit-iowa-farmers-are-suing-syngenta/ Iowa farmers are suing biotech giant Syngenta over GMO contamination which prompted China to cancel corn orders and refuse shipments. Genetically modified (GMO) corn was rejected by China last year because Beijing officials considered the genetically engineered crop strain "contaminated
Last Updated on Monday, 05 January 2015 19:17
Read more...
Justice News
Posted by Joan Russow
Tuesday, 23 December 2014 11:16
http://www.tomdispatch.com/post/175938/tomgram%3A_rebecca_solnit%2C_challenging_the_divine_right_of_big_energy
In that little junk shop on a quiet street in San Francisco, I held a relic from one of the great upheavals of the last millennium. It made me think of a remarkable statement the great feminist fantasy writer Ursula K. Le Guin had made only a few weeks earlier. In the course of a speech she gave while accepting a book award she noted, "We live in capitalism. Its power seems inescapable. So did the divine right of kings. Any human power can be resisted and changed by human beings."
Last Updated on Tuesday, 30 December 2014 17:50
Read more...
Justice News
Posted by Joan Russow
Sunday, 14 December 2014 18:00

By Rebecca Gordon http://www.tomdispatch.com/post/175934/tomgram%3A_rebecca_gordon%2C_the_torture_wars/#more
It's the political story of the week in Washington. At long last, after the endless stalling and foot-shuffling, the arguments about redaction and CIA computer hacking, the claims that its release might stoke others out there in the Muslim world to violence and "throw the C.I.A. to the wolves," the report -- you know which one -- is out.  Or at least, the redacted executive summary of it is available to be read and, as Senator Mark Udall said before its release, "When this report is declassified, people will abhor what they read. They're gonna be disgusted. They're gonna be appalled. They're gonna be shocked at what we did."
So now we can finally consider the partial release of the long-awaited report from the Senate Select Committee on Intelligence about the gruesome CIA interrogation methods used during the Bush administration's "Global War on Terror." But here's one important thing to keep in mind: this report addresses only the past practices of a single agency. Its narrow focus encourages us to believe that, whatever the CIA may have once done, that whole sorry torture chapter is now behind us.
Read more...
Justice News
Posted by Joan Russow
Sunday, 16 November 2014 18:22
http://www.tomdispatch.com/post/175923/tomgram%3A_laura_gottesdiener%2C_a_tale_of_two_cities%2C_post-bankruptcy/#more
In late October, a few days after local news cameras swarmed Detroit's courthouse to hear closing arguments in the city's historic bankruptcy trial, "Commander" Dale Brown cruised through the stately Detroit neighborhood of Palmer Woods in a Hummer emblazoned with the silver, interlocking-crescent-moon logo of his private security company.
Last Updated on Sunday, 16 November 2014 18:29
Read more...
<< Start < Prev 1 2 3 4 5 6 7

8

9 10 Next > End >>