United States Justice Articles
Justice News
Posted by Joan Russow
Friday, 27 March 2020 06:07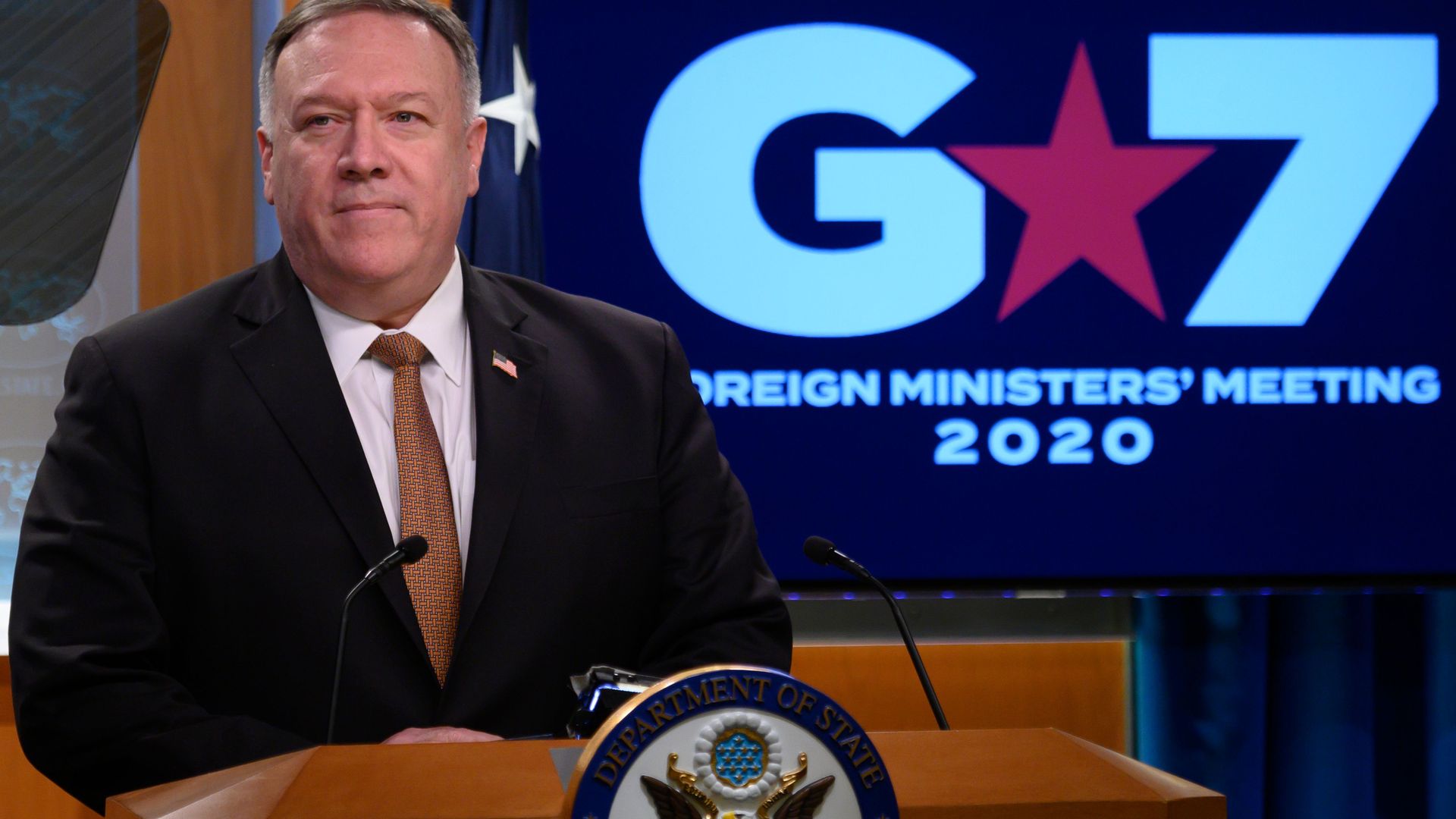 Pompeo briefs reporters Wednesday. Photo: Andrew Caballero-Reynolds/AFP via Getty Images
Foreign ministers of the G7 countries failed to agree to a joint statement following a video conference Wednesday in part because the Trump administration insisted the statement refer to COVID-19 as the "Wuhan virus," Der Spiegel first reported and multiple U.S. outlets have confirmed.
Why it matters: The world's two most powerful countries are in a battle of narratives over the pandemic, with some in Beijing spreading disinformation about its origins and U.S. officials like Secretary of State Mike Pompeo increasingly blaming the Chinese government.
The phrase "Wuhan virus" has not been adopted by other countries, and G7 members considered it needlessly antagonistic.

The countries ultimately agreed on a common set of principles and actions to confront the coronavirus, and each released their own statements after the video conference.
Justice News
Posted by Joan Russow
Tuesday, 11 February 2020 12:20
The mega-billionaire should be running against Trump in the Republican primaries, not as a Democrat. If he actually cared about this country more than stroking his massive ego that is exactly what he would be doing.
by Robert McChesney, Common Dreams 
For anyone who is not a billionaire, it is almost impossible to grasp just how much money this is for a single human being. It would be like calculating the distance of our planet to a distant galaxy in centimeters. Bloomberg could spend $100 million every single day on his presidential campaign between now and election day in November—basically more than any candidate except Bloomberg and fellow billionaire Tom Steyer have spent so far in the entire 2019-20 election cycle—and he would still have a net worth greater than $30 billion. He would remain one of the 30 richest people in the world.
Read more...
Justice News
Posted by Joan Russow
Sunday, 26 January 2020 09:19
10 Commandments of the Christian Right Industrial Military Establishment (CRIME)
Last Updated on Sunday, 26 January 2020 10:33
Read more...
Justice News
Posted by Joan Russow
Sunday, 26 January 2020 09:09
10 Commandments of the Christian Right Industrial Military Establishment
(CRIME)
1. Thou shalt covet thy neighbour's resources
2. Thou shalt foresake social programs to reduce national debt; thou shalt not tax the rich
3. Thou shalt condemn public education and universal health care
4. Thou shalt rejoice in nationalism, military expansion and intervention
5. Thou shalt venerate the gun and the right to bear arms, especially concealed and assault weapons
6. Thou shalt couch anti-reproductive choice as "right to life"
7. Thou shalt not honour the rights of indigenous peoples
8. Thou shalt clothe intolerance in the cloak of "freedom of expression"
9. Thou shalt not allow environmental protection, equity or human rights to be a barrier to free trade and to private property privilege; thou shalt not impede industrial progress and nuclear expansion
10. Thou shalt punish for crime rather than prevent crime through social programs
Justice News
Posted by Joan Russow
Tuesday, 06 August 2019 06:48
omgram: Aviva Chomsky, How the Green New Deal Is Changing America
Posted by Aviva Chomsky at 7:23am, August 6, 2019.
Honestly, is the phrase "climate-change denier" appropriate for Jair Bolsonaro, the Trumpian president of Brazil, who has denied that climate change is anything to worry about. But far more important, in office, he has opened the planet's "lungs," the Amazon rainforest, to exploitation and devastation. He's a man who is essentially giving lung cancer to his country's former carbon sink. Under his reign, according to the New York Times, the Brazilian Amazon has already lost 1,330 square miles of forest cover. That, of course, is a planetary, not just a Brazilian, catastrophe and the man working so hard to make it so will, as a result, be partially responsible for the future warming of the planet. In other words, he's not a climate denier but an aider and abettor of the phenomenon.
That, at least, is the phrase I've started using for these guys. Maybe "climate change criminals" would be more appropriate. Yes, Donald Trump has "denied" climate change, calling it a "Chinese hoax," tweet-mocking global warming whenever it snows, and so on. Far more important, though, he and his cronies are working hard in just about every way imaginable to increase U.S. carbon emissions (which are, as of 2018, again on the rise). So TomDispatch regular Aviva Chomsky arrives just in the nick of time with a vivid description of how so many of the rest of us, particularly labor and environmental groups, are trying to get ourselves together on a planet where a number of our leaders are increasingly intent on taking us all down. Tom
Jobs, the Environment, and a Planet in Crisis 
Unions vs. Environmentalists or Unions and Environmentalists? 
By Aviva Chomsky
When it comes to heat, extreme weather, wildfires, and melting glaciers, the planet is now in what the media increasingly refers to as "record" territory, as climate change's momentum outpaces predictions. In such a situation, in a country whose president and administration seem hell-bent on doing everything they conceivably can to make matters worse, the Green New Deal (GND) seems to offer at least a modest opening to a path forward.
You know, the resolution introduced this February in the House of Representatives by Alexandria Ocasio-Cortez (D-NY) and Edward Markey (D-MA). Unsurprisingly, the proposal has been roundly attacked by the right. But it's stirred up some controversy on the left as well. You might imagine that labor unions and environmental organizations would be wholeheartedly for a massive federal investment in good jobs and a just transition away from fossil fuels. But does organized labor actually support or oppose the Green New Deal? What about environmental organizations? If you're not even sure how to answer such questions, you're not alone.
Last Updated on Thursday, 15 August 2019 22:39
Read more...
Justice News
Posted by Joan Russow
Tuesday, 23 July 2019 10:07
Tom Dispatch https://mail.google.com/mail/u/0/#inbox/WhctKJVRQMhMCccVGRgzjtbVwlhDdncrhCDjPrJlXWrfxDXXLTcNxxGTpcCpxRDSTLKZvvv[

Editorial note: This remnant of a manuscript, discovered in a vault near the coastal town of Walpole, Massachusetts, appears to have been part of a larger project, probably envisioned as an interpretive history of the United States since the year 2000. Only a single chapter, probably written near the midpoint of the twenty-first century, has survived. Whether the remainder of the manuscript has been lost or the author abandoned it before its completion is unknown.] 

 

 

From our present vantage point, it seems clear that, by 2019, the United States had passed a point of no return. In retrospect, this was the moment when indications of things gone fundamentally awry should have become unmistakable. Although at the time much remained hidden in shadows, the historic pivot now commonly referred to as the Great Reckoning had commenced.

READ MORE

 https://mail.google.com/mail/u/0/#inbox/WhctKJVRQMhMCccVGRgzjtbVwlhDdncrhCDjPrJlXWrfxDXXLTcNxxGTpcCpxRDSTLKZvvv[

 

 

 

 
Last Updated on Wednesday, 24 July 2019 09:41
Justice News
Posted by Joan Russow
Wednesday, 15 May 2019 07:18
Originally Published on Tuesday, May 14, 2019 by Common Dreams
The Al Marzoqah oil tanker on Monday, a day after it was attacked outside the Fujairah port in the United Arab Emirates. (Photo: EPA-EFE)
Is the Trump administration attempting to concoct a false pretext to justify launching a war against Iran?
Gareth Porter without citing any concrete evidence blamed Iran for reported attacks on Saudi and UAE oil tankers in the Strait of Hormuz over the weekend.
Commentators quickly likened the accusations to the Gulf of Tonkin incident, referring to the "fabricated" event that President Lyndon Johnson used to massively escalate America's war in Vietnam.
Last Updated on Tuesday, 21 May 2019 10:40
Justice News
Posted by Joan Russow
Monday, 08 April 2019 12:02
1994 Resolution passed by the IUCN General Assembly meeting at Buenos Aires, Tuesday, January 25, 
The IUCN (World Conservation Union) an organization representing 125 countries
passed a resolution  calling for a change in forest practices and forest preservation policies in B.C.
The voting body of the IUCN is divided into two houses: one house with government representatives, and the other with non-governmental representatives. 
At the 1994 meeting of the IUCN (World Conservation Union) the following resolution  was passed:
by 124 countries with only one country abstaining: Canada. 
19.72 REV2 North American Coastal Temperate Forests 
(retyped with January 25 Amendments from the floor)
RECOGNISING that temperate coniferous forests, and especially rain forests, constitute a very rare type of ecosystem in the world, originally covering less than one-fifth of one percent of the earth's land surface, and that one half of the earth's original forest of this type occurs along the pacific Coast of North America from northwestern California to southeastern Alaska;
UNDERSTANDING  that many endemic and unusual plants and animals occur only in these forests; and that in biomass productivity, the old growth forests (ancient forests) of this biome are unequaled anywhere; 
AWARE that more than one half of the Earth's original coastal coniferous forests (ancient forests) have been logged, including more than 40 % of the ancient forests of this type on North America, and that few large unfragmented examples of this type of forest, other than in protected areas, exist outside of British Columbia and Alaska; 
MINDFUL  of the fact that such ancient forests on Vancouver Island and on the mid-coast of British Columbia are disappearing at a rapid rate as a result of practices that have, to date, not been ecologically sustainable; 
ALSO MINDFUL that past management practices have been controversial, while the US government has enacted legislation to ensure sustainable management of all forests, questions continue to arise; 
UNDERSTANDING  that the Raincoast Conservation Society, the Sierra Club, and the Western Canada Wilderness Committee have proposed a large network of protected areas, including conservation corridors, in areas of such ancient forests on Vancouver Island and the midcoast of British Columbia; 
AWARE  of the fact that none of the protected areas that Canada maintains in forest areas along the Pacific Coast have been designated as World Heritage sites under the provisions of the World Heritage Convention[s] and that these ancient forests may be of outstanding universal value; 
The General Assembly of IUCN — the World Conservation Union, at its 19th Session in Buenos Aires, Argentina, 17-26 January 1994:
Read more...
Justice News
Posted by Joan Russow
Sunday, 07 April 2019 15:39
http://www.tomdispatch.com/post/176548/tomgram%3A_andrew_bacevich%2C_behind_fronds_of_fakery%2C_here%27s_some_real_news/#moreIrony, paradox, contradiction, consternation -- these define the times in which we live. On the one hand, the 45th president of the United States is a shameless liar. On the other hand, his presidency offers an open invitation to Americans to confront myths about the way their country actually works. Donald Trump is a bullshit artist of the first order. Yet all art reflects the time in which it's produced and Trump's art is no exception. Within all the excrement lie nuggets of truth.

 

Well before Trump rode the down escalator to the center of American politics, there were indicators aplenty that things had gone fundamentally awry. Yet only with the presidential election of 2016 did the chickens come home to roost. And with their arrival, it became apparent that more than a few propositions hitherto accepted as true are anything but.

Let me offer seven illustrative examples of myths that the Trump presidency has once-and-for-all demolished.
Read more...
Justice News
Posted by Joan Russow
Wednesday, 27 February 2019 23:57
"This behavior denigrates the office of the president, and it's simply un-American."
By Dylan Scott@ This e-mail address is being protected from spambots. You need JavaScript enabled to view it   Feb 27, 2019, 5:35pm EST
Michael Cohen leaves after testifying before the House Oversight and Reform Committee on February 27, 2019. Andrew Caballero-Reynold/AFP/Getty Images
Michael Cohen leaves after testifying before the House Oversight and Reform Committee on February 27, 2019. Andrew Caballero-Reynold/AFP/Getty Images
Michael Cohen closed his remarkable testimony before Congress on Wednesday with an opaque but alarming warning about what could happen if President Donald Trump loses the 2020 election and some words addressed directly to his former boss.
"My loyalty to Mr. Trump has cost me everything: my family's happiness, friendships, my law license, my company, my livelihood, my honor, my reputation and, soon, my freedom. And I will not sit back, say nothing, and allow him to do the same to the country," Cohen said at the hearing's closing. "Indeed, given my experience working for Mr. Trump, I fear that if he loses the election in 2020 that there will never be a peaceful transition of power, and this is why I agreed to appear before you today."
He then turned his remarks to Trump himself, running through a long list of actions he has found unacceptable — attacks on law enforcement and the media, family separations at the Mexican border, friendliness with hostile foreign leaders — that Cohen said motivated him to testify.
Last Updated on Saturday, 09 March 2019 19:37
Read more...
<<

Start

<

Prev

1

2 3 4 5 6 7 8 9 10 Next > End >>