International Peace Articles
Peace News
Written by Joan Russow
Monday, 15 October 2012 07:40
PUNTA DEL ESTE, Uruguay , Oct 11 2012 (IPS) - Although it admits that it cannot be a long-term solution, Washington insists on strengthening the armed forces in Latin America, to confront "new threats," including citizen insecurity. But activists argue that it is only another means of maintaining control over the region.
Read more...
Peace News
Written by Joan Russow
Wednesday, 10 October 2012 11:13
Advancing nuclear disarmament remains the
misson  
and the enduring focus of the
New Agenda Coalition. As stated in the 1998 founding Declaration of the NAC, the
indefinite possession of nuclear weapons and the possibility of their use or threat of use
by nuclear-weapon States continue to pose a threat to humanity
Enclosed Speech by  PERMANENT MISSION OF SWEDEN TO THE UNITED NATIONS
Read more...
Peace News
Written by Joan Russow
Monday, 08 October 2012 05:48
At the recent session of the Human Rights Council, strong criticisms emerged against the use of drones for killing people in several countries, which violates human rights laws.

By Martin Khor  www.southcentre.org.  No. 34, 8 October 2012

The use of drones by one state to kill people in other countries is fast emerging as an international human rights issue of serious public concern.
Last Updated on Monday, 08 October 2012 11:01
Read more...
Peace News
Written by Joan Russow
Thursday, 04 October 2012 07:25
GOPhttp://www.guardian.co.uk/commentisfree/2012/oct/02/iran-nukes-deterrence
Senator Lindsey Graham echoes a long line of US policymakers: Iran must not be allowed to deter US aggression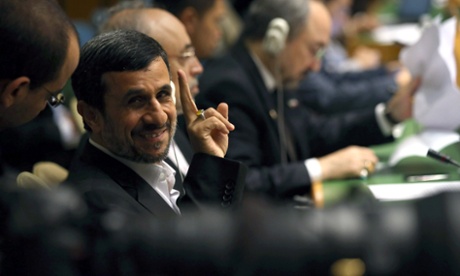 In the Washington Post today, Richard Cohen expresses surprise that Iranian President Mahmoud Ahmadinejad is "starting to make some sense" and "wax rationally". Cohen specifically cites this statement from the Iranian president last week:
"Let's even imagine that we have an atomic weapon, a nuclear weapon. What would we do with it? What intelligent person would fight 5,000 American bombs with one bomb?"
Read more...
Peace News
Written by Joan Russow
Tuesday, 02 October 2012 16:33
US activists to join anti-drone protest in Pakistan
Press TV http://presstv.com/usdetail/264512.html
Anti-drone protesters from across Pakistan and around the world are gathering in Islamabad this week in preparation for a weekend march into the tribal areas of South Waziristan.

 

Ignoring a travel warning issued by the U.S. State Department for Pakistan, a delegation of 30 U.S. activists and parents of U.S. Army soldiers has arrived in Islamabad, where they plan to join the October 6 and 7 march and rally.
Read more...
Peace News
Written by Joan Russow
Tuesday, 02 October 2012 14:49
The Empire Trapped: The US' Unpromising Role in the New Middle East

By Ramzy Baroud

 

Editors representing many Asian newspapers stood in a perfect line. They were nervous and giddy at the prospect of meeting Li Changchun, China's powerful member of the Communist Party's Politburo Standing Committee. Personally, the Great Hall of the People and the fortitude of Chinese society mesmerized me. Despite its challenges and repeated accusations of corruption and power struggles, China appeared composed while an unwavering forward movement was propelling it. As for the country's foreign policy, it is governed by a cautious slowly churning agenda, which is unambiguously clear in its long-term objectives.
Read more...
Peace News
Written by Joan Russow
Tuesday, 02 October 2012 06:28
By MARTIN FACKLER Published: October 1, 2012
TOKYO — The United States military sent the first batch of a sophisticated but accident-plagued new aircraft to an air base on Okinawa on Monday, going forward with its planned deployment despite unexpectedly fierce opposition by islanders and warnings that any crash could threaten the huge American military presence on the island.
Read more...
Peace News
Written by Joan Russow
Monday, 01 October 2012 10:41
 

 

Often there are subsequent conferences on Human Settlements, that ignore precedents. 

 

One of the precedents was a commitment to disarmament and to address the issue of military spending Which now has risen to 1.76 trillion per annum 

46 years ago, every member state of the United Nationsm made commitments in Vancouver in 1976.

"The waste and misuse of resources in war and armaments should be prevented. All countries should make a firm commitment to promote general and complete disarmament under strict and effective international control, in particular in the field of nuclear disarmament. Part of the resources thus released should be utilized so as to achieve a better quality of life for humanity and particularly the peoples of developing countries" (II, 12 Habitat 1). Other articles all also important; 
Read more...
Peace News
Written by Joan Russow
Monday, 01 October 2012 07:06
By
Christian Stork
on Sep 27, 2012  http://whowhatwhy.com/2012/09/27/the-complete-idiots-guide-to-iran-and-the-bomb-or-how-i-learned-to-stop-worrying-and-love-the-facts/
As our Nobel laureate President ascended to the podium on September 25 at the United Nations for his last international speech before the election, we again were the recipients of fine oratory and rhetorical flourish about America's problems in the world. Focusing on the Middle East, Central Asia, and North Africa—what's often misleadingly termed, "the Muslim world"—Obama singled out Iran's treaty-entitled uranium enrichment activities, saying "make no mistake: a nuclear-armed Iran is not a challenge that can be contained."
Read more...
Peace News
Written by Joan Russow
Wednesday, 26 September 2012 05:06
The global market for drones is booming. But what does the coming arms race mean for US national security interests — and the future of warfare? GlobalPost correspondents report from critical locations around the world, from Israel to Iran to Yemen to Brazil — where unmanned aerial vehicles are radically transforming combat and surveillance.

by Michael Goldfarb September 23, 2012 

 International trade shows offer a window into a booming business.expected to reach around $700 million by 2016.

With a potential market that big, it's no wonder so many countries were selling their drones at Farnborough.

One morning during the festival I watched a salesman from Elbit Systems, one of the major players in Israel, in action.

Eli Dotan was surrounded by a scrum of Nigerian officials. They were led by a 'Mr. Umar,' who was asking about Elbit's Hermes system.
Read more...
<< Start < Prev 11 12 13 14 15 16 17 18

19

20 Next > End >>