International Justice Articles
Justice News
Posted by Joan Russow
Thursday, 24 January 2019 19:32
MEXICO CITY/TAPACHULA, Jan 24 2019 (IPS) - A few months ago, Candelario de JesúsChiquillo Cruz reached Mexico's southern border and ran into a fence reinforced with barbed wire, while a barrier of police officers sprayed him with gas. Today, he is walking freely over the bridge that crosses the Suchiate River, a natural border with Guatemala.
Chiquillo, a 50-year-old from El Salvador, does not hide his pleasure at the welcome he has received in his new attempt to enter Mexico.
"It's an opportunity that I have sought for a long time," he told IPS on Jan. 22, as he showed the document with the number 0000004155128 issued by the Mexican government's National Migration Institute (INM) in Tapachula, a city in the southern state of Chiapas, on the border with Guatemala.
This document will be exchanged in a few days for a "humanitarian visitor card" that will allow him to live and work in Mexico for a year.
"I congratulate Mexico for the position it has taken, allowing us to legally enter the country without being persecuted as migrants. What we want is an opportunity to work," he says.
Mexico's immigration policy has taken a 180-degree turn under the administration of leftist President Andrés Manuel López Obrador, who took office on Dec. 1.
On Jan. 17, the government opened the border to thousands of migrants coming in a caravan from San Pedro Sula, Honduras, fleeing violence, poverty and repression, and announced that it would issue humanitarian visas for the Central American migrants.
Read more...
Justice News
Posted by Joan Russow
Wednesday, 23 January 2019 18:38
Published on
Wednesday, January 23, 2019
byCommon Dreams
In response to Trump declaration, President Nicolas Maduro gives diplomats from 'imperialist' U.S. 72 hours to leave the country
byJon Queally, staff writer
President Nicolas Maduro of Venezuela officially cut off dipomatic ties with the U.S. government on Wednesday—and gave American diplomats 72 hours to leave the country—in response to President Donald Trump declaring formal recognition of an opposition lawmaker as the "Interim President" of Venezuela, despite not being elected by the nation's people for that position.
"They intend to govern Venezuela from Washington. Do you want a puppet government controlled by Washington?" 
—Venezuela President Nicolas Maduro"Before the people and nations of the world, and as constitutional president," declared Maduro to a crowd of red-shirted supporters gathered outside the presidential residence in Caracas, "I've decided to break diplomatic and political relations with the imperialist U.S. government."
According to the Associated Press:
Maduro said in his speech the U.S. was making a "grave mistake" by trying to impose a president on Venezuela and rattled off a long list of countries — Guatemala, Brazil, Chile and Argentina—that saw leftist governments toppled or come under military rule during the Cold War with U.S. support.
Read more...
Justice News
Posted by Dragonslayer
Tuesday, 22 January 2019 17:25
Dear Donald ...Please shut down the USA.....thanks in advance Vlad
Dear Vlad....Done
Last Updated on Tuesday, 22 January 2019 17:30
Justice News
Posted by Joan Russow
Wednesday, 16 January 2019 09:51
By Daniel Gutman
A group of Wichí children play in the mud in the indigenous community of El Quebracho, in northern Argentina. This country's laws recognise the right to bilingual support in the education of native children, but in practice the rule is not enforced and children suffer discrimination when they speak their native languages. Credit: Daniel Gutman/IPS
TARTAGAL, Argentina , Jan 12 2019 (IPS) - Nancy López lives in a house made of clay, wood and corrugated metal sheets, on private land dedicated to agriculture. She is part of an indigenous community of 12 families in northern Argentina that, like almost all such communities, has no title to the land it occupies and lives under the constant threat of eviction.
Last Updated on Friday, 18 January 2019 14:31
Read more...
Justice News
Posted by Joan Russow
Wednesday, 16 January 2019 09:37
UNITED NATIONS, Jan 14 2019 (IPS) - The world's developing countries, comprising over two-thirds of the 193 UN member states, are complaining they are not being adequately represented in the higher echelons of the world body –- despite competent candidates with strong professional and academic qualifications vying for these jobs.
The 134-member Group of 77, the largest single coalition of developing countries, says "persistent imbalances in equitable geographic representation in the UN Secretariat are a major concern."
While the UN is being commended for ensuring equitable representation of women in recent years, it still stands accused of neglecting qualified nationals of developing countries, including from Asia, the Middle East, Africa and Latin America and the Caribbean.
Read more...
Justice News
Posted by dragonslayer
Saturday, 12 January 2019 11:54
Just occurred to me that the shutdown of the US government is also shutting down the IRS which means the House can't get Trump's tax returns. Now suddenly the absurd wall makes sense.
The shutdown is also helping Russia destroy the economic power of the US....And now we find that Trump is being investigated by the FBI for possible treason by aiding the Russians to undermine the US.
Perhaps the Dems should offer Trump 5 billion for his tax returns.....That should shut him up.
Last Updated on Saturday, 12 January 2019 12:30
Justice News
Posted by dragonslayer
Friday, 14 December 2018 11:20
Found this article on google search. It is from the Financial Tribune which appears to be an Iranian based news outlet. As such it may be 100% propaganda. The article needs to be verified with an independant investigation by someone with more resources than I have.
The article suggests that both Samsung and Huawei have a substancial investment in Iran. If true the question arises "Why is Huawei being singled out?" which leads to China's assertion that the attack on Huawei is all about competition and the inability of other providers to compete with Huawei. Any way here is the Financial Tribune article.
Financial Tribune
THURSDAY December, 13 2018

Sci & Tech January 14, 2018 17:05 Samsung, Huawei Dominate 83% of Iran Android Phone MarketThe Android market Café Bazaar reports that 51% of its users have handsets produced by the South Korean tech giant Samsung which translates into 17.8 million users
Last Updated on Friday, 14 December 2018 17:47
Read more...
Justice News
Posted by Joan Russow
Monday, 10 December 2018 11:19
from the Rea News 
https://therealnews.com/stories/lopez-obradors-plans-to-lead-mexico-out-of-neoliberalism-will-mean-crossing-swords-with-the-usDecember 9, 2018
We now have a politically experienced president in Mexico – gone are the days when Mexico kowtows to the US. This will mean a more sovereign economic and foreign policy, says Vijay Prashad of Tricontinental Institute for Social Research
SHARMINI PERIES: It's The Real News Network. I'm Sharmini Peries, coming to you from Baltimore.
A bold transformation of Mexico's economy is one of the many promises the newly inaugurated President Andres Manuel Lopez Obrador, known as AMLO, is promising his people. Some have deemed this the fourth transformation of Mexico. But that won't be easy for the newly elected president. Joining me now to discuss the challenge is Vijay Prashad. He is the executive director of the Tricontinental Institute for Social Research. Vijay, good to have you back.
Read more...
Justice News
Posted by Joan Russow
Monday, 03 December 2018 23:01
In Germany—the birthplace of the modern automobile—carmakers are anticipating the day when people stop owning cars.
By Stefan Nicola and Elisabeth BehrmannAugust 16, 2018, 9:00 PM PDT
For years, Martin Bruesch was the bread and butter of the German auto industry. He routinely used his 211-horsepower Audi A4 station wagon for the 20-minute trip to the office.
Now on work days his car usually stays parked outside his apartment in the affluent Berlin neighborhood of Charlottenburg and the 32-year-old human resources executive hails a new carpooling service instead.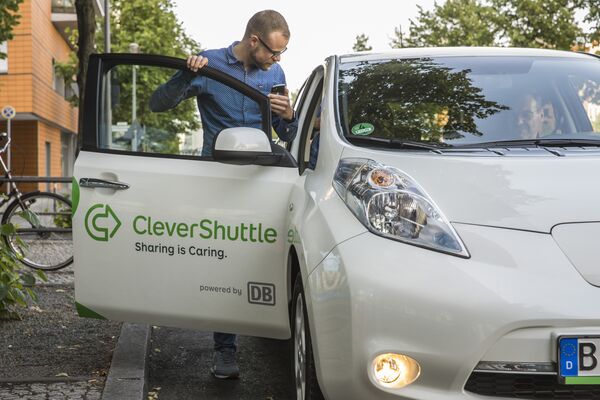 "If I'm truly honest with myself, then owning a car is too expensive with all these alternatives around," Bruesch said as he got into one of CleverShuttle's battery-powered Nissan Leafs one evening this month.
Last Updated on Monday, 03 December 2018 23:25
Read more...
<< Start < Prev 1 2 3

4

5 6 7 8 9 10 Next > End >>