| | | | |
| --- | --- | --- | --- |
| Is Self-Defence A War Crime? | | | |
Justice News
Tuesday, 24 October 2006 02:27
Is Self-Defence A War Crime?

National Post
- Alan M. Dershowitz - Michael Ignatieff: The Return of Mr. Dithers?? A view from the "other" perspective - Michael Ignatieff, the former Harvard human rights professor and current candidate for the leadership of the Liberal Party of Canada, has made two serious misstatements regarding the recent war between Hezbollah and Israel, and most particularly the Israeli military actions in the Lebanese town of Qana.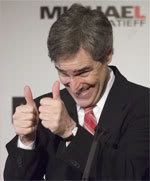 www.canada.com/nationalpost
Reprinted with permission by the author.
Is Self-Defence a War Crime?

Michael Ignatieff: The Return of Mr. Dithers?? A view from the "other" perspective

Alan M. Dershowitz

Michael Ignatieff, the former Harvard human rights professor and current candidate for the leadership of the Liberal Party of Canada, has made two serious misstatements regarding the recent war between Hezbollah and Israel, and most particularly the Israeli military actions in the Lebanese town of Qana.

Back in August, Ignatieff said that he was "not losing sleep" over the attack in which 29 civilians, who had sought refuge in a building, were killed when the Israeli air force fired a missile at what it believed was a Hezbollah rocket-launching site. Every humane person -- and Ignatieff is surely that -- should lose sleep whenever innocent civilians are killed, regardless of who is at fault. Many Israelis, including soldiers, lost sleep over Qana, as did many friends of Israel around the world. Ignatieff was rightly criticized for his insensitivity and later acknowledged that he was wrong in his choice of words.

Now in an apparent effort to compensate for his insensitivity toward Lebanese civilians, he has once again put his foot in his mouth. This time, he characterized "what happened in Qana" as "a war crime" and said that this was "clear." Ignatieff is not a lawyer, but he is an expert on human rights and he should know that for a military attack to constitute a "war crime" -- the most serious charge that could be made against a soldier -- there must be an intention to deliberately target innocent civilians. Civilians are almost always killed during wars, especially wars in which combatants -- who are legitimate military targets -- deliberately hide among civilians and fire their rockets from civilian population centres, as Hezbollah does.

Ignatieff has surely seen the videos and other indisputable evidence that Hezbollah was launching rockets from areas near the building that Israel bombed. He surely knows that Israeli intelligence was completely unaware that Lebanese civilians were hiding in the building. He cannot reasonably believe that the Israeli air force deliberately intended to kill the civilians in the building. Why then would he characterize the resulting tragedy as a "war crime?"
There are several possible answers. The first is that he simply misspoke in the course of an interview in which he wanted to make up for his past misstatement. If that is the case, he should be accused only of carelessness. The second possible explanation has far greater implications for his candidacy to lead a great political party.

It is possible that he believes that even if the Israeli killing of Lebanese civilians was an unintended consequence of its efforts to prevent rocket attacks against its own civilians, it was still a war crime. Such a view would reflect a perverse and dangerous approach to international law that would make it nearly impossible for democracies to protect its civilians from terrorists who launch rockets from civilian population centres. It would also encourage other terrorist groups to emulate the tactic employed by Hezbollah in its recent war against Israel: to use local civilians as human shields behind whom the terrorists fire their rockets at enemy civilians. This gives the democracy only two choices: to protect its civilians by destroying the rocket launchers even if that means some civilians will inevitably be killed; or do nothing and allow its own civilians to be targeted. Faced with this choice of evils imposed by the terrorist, every democracy would chose to protect its own civilians, as Israel did.

Yet there are some who would deem such legitimate self-defence to be a war crime. Most prominent among them is Canada's own Louise Arbour, a former justice of the Supreme Court of Canada and currently the United Nations Commissioner for Human Rights. Even before the war in Lebanon was over, Arbour rushed to judgment and threatened "personal criminal responsibility" against Israeli generals and political leaders for their attacks on areas in which civilians live. Her benighted view is that any shelling of cities -- regardless of the threat posed to Israeli civilians by rockets being fired from these cities -- "constitutes a foreseeable and unacceptable targeting of civilians." Let's be clear what this means:

If Hezbollah (or Iran) were firing nuclear or biological weapons at a democracy from Beirut (or Tehran), the democracy would be committing a war crime if it tried to destroy the enemy rockets by pinpoint bombing, as long as there was any "foreseeable" risk to civilians. This formulation would make war criminals out of the United States, Canada, Great Britain and all the Allies during the Second World War and in the current war against terrorism.

Democracies simply cannot protect their citizens against terrorist attacks of the kind launched by Hezbollah without some foreseeable risk to civilians. There cannot be any absolute prohibition against such self-defensive military actions so long as they are proportional to the dangers and reasonable efforts are made to minimize civilian casualties.

I know and like Michael Ignatieff from his years at Harvard and am willing to give him the benefit of the doubt, but if he agrees with Arbour's position on what constitutes a war crime, then the people of Canada, as well as of the rest of the world, have a right to a clear statement of what actions he would be willing to take in the war against terrorism if he is elected prime minister of Canada.

? National Post 2006

Last Updated on Tuesday, 24 October 2006 02:27