| | | | |
| --- | --- | --- | --- |
| Bernie Heads to the Vatican | | | |
Justice News
Posted by Joan Russow
Saturday, 09 April 2016 16:32
By
> The senator from Vermont will speak about creating a "moral economy."
Brian Frank / Reuters
Updated April 8, 4:30 p.m. EST
A socialist, Jewish, "not particularly religious" senator from Vermont will soon make his debut at the Vatican. On Friday, Bernie Sanders announced that in a week or so, he will be speaking at the Pontifical Academy of Social Sciences, a scholarly body that's part of Catholic Church in Rome.
RELATED STORY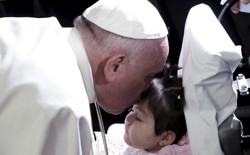 Pope Francis: Real Families Are Not Theological Abstractions
"I was very moved by the invitation," he said during an interview on Morning Joe. "People say Bernie Sanders is radical? Uh-uh. Read what the pope is writing."
There is a somewhat uncanny overlap between the way Bernie and Francis talk about economic issues. One of the first pieces of writing the pope released during his tenure, Evangelii Gaudium, is all about the greed and fundamental corruption at the heart of the global economy. Both men speak with passion about poverty and talk about labor and wages in moral terms. And Sanders has often praised the pope, including after the pontiff addressed the U.S. Congress in September.
Last Updated on Thursday, 14 April 2016 16:31