Posted by Joan Russow
Saturday, 04 May 2019 09:44
Lindsay Kines

/ Times Colonist
An aerial photo of the old-growth forests where B.C. Timber Sales has seven pending cutblocks totalling 109 hectares. Juan de Fuca Provincial Park is along the coast and the town of Port Renfrew in the background.
Port Renfrew Chamber of Commerce has joined a growing outcry against B.C. government plans to log old-growth forests near Juan de Fuca Provincial Park.
President Dan Hager said Friday that clearcutting the ancient trees will hurt tourism and damage a regional economy already hard hit by chinook fishing restrictions.
"I'm in the accommodation business in Renfrew. People ask about it. I'm the one that responds to all the inquiries that come in off the chamber email and people are asking about the trees."
Hager said that will be put in jeopardy if B.C. Timber Sales proceeds with plans to sell off 109 hectares of the region's old-growth forest in seven cutblocks — including two that come within 50 metres of Juan de Fuca Provincial Park.
"If I was an editor of a newspaper, I would say: 'Canada's tall tree capital is now Canada's clearcut capital,' " Hager said.
"What kind of damage is that going to do our reputation in the long term?"
Last Updated on Wednesday, 08 May 2019 15:14
Read more...
Posted by Joan Russow
Wednesday, 17 April 2019 07:38
"This needs to be taken more seriously than it is right now."
—Jordan Wilkerson, lead author
That's according to a study published this month in the journal Atmospheric Chemistry and Physics. The paper's findings add even more weight to scientists' urgent warnings about the mounting threats of permafrost thaw.
Permafrost is a frozen mix of soil, rocks, and sand that covers about a fourth of the Northern Hemisphere—and is primarily found in the uppermost areas, where temperatures are rising more rapidly than the rest of the world.
When permafrost melts because of human-caused global warming, it pours greenhouse gases such as carbon dioxide (CO2) and methane (CH4) into the atmosphere, further heating the planet.
Nitrous oxide (N2O), a greenhouse gas nearly 300 times more potent than CO2, stays in the atmosphere for an average of 114 years, per the U.S. Environmental Protection Agency (EPA).
N2O "has conventionally been assumed to have minimal emissions in permafrost regions," the report said, citing research published in the 1990s.
But the new study's findings challenge that assumption.
Last Updated on Wednesday, 17 April 2019 07:53
Read more...
Posted by Joan Russow
Monday, 15 April 2019 15:27
This article is part of a series on the current state of civil society organisations (CSOs), which was the focus of International Civil Society Week (ICSW), sponsored by CIVICUS, and which took place in Belgrade, April 8-12.
More than 200 civil society leaders and human rights activists from some 100 countries took to the streets of Belgrade, Serbia in solidarity with those whose basic freedoms are at risk. They participated in the International Civil Society Week (ICSW), sponsored by CIVICUS, which took place in Belgrade, April 8-12. Courtesy: CIVICUS
UNITED NATIONS, Apr 15 2019 (IPS) - Counterterrorism measures are not only affecting extremist groups, but are also impacting a crucial sector for peace and security in the world: civil society.
Civil society has long played a crucial role in society, providing life-saving assistance and upholding human rights for all.
Last Updated on Tuesday, 21 May 2019 11:25
Read more...
Posted by Joan Russow
Thursday, 11 April 2019 06:51
A committee flagged the possibility that Canadians' rights may be infringed.
By Jim Bronskill  
https://www.huffingtonpost.ca/2019/04/09/canadian-military-spying-activities-require-more-scrutiny-watchdog_a_23709085/
ADRIAN WYLD/CP
The facade of the headquarters of the Department of National Defence is pictured in Ottawa, on April 3, 2013. 
OTTAWA — A national-security watchdog has called for stricter controls on the Canadian military's spying, including the possibility of legislation spelling out when and how defence intelligence operations can take place.
In a report issued Tuesday, the National Security and Intelligence Committee of Parliamentarians said National Defence and the Canadian Armed Forces have one of the largest intelligence programs in Canada, yet these operations get little outside scrutiny.
The committee, which examined thousands of pages and received several closed-door briefings, found that defence agencies carry out a full range of intelligence activities, collecting information through sensitive methods including technical means, human sources and investigations.
It says these activities entail considerable risks, including possible infringements on Canadians' rights.
Last Updated on Thursday, 11 April 2019 07:51
Read more...
Posted by Joan Russow
Monday, 08 April 2019 14:02
This article is part of a series on the role of civil society organisations (CSOs), which will be the focus of International Civil Society Week (ICSW), sponsored by CIVICUS, and scheduled to take place in Belgrade, April 8-12.
UNITED NATIONS, Apr 8 2019 (IPS) - As it paves a destructive path against international institutions and multilateralism, the Trump administration is slowly but steadily undermining the United Nations and its affiliated agencies.
The US has already withdrawn both from the Human Rights Council in Geneva and the UN Educational, Scientific and Cultural Organization (UNESCO) in Paris while, at the same time, it has either cut off, or drastically reduced, funding for the UN Population Fund (UNFPA), the UN Relief and Works Agency (UNRWA) and for UN peacekeeping operations (by a hefty $500 million).
The most recent attack has been directed at the International Criminal Court (ICC) in the Hague which was planning to investigate war crimes committed in Afghanistan, focusing both on the Taliban and US soldiers.
The US action to revoke the visa of Fatou Bensouda, Chief Prosecutor of the ICC, has not only triggered protests from academics and from human rights and civil society organizations (CSOs) but also left several lingering questions unanswered.
Last Updated on Monday, 08 April 2019 14:06
Read more...
Posted by Joan Russow
Thursday, 04 April 2019 21:15
Global Compliance Research Project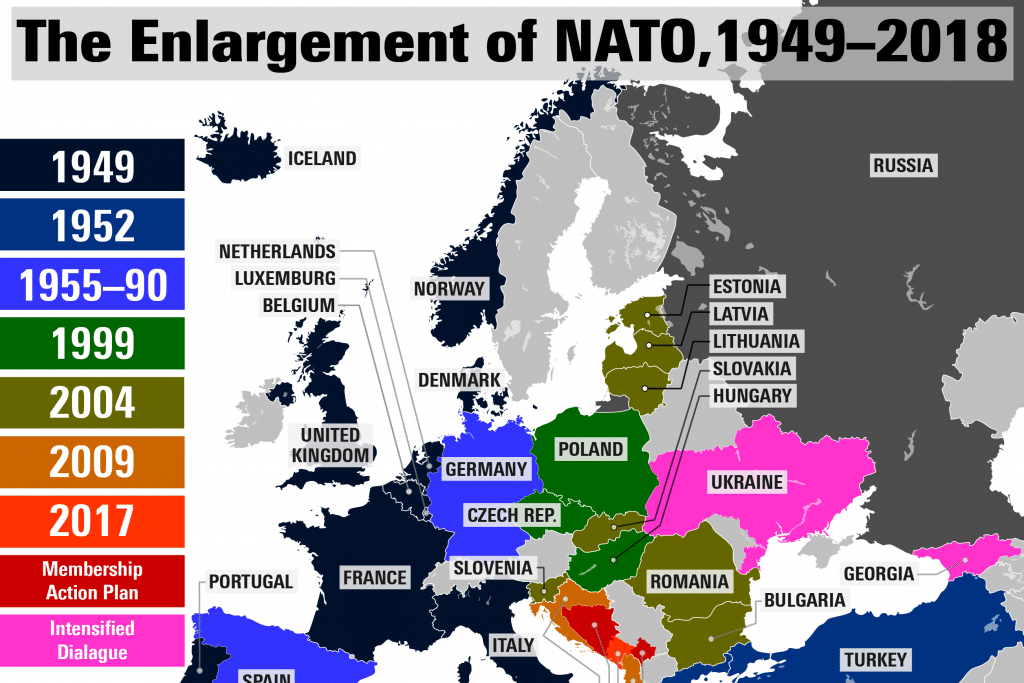 AWARE that NATO states have been complicit or responsible for using the following pretexts for aggressive interventions in other sovereign states
"human security" (Iraq 1991), "Humanitarian intervention" (Kosovo, 1999), "self-defence" (Afghanistan 2001), "Pre-emptive/ preventive" attack (Iraq, 2003) "Responsibility to Protect (Haiti, 2004, Libya, 2011) or "will to intervene" (Mali, 2013). Each time the pretext was discredited, a new pretext emerged.
 RECOGNIZING that true security does not arise: through NATO expansion, through being a nuclear weapons alliance, and opposing the abolition of nuclear weapons, through coercing other states to increase their military budget, and purchase weapons like F 35 and armed drones, through destabilizing other nations, through setting up military bases around the world, through war games and military exercises, through circulating nuclear powered and nuclear arms capable vessel. Etc.
 AFFIRMING that true security exists when all are secure, through "common security" (Olaf Palme,1982)  whose objectives could be the following:
(i)    to achieve a state of peace, and disarmament; through  reallocation of military expenses and delegitimization of war
(ii)    to create a global structure that respects the rule of law, the international court of justice, and the international criminal court,
(iii) to promote and fully guarantee respect for human rights including  labour rights, women's rights LGBTQ rights civil and political rights, migrant iand indigenous rights, social and cultural rights – right to food, right to housing, right to safe drinking water and sewage treatment , right to education and right to universally accessible not for profit health care system;
(iv)  to enable socially equitable and environmentally sound employment, energy and transportation, and just transition and ensure the right to development and social justice
,
(v) to ensure the preservation, conservation and protection of the environment, the respect for the inherent worth of nature beyond human purpose, to reduce the ecological footprint and to move away from the current model of unsustainable and excessive overconsumption.
Last Updated on Tuesday, 19 May 2020 08:07
Read more...
<< Start < Prev 1 2 3 4 5

6

Next

>

End

>>


Page 6 of 6