Posted by Joan Russow
Monday, 08 April 2019 14:02
This article is part of a series on the role of civil society organisations (CSOs), which will be the focus of International Civil Society Week (ICSW), sponsored by CIVICUS, and scheduled to take place in Belgrade, April 8-12.
UNITED NATIONS, Apr 8 2019 (IPS) - As it paves a destructive path against international institutions and multilateralism, the Trump administration is slowly but steadily undermining the United Nations and its affiliated agencies.
The US has already withdrawn both from the Human Rights Council in Geneva and the UN Educational, Scientific and Cultural Organization (UNESCO) in Paris while, at the same time, it has either cut off, or drastically reduced, funding for the UN Population Fund (UNFPA), the UN Relief and Works Agency (UNRWA) and for UN peacekeeping operations (by a hefty $500 million).
The most recent attack has been directed at the International Criminal Court (ICC) in the Hague which was planning to investigate war crimes committed in Afghanistan, focusing both on the Taliban and US soldiers.
The US action to revoke the visa of Fatou Bensouda, Chief Prosecutor of the ICC, has not only triggered protests from academics and from human rights and civil society organizations (CSOs) but also left several lingering questions unanswered.
Last Updated on Monday, 08 April 2019 14:06
Read more...
Posted by Joan Russow
Thursday, 04 April 2019 21:15
Global Compliance Research Project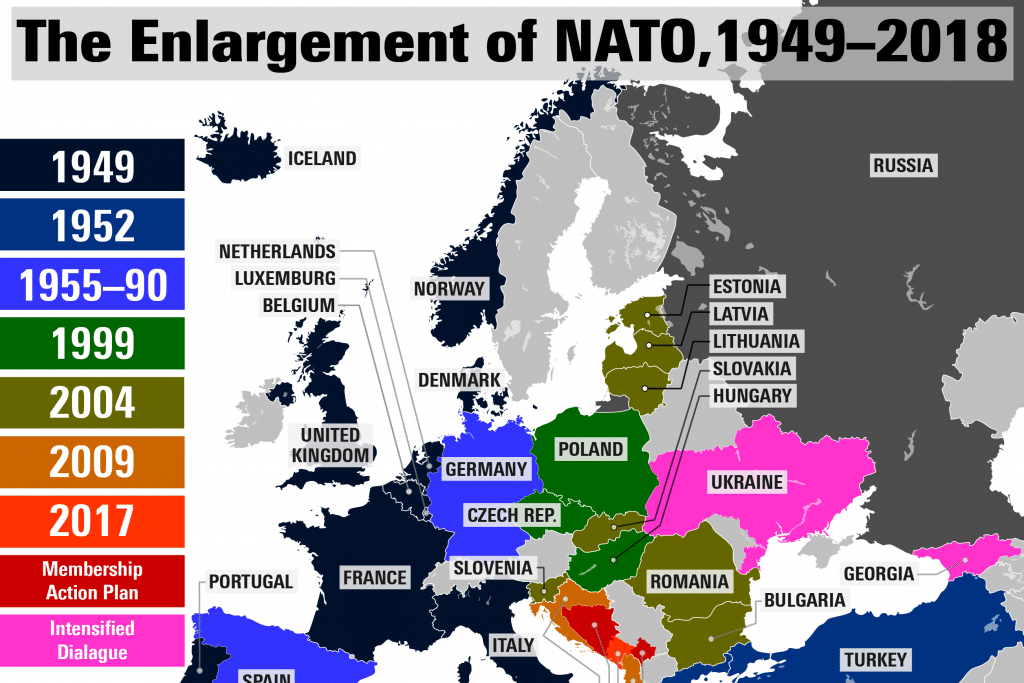 AWARE that NATO states have been complicit or responsible for using the following pretexts for aggressive interventions in other sovereign states
"human security" (Iraq 1991), "Humanitarian intervention" (Kosovo, 1999), "self-defence" (Afghanistan 2001), "Pre-emptive/ preventive" attack (Iraq, 2003) "Responsibility to Protect (Haiti, 2004, Libya, 2011) or "will to intervene" (Mali, 2013). Each time the pretext was discredited, a new pretext emerged.
 RECOGNIZING that true security does not arise: through NATO expansion, through being a nuclear weapons alliance, and opposing the abolition of nuclear weapons, through coercing other states to increase their military budget, and purchase weapons like F 35 and armed drones, through destabilizing other nations, through setting up military bases around the world, through war games and military exercises, through circulating nuclear powered and nuclear arms capable vessel. Etc.
 AFFIRMING that true security exists when all are secure, through "common security" (Olaf Palme,1982)  whose objectives could be the following:
(i)    to achieve a state of peace, and disarmament; through  reallocation of military expenses and delegitimization of war
(ii)    to create a global structure that respects the rule of law, the international court of justice, and the international criminal court,
(iii) to promote and fully guarantee respect for human rights including  labour rights, women's rights LGBTQ rights civil and political rights, migrant iand indigenous rights, social and cultural rights – right to food, right to housing, right to safe drinking water and sewage treatment , right to education and right to universally accessible not for profit health care system;
(iv)  to enable socially equitable and environmentally sound employment, energy and transportation, and just transition and ensure the right to development and social justice
,
(v) to ensure the preservation, conservation and protection of the environment, the respect for the inherent worth of nature beyond human purpose, to reduce the ecological footprint and to move away from the current model of unsustainable and excessive overconsumption.
Last Updated on Sunday, 12 January 2020 19:48
Read more...
<< Start < Prev 1 2 3 4

5

Next

>

End

>>


Page 5 of 5