Posted by Joan Russow
Monday, 11 May 2020 19:36
This Solutions Statement was developed with input from more than
a hundred people representing dozens of community organizations,
in a collaborative policy-development process in April 2020
facilitated by Common Vision, Common Action.
Common Vision, Common Action is a grassroots initiative in
British Columbia's Capital Region, Coastal Salish and Nuu-chah-nulth Territory,
to create and implement a regional agenda for social and ecological justice.
To get involved or provide feedback on this Solutions Statement,
please contact us at contact@commonaction.
The Covid-19 pandemic has demonstrated the fragility of the private enterprise economy in
British Columbia's capital region – how a temporary shift in consumer spending habits and
government policy can immediately result in unemployment and economic insecurity for tens of
thousands of working people in the region, and the closure of thousands of businesses.
The pandemic has also demonstrated enduring sources of strength, including the natural human
inclinations toward co-operation, care, compassion and the rendering of mutual aid.
Finally, the pandemic has demonstrated ecological benefits arising from reduced impacts from
human activity on the atmosphere and on fragile ecosystems, with substantial reductions in
greenhouse gas emissions (CO2), which contribute to climate change, and nitrogen dioxide
(NO2), which impacts air quality and human health. Natural ecosystems are already
demonstrating signs of recovery within the very short timeframe of declining economic activity.
2 
As we look ahead to the post-Covid-19 recovery, and begin to consider the measures that
individuals, communities and public and private institutions can take, it is worth considering
retaining elements of the Covid crisis response on a steady-state basis, to respond effectively to
three major crises that pre-dated Covid-19 in BC's capital region and beyond:
Last Updated on Tuesday, 12 May 2020 15:39
Read more...
Posted by Joan Russow
Tuesday, 05 May 2020 18:42
By Gregory Jaczko
The danger from climate change no longer outweighs the risks of nuclear accidents. Gregory Jaczko served on the Nuclear Regulatory Commission from 2005 to 2009, and as its chairman from 2009 to 2012. The author of "Confessions of a Rogue Nuclear Regulator," he is the founder of Wind Future LLC and teaches at Georgetown University and Princeton University.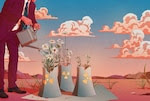 Nuclear power was supposed to save the planet. The plants that used this technology could produce enormous amounts of electricity without the pollution caused by burning coal, oil or natural gas, which would help slow the catastrophic changes humans have forced on the Earth's climate. As a physicist who studied esoteric properties of subatomic particles, I admired the science and the technological innovation behind the industry. And by the time I started working on nuclear issues on Capitol Hill in 1999 as an aide to Democratic lawmakers, the risks from human-caused global warming seemed to outweigh the dangers of nuclear power, which hadn't had an accident since Chernobyl, 13 years earlier.
By 2005, my views had begun to shift.
Last Updated on Tuesday, 05 May 2020 21:57
Read more...
Posted by Joan Russow
Friday, 14 April 2017 07:54
By Joan Russow PhD
Global Compliance Research Project
(OUTLINE FROM A LARGER DOCUMENT)
(RE POSTED  2020-09-17) LEST WE FORGET  INCREASED MILITARISM AND DEFIANCE OF THE RULE OF INTERNATIONAL LAW)
DISARMAMENT POSTER - NORTHERN fRIENDS' pEACE BOARD 1935
UPDATE IN 2020
In December 2016, Canada along with US allies  gave the reason for not adopting the Treaty on the Prohibition of Nuclear Weapon, that US nuclear weapons are necessary for the security of Canada  and that Canada would never agree that nuclear weapons would never be used
And in july2017 Canada refused to sign and ratify a Treaty on the prohibition of nuclear weapons which undertakes never under any circumstances to:
(a) Develop, test, produce, manufacture, otherwise acquire, possess or stockpile nuclear weapons or other nuclear explosive devices;
 (b) Transfer to any recipient whatsoever nuclear weapons or other nuclear explosive devices or control over such weapons or explosive devices directly or indirectly;
 (c) Receive the transfer of or control over nuclear weapons or other nuclear explosive devices directly or indirectly;
 (d) Use or threaten to use nuclear weapons or other nuclear explosive devices;
 (e) Assist, encourage or induce, in any way, anyone to engage in any activity prohibited to a State Party under this Treaty;
(g) Allow any stationing, installation or deployment of any nuclear weapons or other nuclear explosive devices in its territory or at any place under its jurisdiction or control.
And  instead Canada  had  agreed, at a NATO Conference, to the following;
1) Nuclear weapons must be maintained indefinitely.
2) we will improve their use and accuracy (modernize them).
3  wecan use them first.
4) we can target non-nuclear weapons states.
5) We can threaten to use them.
6) We can keep them in Europe, as we are now doing.
7)  We can launch some on 15 minutes warning.
8) We say "they are essential for peace."
And We will never agree that they should never be used.
A.
PEACE PROMOTION
*COMMON SECURITY
1. We must reappropriate the word "security" and not allow it to be distorted by the military. (Dr. Ursula Franklin, internationally renowned scientist and pacifist (1984 at the lead up conference to Nairobi Conference on Women, 1985)
 2. "True security exists when all are secure, through "common security" (Olof Palme, 1982) whose objectives could be extended to include but not limited to the following:
(a) to achieve a state of peace, and disarmament; through  reallocation of military expenses and delegitimization of war;
(b) to promote and fully guarantee respect for human rights including  labour rights, civil and political rights, indigenous rights, social and cultural rights – right to food, to housing, to safe drinking water and sanitation , right to education and right to universally accessible not for profit health care system; right to water and sanitation
(c) to ensure the preservation, conservation and protection of the environment, the respect for the inherent worth of nature beyond human purpose, to reduce the ecological footprint and to move away from the current model of unsustainable and excessive overconsumption
(d) To enable socially equitable and environmentally sound employment, energy and transportation,
(e)  to fully implement the UN Declaration the Rights of Indigenous Peoples
Last Updated on Monday, 21 September 2020 07:00
Read more...
<< Start < Prev 1 2

3

Next

>

End

>>


Page 3 of 3