United States Categories
Justice News
Posted by Joan Russow
Friday, 01 June 2018 09:07
From the 2004 archives 
By Joan Russow (PhD)
Global Compliance Research Project
Victoria, Canada
December 2nd, 2004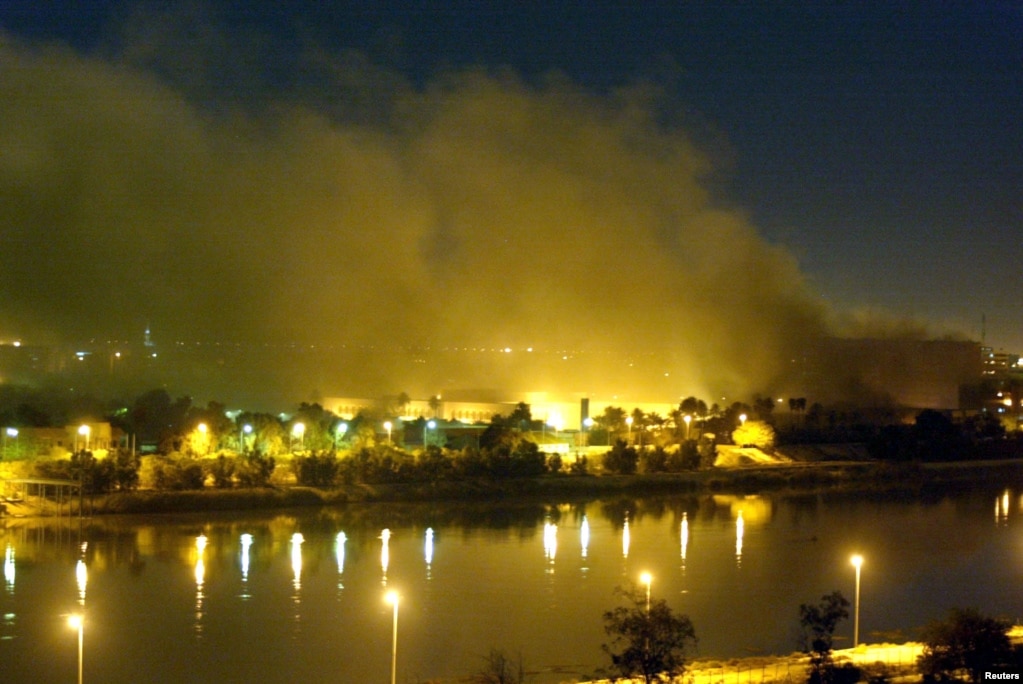 Shock and Awe march 2003
US MUST ELIMINATE ITS CONTRIBUTION TO GLOBAL INSECURITY AND FURTHER TRUE SECURITY: COMMON SECURITY
The Global Community could stand in support of global common security or be coerced into supporting the US in its long standing and accelerating contribution to global militarism and global insecurity. Common security can only be achieved if there is a concerted international effort to eliminated the complexity and interdependence of the actions that have led to global insecurity
Actions by the US, and other states, by corporations, by institutions, and individuals have provoked directly or indirectly conflict around the world that have increase global insecurity.
The US administration and US corporations aided and abetted by institutions and individuals, have contributed to global insecurity
(i)  Engaged in covert and overt "Operations" against independent states; from "Operation Zapata", and "Operation Northwoods" against Cuba, through "Operation Condor" in Chile, through years of euphemistic operations such as "Operation Just Cause" against Panama and more recently "Operation enduring freedom" against Afghanistan, and "Operation Iraqi Freedom" against Iraq
(ii) Promoted the spread of Evangelical Christianity around the world, undermining local indigenous cultures, and instilling fear through the dangerous, and absurd belief in the "rapture", "Armageddon" and "left behind" and denigrating other established beliefs and practices and catered to the fundamentalists inspired by Ed McAteer, recently raptured, who in 1983 stated that "nuclear weapons are part of God's design; and promulgated "premillennial dispensationalism "end times" scenario which has serious irreversible consequences.
Last Updated on Friday, 01 June 2018 10:23
Read more...
Justice News
Posted by Dragonslayer
Wednesday, 23 May 2018 19:17
Donald Trump has been blocking those who criticized him on Twitter. A Judge told him to unblock them because blocking them is infringing on their first amendment rights to free speech.

Does this mean that since he is refusing to do so that he is making Twitter complicit in infringing on first amendment rights?

Should Twitter block Trump's twitter account? Should the judge yank Twitter's business licence and criminally charge Twitter if it continues to allow Trump to use Twitter to break the law?
Last Updated on Wednesday, 23 May 2018 19:35
Peace News
Posted by Joan Russow
Tuesday, 10 April 2018 09:56
Response to Situation in Syria

The Women's March on the Pentagon condemns, in the strongest terms, any U.S. "retaliation" against Syria for a chemical weapons attack that may not have even occurred. If reports of the attack in Douma are true, the attack was likely perpetrated by any one of the many militant rebel groups, some of which have Western backing, trying to overthrow the sovereign state of Syria (whether we agree with it or not).

Read more...

Justice News

Posted by Joan Russow

Saturday, 17 February 2018 10:05

"Millions of Americans will lose access to life-saving programs because the GOP gave $1.5 trillion in tax cuts to the rich." After $1.5 Trillion Gift to Rich, Trump Demands $1.7 Trillion in Safety Net Cuts

Staff members display recently released printed copies of U.S. President Donald Trump's fiscal year 2019 budget at the House Budget Committee on Capitol Hill February 12, 2018 in Washington, D.C. (Photo by Win McNamee/Getty Images)

Those wondering how President Donald Trump plans to pay for the $1.5 trillion in tax cuts for the rich he signed into law last year got their answer on Monday, when the White House unveiled its 2019 budget (pdf) blueprint that calls for $1.7 trillion in cuts to crucial safety net programs over the next decade—including $237 billion in cuts to Medicare alone.

"Millions of Americans will lose access to life-saving programs because the GOP gave $1.5 trillion in tax cuts to the rich."

Last Updated on Sunday, 18 February 2018 13:16
Read more...

Justice News

Posted by Concerned Canadians

Monday, 05 February 2018 11:29

It appears that one way or another Donald Trump will try to stop your investigation. We are also aware that you like to have all the nails driven in before you report to congress and the senate. As time is of the essence, we suggest that you create an interim report with sufficient facts to make your case and place it before each member of the Congress and the Senate ASAP!

<< Start < Prev 1 2

3

4 5 6 7 8 9 10 Next > End >>


Page 3 of 226