International Categories
Earth News
Posted by Joan Russow
Monday, 08 May 2017 10:27
On March 1 1954, on Bikini Atoll, in the Marshall Islands, the US military detonated the world's first lithium-deuteride hydrogen bomb, a thousand times more powerful than the Hiroshima and Nagasaki bombs. The radiation blew downwind, to the southeast, and irradiated the residents of Rongelap and Utirik atolls, and the crew of tuna boat Fukuryu Maru, "Lucky Dragon."  
The islanders and fishing crew suffered radiation sickness, hair loss, and peeling skin. Crew member, Aikichi Kuboyama, died six months later in a Hiroshima hospital. Island children, suffered lifelong health effects, including cancers, and most died prematurely. The Lucky Dragon sailors were exposed to 3-5 sieverts of radiation.
One sievert will cause severe radiation sickness leading to cancer and death. Five sieverts will kill half those exposed within a month (like the workers who died at Chernobyl within the first few week). Ten sieverts will kill any human being. Hiroshima and Nagasaki victims received 150 Sieverts. Even microorganisms perished.
Castle Bravo nuclear weapons test on Bikini Atoll 

Today, inside the crippled Fukushima nuclear reactor-2, the melting core releases 530 sieverts per hour, enough to kill a human instantly and melt steel robotic equipment within two hours.
Read more...
Peace News
Posted by Joan Russow
Monday, 08 May 2017 07:27
by Joan Russow
Global Compliance Research Project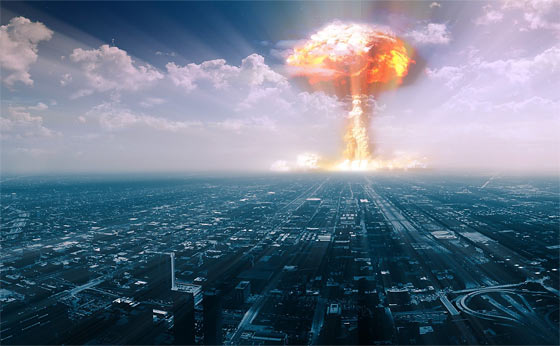 In 2017, the Bulletin of Atomic Scientists moved the Doomsday clock to two and one half minutes to midnight because of the threats arising from nuclear weapons and from climate change
Eva Walder, the Swedish representative to the UN's First Committee on Disarmament and International Security, declared: "Sweden's position is clear. The only guarantee that these weapons will never be used again is their total elimination."
Sweden would undoubtedly agree with the Women's International league for peace and freedom  that the treaty should not only prohibit stockpiling; use and threat of use, and planning for use of nuclear weapons but also the deployment; transfer, acquisition, and stationing; development and production of these weapons—along with testing; transit and transshipment; and financing, assistance, encouragement, and inducement and an obligation for the complete elimination of nuclear weapons and a framework to achieve it..
Canadians might hope that this is also the position of the Trudeau government.
Last Updated on Thursday, 11 May 2017 07:44
Read more...
Earth News
Posted by Joan Russow
Thursday, 27 April 2017 09:33
By Tharanga Yakupitiyage
The Bhumia tribal community practices sustainable forestry: these women returning from the forest carry baskets of painstakingly gathered tree bark and dried cow dung for manure. Credit: Manipadma Jena/IPS
UNITED NATIONS, Apr 27 2017 (IPS) - Indigenous women, while experiencing the first and worst effects of climate change globally, are often in the frontline in struggles to protect the environment.
A forum organized by the Women's Earth and Climate Action Network (WECAN) brought together indigenous women from around the world to discuss the effects of climate change in their communities and their work towards sustainable solutions.
Last Updated on Wednesday, 03 May 2017 16:45
Read more...
Justice News
Posted by Joan Russow
Thursday, 27 April 2017 07:17
America's War-Fighting Footprint in Africa 

Secret U.S. Military Documents Reveal a Constellation of American Military Bases Across That Continent 

By Nick Turse 

General Thomas Waldhauser sounded a little uneasy. 
Last Updated on Wednesday, 03 May 2017 17:01
Read more...
Justice News
Posted by Joan Russow
Tuesday, 25 April 2017 10:38
By Tharanga Yakupitiyage
Tadodaho Sid Hill (shown on screens), Chief of the Onondaga Nation. Credit: UN Photo/Evan Schneider
UNITED NATIONS, Apr 25 2017 (IPS) - Despite progress, many gaps remain in international indigenous rights protection, said representatives during an annual UN meeting.
More than 1000 indigenous representatives from around the world have gathered at the UN for the 16th session of the UN Permanent Forum on Indigenous Issues (UNPFII). This year's meeting focuses on the UN Declaration on the Rights of Indigenous Peoples (UNDRIP) which was adopted 10 years ago by the General Assembly.
Last Updated on Thursday, 04 May 2017 17:07
Read more...
<< Start < Prev 1 2 3 4 5 6 7

8

9 10 Next > End >>


Page 8 of 1330