International Categories
Justice News
Posted by Joan Russow
Wednesday, 23 January 2019 18:38
Published on
Wednesday, January 23, 2019
byCommon Dreams
In response to Trump declaration, President Nicolas Maduro gives diplomats from 'imperialist' U.S. 72 hours to leave the country
byJon Queally, staff writer
President Nicolas Maduro of Venezuela officially cut off dipomatic ties with the U.S. government on Wednesday—and gave American diplomats 72 hours to leave the country—in response to President Donald Trump declaring formal recognition of an opposition lawmaker as the "Interim President" of Venezuela, despite not being elected by the nation's people for that position.
"They intend to govern Venezuela from Washington. Do you want a puppet government controlled by Washington?" 
—Venezuela President Nicolas Maduro"Before the people and nations of the world, and as constitutional president," declared Maduro to a crowd of red-shirted supporters gathered outside the presidential residence in Caracas, "I've decided to break diplomatic and political relations with the imperialist U.S. government."
According to the Associated Press:
Maduro said in his speech the U.S. was making a "grave mistake" by trying to impose a president on Venezuela and rattled off a long list of countries — Guatemala, Brazil, Chile and Argentina—that saw leftist governments toppled or come under military rule during the Cold War with U.S. support.
Read more...
Justice News
Posted by Dragonslayer
Tuesday, 22 January 2019 17:25
Dear Donald ...Please shut down the USA.....thanks in advance Vlad
Dear Vlad....Done
Last Updated on Tuesday, 22 January 2019 17:30
Earth News
Posted by Joan Russow
Tuesday, 22 January 2019 14:27
Home to vibrantly colored, tiny creatures, the ecosystems floating on the ocean's surface remain all but unknown.
REBECCA HELM - 10:18 AM ET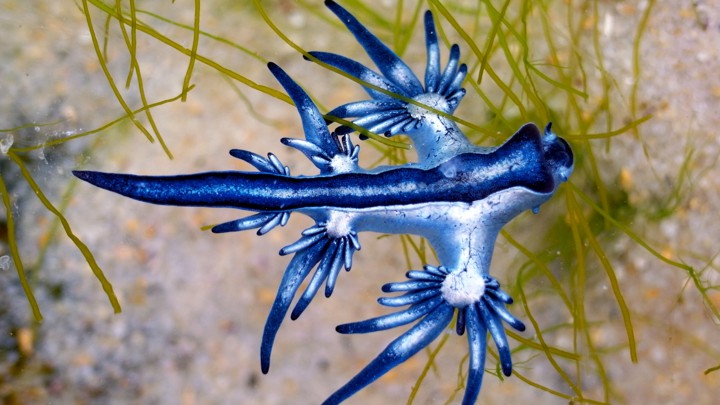 Blue sea dragons are part of the neuston.SHUTTERSTOCK
Imagine you're on a small boat in the middle of the open ocean, surrounded by what looks like a raft of plastic. Now flip the whole world upside down. You remain comfortably attached to your seat—the abyss towers above you, and all around, stretching up from the water's surface, is an electric-blue meadow of life. What you thought was plastic is actually a living island. This meadow is made up of a diverse collection of animals. The most abundant are blue buttons and by-the-wind sailors, with bright-blue bodies that dot the sky like suns, and deep-purple snails found in patches so dense one scientist described collecting more than 1,000 in 20 minutes.
Last Updated on Tuesday, 22 January 2019 17:46
Read more...
Earth News
Posted by Joan Russow
Monday, 21 January 2019 16:38
UNITED NATIONS, Jan 21 2019 (IPS) - While the modern agricultural system has helped stave off famines and feed the world's 7 billion residents, the way we eat and produce food is posing a threat to future populations' food security.
With an expected increase in population to 10 billion in 2050, ensuring food security is more important than ever.
However, current food production is among the largest sources of environmental degradation across the world.
If such production and consumption patterns continue, we will soon exceed our planetary boundaries such climate change and land use needed to survive and thrive.
"It was quite dramatic to see how much those planetary boundaries would be exceeded if we don't do anything," said Marco Springmann, one of the authors of a report examining the impact of the food system on the environment
Read more...
Earth News
Posted by Joan Russow
Thursday, 17 January 2019 22:08
By Tharanga Yakupitiyage
A desalination plant. Across 177 countries, there are now 16,000 desalination plants, many of which are concentrated in the Middle East and North Africa where water scarcity is already a reality.As desalination plants continue to pop up, so does a hypersaline, chemical by-product known as brine. Credit: RoPlant
UNITED NATIONS, Jan 16 2019 (IPS) - As the threat of water scarcity increasingly grows, many have turned to the Earth's plentiful oceans for a solution. However, this has created a new risk threatening public and environmental health: brine.
In a new study, the United Nations University's Institute for Water, Environment, and Health (UNU-INWEH) assessed the state of desalination around the world as countries increasingly convert sea water into freshwater for its citizens.
Last Updated on Friday, 18 January 2019 14:32
Read more...
<< Start < Prev 1 2 3 4 5 6 7

8

9 10 Next > End >>


Page 8 of 1361