International Categories
Justice News
Posted by Joan Russow
Friday, 04 May 2018 10:34
By Edgardo Aya
>Residents of the municipality of San Rafael Las Flores maintain a permanent sit-down in front of the Constitutional Court, in the centre of Guatemala's capital, to demand that the country's highest court rule on the demand for a suspension of the San Rafael mining company's permit to operate a mine in that municipality. Credit: Edgardo Ayala / IPS
GUATEMALA CITY, May 4 2018 (IPS) - Rosa Dávila is busy cooking ears of corn, to be eaten by the men and women who have set up a checkpoint on the side of the road to block the passage of supplies sent to a mining company that operates in the area.
The San Rafael mining company, a subsidiary of the Canadian company Tahoe Resources, is located on the outskirts of San Rafael Las Flores, a town 96 km southeast of Guatemala City, in the department of Santa Rosa.
The roadblock has been mounted by the inhabitants of Casillas, a neighbouring rural municipality, located a few kilometres down the road, and which cannot be avoided on the way to the mine. Other transit points have also been blocked by the "resistance", as the anti-mining protesters refer to themselves.
Last Updated on Saturday, 26 May 2018 15:25
Read more...
Earth News
Posted by Joan Russow
Friday, 27 April 2018 11:58
By Joan Russow PhD
Clobal Compliance Research Project 
Friday April 27 2018, 
At COP 21Ban Ki Moon, in Paris, urged states to negotiate with a global vision not with national vested interests (Cop21 press conference)
A global vision  would be: 
to address article 2 of the UNFCCC and at a minimum to immediately end all subsidies for fossil fuel, to calculate the carbon budget for each state,
to divest in fossil fuels and to reinvest in renewable energy, to conserve sinks -such as old growth forests and bogs, to strengthen conservation of  biodiversity, 
to avoid all false solutions such as nuclear, geo-engineering and biofuels which would all violate principles within the UNFCCC, to compensate for historical  emissions,
and to institute a fair and just transition for workers affected negatively by the new vision.  and to promote nature based solutions  and socially equitable
and environmentally sound such as solar, wind, tidal, and geothermal
COP24 in Katowice  must avoid the systemic constraints that undermined COP21
SYSTEMIC CONSTRAINTS PREVENTING THE COMMITMENT TO URGENCY
IN COP21 IN THE PREAMBLE IS THE "RECOGNITION THAT CLIMATE CHANGE REPRESENTS AN URGENT AND POTENTIALLY IRREVERSIBLE THREAT TO HUMAN SOCIETY AND THE PLANET" YET THE EXISTENCE OF SYSTEMIC CONSTRAINTS PREVENTED COP21 FROM EMBODYING THIS RECOGNITION
1.THE BEST IS THE ENEMY OF THE GOOD- THE COMPROMISERS CREDO
2 BASELINES TARGETS TIMEFRAMES WERE ALL OUT OF SYNC
3. -EXPEDIENT OMISSION; GLOBAL CARBON BUDGET. HISTORICAL AND PER CAPITA EMISSIONS
4. THE SHORTNESS OF INSTITUTIONAL MEMORY AND THE UNDERMINING OF LEGAL OBLIGATIONS FROM ARTICLE 2 3 AND 4
5. A SOLUTION SHOULD NEVER BE EQUALLY BAD OR WORSE THAN THE PROBLEM IT IS INTENDED TO SOLVE
6.SOME STATES ARE MORE EQUAL THAN OTHER
7. THE LOWEST COMMON DENOMINATOR; THE  TYRANNY OF CONSENSUS
8 THE FAILURE TO REVERSE THE EXEMPTION FOR THE CONTRIBUTION TO GREEMHOUSE GAS EMISSION
9. RELUCTANCE TO USE THE INTERNATIONAL COURT AGAINST THE MAJOR EMMITTERS FOR THEY VIOLATIONS OF ARTICLE 2 OF THE UNFCCC
10. IGNORING COMMITMMENT FOR FUNDING SOURCE
Last Updated on Thursday, 07 June 2018 12:36
Read more...
Justice News
Posted by Joan Russow
Saturday, 21 April 2018 07:20
 Joan Russow PhD
Global Compliance Reseach Project

"The reduction of the military budget and disarmament are necessary conditions of security and development" (Anatole Rapapport, presentation at the World Order Conference, 2001)

Throughout the years, through international agreements, member states of the United Nations have recognized that the military budget has been a waste and misuse of resources. Unfortunately, institutional memory is either short or member states ignore precedents.

In 1976 at Habitat 1, member states of the United Nations affirmed the following in relation to the military budget:

"The waste and misuse of resources in war and armaments should be prevented. All countries should make a firm commitment to promote general and complete disarmament under strict and effective international control, in particular in the field of nuclear disarmament. Part of the resources thus released should be utilized so as to achieve a better quality of life for humanity and particularly the peoples of developing countries" (II, 12 Habitat 1).
Read more...
Earth News
Posted by Joan Russow
Thursday, 19 April 2018 06:32
By Andrea Diaz, CNN - Updated 6:16 PM ET, Wed April 18, 2018
Canadian Prime Minister Justin Trudeau was greeted in Britain's capital with a 98-foot long fake pipeline that blocked the main entrance to the Canadian High Commission."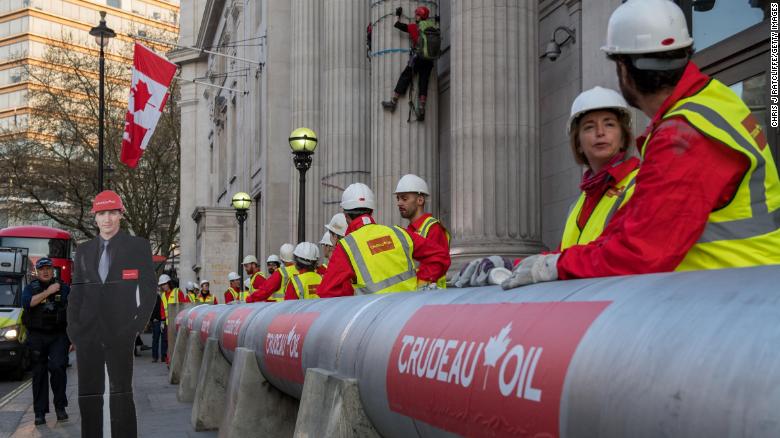 Greenpeace activists build an "oil pipeline" next to a cutout of Canadian Prime Minister Justin Trudeau was greeted in London on Wednesday with a 98-foot fake pipeline meant to challenge his support of a controversial oil pipeline in his country.
The stunt, which blocked the main entrance to the Canadian High Commission, was orchestrated by Greenpeace activists who oppose a multibillion-dollar pipeline planned in western Canada across indigenous lands.
The Trans Mountain expansion, approved in 2016, will help oil companies reach new markets by expanding the capacity of North America's only pipeline with access to the West Coast, and it will nearly triple the number of oil tankers traveling the shared waters between Canada and Washington state.
Last Updated on Monday, 23 April 2018 22:05
Read more...
<< Start < Prev 1 2 3 4 5 6

7

8 9 10 Next > End >>


Page 7 of 1344