International Categories
Justice News
Posted by Joan Russow
Saturday, 23 June 2018 14:14
Global Compliance Research Project
THE INFLUENCE OF IRWIN COTLER AND UN WATCH
The panel's members — Santiago Canton of Argentina, Irwin Cotler of Canada and Manuel Ventura of Costa Rica — called for a formal investigation into the charges and asked the Secretary General of the Organization of American States (OAS), Luis Almagro, to submit their report to the ICC.
Irwin Cotler is a member of UN watch a right wing group that has targeted socialist countries and countries that have criticized Israel. Venezuela has been their target since at easy 2012 when Caprile, a Jewish opposition Leader ran against Chavez. The head of the group is Hillel Neuer a lawyer from Montreal. The group was also concerned about Chavez protesting against Israeli treatment of Gaza and in 2009 and against the expelling of the Israeli embassy. On Chavez death,  Hillel Neuer, the head of UN Watch, a pro-Israeli front group referred to Chavez, internationally, as a "symbol of evil;" and decried that Chavez was given a one-minute of silence tribute at the UN Human Rights Council.
UN watch has targeted President Chavez over the years and has had an inordinate amount of access to the international media.. Disturbingly one of UN Watch`s directors is another Canadian, MP Irwin Cotler.
The NGO, UN Watch, targets specific states like Venezuela and leaders, such as Hugo Chavez and ignores the failings of other states, such as the US, Canada and Israel.
http://pejnews.com/index.php?option=com_content&view=article&id=8981:the-ngo-un-watch-targets-specific-states-like-venezuela-and-leaders-such-as-hugo-chavez-and-ignores-the-failings-of-other-states-such-as-the-us-canada-and-israel&catid=74:ijustice-news&Itemid=216
UNITED STATES HAND IN UNDERMINING DEMOCRACY IN VENEZUELA
Last Updated on Saturday, 23 June 2018 19:38
Read more...
Justice News
Posted by Joan Russow
Thursday, 21 June 2018 14:32
Time for a US Apology to El Salvador
Obamaexpressed regret for US support of Argentina's "dirty war." It's time Washington did the same regarding our active backing of right-wing butchery in El Salvador.
By Raymond Bonner APRIL 15, 2016
https://www.thenation.com/article/time-for-a-us-apology-to-el-salvador/
Women look over the excavation site where the remains of their friends and relatives are being exhumed by forensic anthropologists in El Mozote, El Salvador. (AP Photo / Luis Romero)
Ready To Join The Resistance?
Sign up for Take Action Now and we'll send you three actions every Tuesday. 
You will receive occasional promotional offers for programs that support The Nation's journalism. You can read our Privacy Policy here.
Over the ages, the United States has routinely intervened in Latin America, overthrowing left-wing governments and propping up right-wing dictators. President Obama pressed a reset button of sorts last month when he traveled to Cuba and Argentina. Now it's time for him to visit a Latin America country that is geographically smallest but where Washington's footprint is large and the stain of intervention perhaps greatest—El Salvador.
Last Updated on Thursday, 21 June 2018 15:11
Read more...
Justice News
Posted by Joan Russow
Thursday, 21 June 2018 13:45
October 31, 2016 9.00pm EDT - Author
 Joseph Nevins Associate Professor of Geography, Vassar College
Disclosure statement
Joseph Nevins is a member of the editorial committee of the North American Congress on Latin America (NACLA).
Partners
View all partners
Republish this article
Republish Republish our articles for free, online or in print, under Creative Commons licence.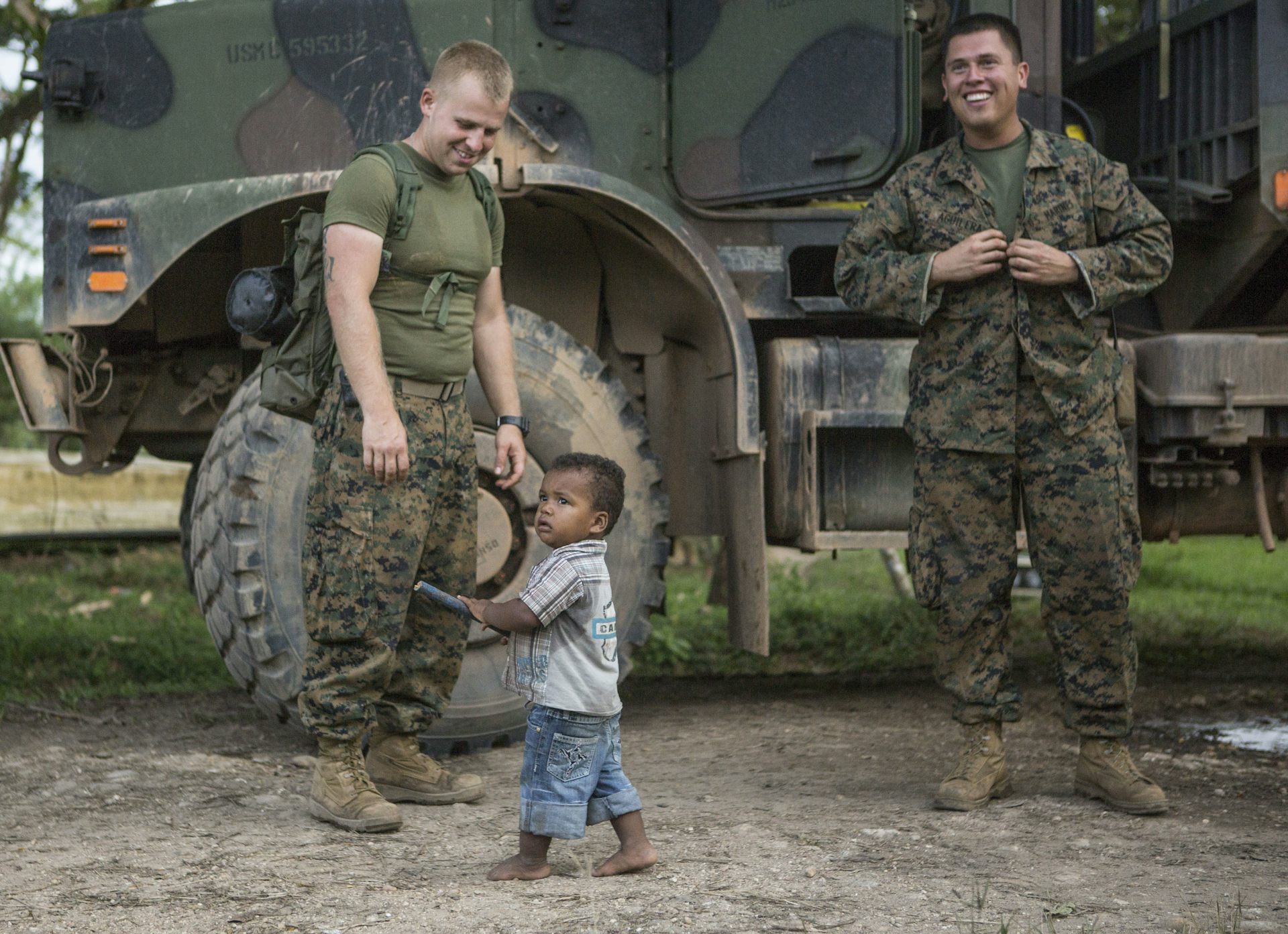 U.S. Marines in Honduras in July 2016. 
Central American migrants – particularly unaccompanied minors – are again crossing the U.S.-Mexico boundary in large numbers.
In 2014, more than 68,000 unaccompanied Central American children were apprehended at the U.S.-Mexico boundary. This year so far there have been close to 60,000.
The mainstream narrative often reduces the causes of migration to factors unfolding in migrants' home countries. In reality, migration is often a manifestation of a profoundly unequal and exploitative relationship between migrant-sending countries and countries of destination. Understanding this is vital to making immigration policy more effective and ethical.
Through my research on immigration and border policing, I have learned a lot about these dynamics. One example involves relations between Honduras and the United States.
U.S. roots of Honduran emigration
Last Updated on Thursday, 21 June 2018 22:03
Read more...
Justice News
Posted by Dragonslayer
Thursday, 21 June 2018 11:43
Well Donald ... Your dream of being on the cover of TIME has come true. For someone who thinks any news is good news; how do you like this
Last Updated on Thursday, 21 June 2018 11:48
Earth News
Posted by Joan Russow
Thursday, 21 June 2018 08:40
By Emilio Godoy - Reprint
Photomontage by the organisation Isla Urbana, a pioneer in the promotion of rainwater harvesting as part of a new model in the management of water supply and consumption in Mexico, where the benefits of the system to get access to water are recreated in informal settlements in the west of the capital. Credit: Isla Urbana
Last Updated on Thursday, 21 June 2018 23:40
Read more...
<< Start < Prev 1 2 3 4

5

6 7 8 9 10 Next > End >>


Page 5 of 1348