Posted by Joan Russow
Saturday, 23 June 2018 14:14
Global Compliance Research Project
THE INFLUENCE OF IRWIN COTLER AND UN WATCH
The panel's members — Santiago Canton of Argentina, Irwin Cotler of Canada and Manuel Ventura of Costa Rica — called for a formal investigation into the charges and asked the Secretary General of the Organization of American States (OAS), Luis Almagro, to submit their report to the ICC.
Irwin Cotler is a member of UN watch a right wing group that has targeted socialist countries and countries that have criticized Israel. Venezuela has been their target since at easy 2012 when Caprile, a Jewish opposition Leader ran against Chavez. The head of the group is Hillel Neuer a lawyer from Montreal. The group was also concerned about Chavez protesting against Israeli treatment of Gaza and in 2009 and against the expelling of the Israeli embassy. On Chavez death,  Hillel Neuer, the head of UN Watch, a pro-Israeli front group referred to Chavez, internationally, as a "symbol of evil;" and decried that Chavez was given a one-minute of silence tribute at the UN Human Rights Council.
UN watch has targeted President Chavez over the years and has had an inordinate amount of access to the international media.. Disturbingly one of UN Watch`s directors is another Canadian, MP Irwin Cotler.
The NGO, UN Watch, targets specific states like Venezuela and leaders, such as Hugo Chavez and ignores the failings of other states, such as the US, Canada and Israel.
http://pejnews.com/index.php?option=com_content&view=article&id=8981:the-ngo-un-watch-targets-specific-states-like-venezuela-and-leaders-such-as-hugo-chavez-and-ignores-the-failings-of-other-states-such-as-the-us-canada-and-israel&catid=74:ijustice-news&Itemid=216
UNITED STATES HAND IN UNDERMINING DEMOCRACY IN VENEZUELA
Last Updated on Saturday, 23 June 2018 19:38
Read more...
Posted by Joan Russow
Thursday, 21 June 2018 14:32
Time for a US Apology to El Salvador
Obamaexpressed regret for US support of Argentina's "dirty war." It's time Washington did the same regarding our active backing of right-wing butchery in El Salvador.
By Raymond Bonner APRIL 15, 2016
https://www.thenation.com/article/time-for-a-us-apology-to-el-salvador/
Women look over the excavation site where the remains of their friends and relatives are being exhumed by forensic anthropologists in El Mozote, El Salvador. (AP Photo / Luis Romero)
Ready To Join The Resistance?
Sign up for Take Action Now and we'll send you three actions every Tuesday. 
You will receive occasional promotional offers for programs that support The Nation's journalism. You can read our Privacy Policy here.
Over the ages, the United States has routinely intervened in Latin America, overthrowing left-wing governments and propping up right-wing dictators. President Obama pressed a reset button of sorts last month when he traveled to Cuba and Argentina. Now it's time for him to visit a Latin America country that is geographically smallest but where Washington's footprint is large and the stain of intervention perhaps greatest—El Salvador.
Last Updated on Thursday, 21 June 2018 15:11
Read more...
Posted by Joan Russow
Thursday, 21 June 2018 13:45
October 31, 2016 9.00pm EDT - Author
 Joseph Nevins Associate Professor of Geography, Vassar College
Disclosure statement
Joseph Nevins is a member of the editorial committee of the North American Congress on Latin America (NACLA).
Partners
View all partners
Republish this article
Republish Republish our articles for free, online or in print, under Creative Commons licence.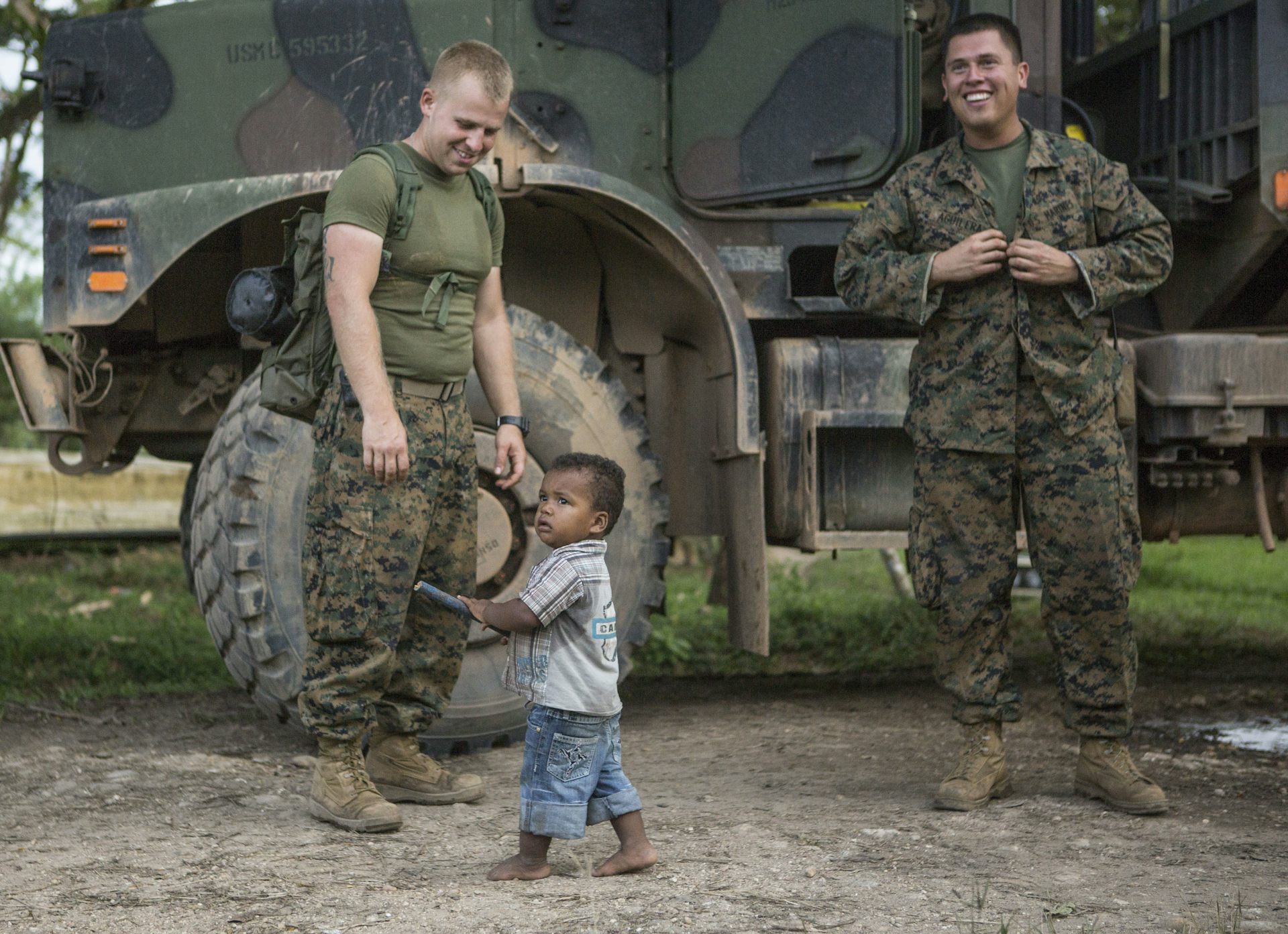 U.S. Marines in Honduras in July 2016. 
Central American migrants – particularly unaccompanied minors – are again crossing the U.S.-Mexico boundary in large numbers.
In 2014, more than 68,000 unaccompanied Central American children were apprehended at the U.S.-Mexico boundary. This year so far there have been close to 60,000.
The mainstream narrative often reduces the causes of migration to factors unfolding in migrants' home countries. In reality, migration is often a manifestation of a profoundly unequal and exploitative relationship between migrant-sending countries and countries of destination. Understanding this is vital to making immigration policy more effective and ethical.
Through my research on immigration and border policing, I have learned a lot about these dynamics. One example involves relations between Honduras and the United States.
U.S. roots of Honduran emigration
Last Updated on Thursday, 21 June 2018 22:03
Read more...
Posted by Dragonslayer
Thursday, 21 June 2018 11:43
Well Donald ... Your dream of being on the cover of TIME has come true. For someone who thinks any news is good news; how do you like this
Last Updated on Thursday, 21 June 2018 11:48
Posted by Joan Russow
Thursday, 21 June 2018 10:18
Photo taken on June 20 World Refugee Day  on the Steps of the BC Legislature
The United States is the only country that has not ratified the Convention on the Rights of the Child
Under the Convention on the Rights of the Child is the recognition of the inherent dignity and of the equal and inalienable rights of all members of the human family is the foundation of freedom, justice and peace in the world:  (Convention On the Rights of the child)
1.  To not detain refugee claimants (and other immigrants) as a matter of routine, for lengthy periods of time because they lack money or family is unable to post bond. The UNHCR has published guidelines on the detention of asylum seekers objecting to such detention. The concern is that the grounds and powers of arrest result in abuses of fundamental human rights. powers of arrest result in abuses of fundamental human rights.
In a debate,  a Trump supporter exclaimed that Trump would be a hero if he anounced that the children would no longer be separated from their parents, his opponent said that is like praising the arsonist who put out the fire [given it was Trump who initially gave the zero Tolerance edict]
Last Updated on Friday, 22 June 2018 09:45
Posted by Joan Russow
Thursday, 21 June 2018 08:40
By Emilio Godoy - Reprint
Photomontage by the organisation Isla Urbana, a pioneer in the promotion of rainwater harvesting as part of a new model in the management of water supply and consumption in Mexico, where the benefits of the system to get access to water are recreated in informal settlements in the west of the capital. Credit: Isla Urbana
Last Updated on Thursday, 21 June 2018 23:40
Read more...
Posted by Joan Russow
Monday, 18 June 2018 16:46
Justice News
Posted by Joan Russow
Monday, 18 June 2018 07:21
[From Report of the United Nations Conference on the Human Environment, Stockholm, June 1972.] 
Declaration of the United Nations Conference on the Human Environment
The United Nations Conference on the Human Environment, having met at Stockholm from 5 to 16 June 1972, having considered the need for a common outlook and for common principles to inspire and guide the peoples of the world in the preservation and enhancement of the human environment,
Proclaims that:
1. Man is both creature and moulder of his environment, which gives him physical sustenance and affords him the opportunity for intellectual, moral, social and spiritual growth. In the long and tortuous evolution of the human race on this planet a stage has been reached when, through the rapid acceleration of science and technology, man has acquired the power to transform his environment in countless ways and on an unprecedented scale. Both aspects of man's environment, the natural and the man-made, are essential to his well-being and to the enjoyment of basic human rights the right to life itself.
2. The protection and improvement of the human environment is a major issue which affects the well-being of peoples and economic development throughout the world; it is the urgent desire of the peoples of the whole world and the duty of all Governments.
Last Updated on Monday, 18 June 2018 16:49
Read more...
Posted by Joan Russow
Sunday, 17 June 2018 07:24
Trump repeats falsehood that Democrats are to blame for forced family separations at the US-Mexico border
Ellen Cranley and Michelle Mark
http://uk.businessinsider.com/trump-falsely-claims-democrats-border-family-separations-immigration-2018-6
trump red tie white house pressEvan Vucci/AP
President Donald Trump repeated a false claim that Democrats are behind his administration's "zero-tolerance" policy that separates families at the US-Mexico border.
US immigration law does not require families to be split up at the border
Attorney General Jeff Sessions announced the policy in May.
New immigration legislation introduced by House Republicans Friday does nothing to change the policy.
Almost 2,000 children have reportedly been separated from their families at the border over six weeks under the policy.
President Donald Trump repeated a false claim in a tweet Saturday that blames Democrats for the policy of separating immigrant parents from their children upon crossing the southern border between the US and Mexico.
Read more...
Posted by Joan Russow
Friday, 15 June 2018 16:57
"North American governments have shown the 'fortitude' necessary to kill indigenous people often enough that this is no idle threat," warns Bill McKibben.
https://www.commondreams.org/news/2018/06/15/former-bank-canada-head-pipeline-protesters-may-be-killed-so-be-it
byAndrea Germanos, staff writer Common Dreams
Protesters at a rally in Vancouver to show opposition to the Trans Mountain pipeline on September 9th, 2017. (Photo: William Chen/flickr/cc)
As Canada's controversial Trans Mountain pipeline expansion project faces ongoing opposition, the former governor of the Bank of Canada said that protesters may die but that the government should push the project through anyway.
Speaking at an event Wednesday, David Dodge said, "We're going to have some very unpleasant circumstances," the Edmonton Journal reported. "There are some people that are going to die in protesting construction of this pipeline. We have to understand that."
"Nevertheless, we have to be willing to enforce the law once it's there," Dodge said. "It's going to take some fortitude to stand up."
Read more...
Posted by Dragonslayer
Friday, 15 June 2018 11:58
Stop standing around like deer in the headlights...Stop this process from happening.
Start World Trade War
Invite foreign companies to move to US to avoid Tariffs
Create poor working class using immigrant children from Walmart detainees
Add the new factories to the detained centres so that detainees can live in Walmart barracks and work in factories next door.
Nationalize these new industries and get buddies to run them thus creating a rich American oligarchy just like Russia
Bonus...Donald Chump gets his wall created by building Walmarts along the border using cheap child labour. That's how he can get Mexico to pay for his wall
Last Updated on Friday, 15 June 2018 12:41
Posted by Joan Russow
Friday, 15 June 2018 10:40
Finally counrtries are moving to ban genetically engineered food and crops, and refusing to enter into trade agreements with countries that produce GE food and crops. I have been circulating this petition for years
by Joan Russow Global Compliance Research Projecr, Ecological Rights Association *
Please circulate on e-mail
To sign a petition on facebook please go to Change.org 
Genetically engineered food and crops have contaminated the Global food system and undermined food security and must be banned.
The institutional Collusion, in relation to genetically engineered food and crops, among corporations, governments, universities and regulatory agencies has been endemic; this collusion has sadly spread to certain scientific publications.  For the sake of food security for present and future generations: (i) this collusion must end; (ii) the precautionary principle must be invoked, (iv) genetically engineered food and crops, banned; (v) the charters of Monsanto et al, revoked; and (vi) charges of gross/criminal negligence against these corporations, levied.
We are living in a wake of corporate/government/university/ negligence from previous harmful substances that were once deemed safe for human health and the environment. Given the unattended consequences of genetically engineered foods and crops, and the global commitment to the precautionary principle, it becomes imperative to institute a complete ban on genetically engineered foods and crops. There is sufficient emerging scientific evidence to justify the banning to prohibit all further production and export of genetically engineered foods and crops.  
Last Updated on Friday, 15 June 2018 10:50
Read more...
<<

Start

<

Prev

1

2 3 4 5 6 7 Next > End >>


Page 1 of 7