Posted by Joan Russow
Saturday, 15 December 2018 08:02
A federal appeals court has thrown out company's permit to build a natural gas pipeline across two national forests and the Appalachian Trail – and slammed the U.S. Forest Service for granting the approvals in the first place.
Last Updated on Saturday, 15 December 2018 08:16
Read more...
Posted by dragonslayer
Friday, 14 December 2018 11:20
Found this article on google search. It is from the Financial Tribune which appears to be an Iranian based news outlet. As such it may be 100% propaganda. The article needs to be verified with an independant investigation by someone with more resources than I have.
The article suggests that both Samsung and Huawei have a substancial investment in Iran. If true the question arises "Why is Huawei being singled out?" which leads to China's assertion that the attack on Huawei is all about competition and the inability of other providers to compete with Huawei. Any way here is the Financial Tribune article.
Financial Tribune
THURSDAY December, 13 2018

Sci & Tech January 14, 2018 17:05 Samsung, Huawei Dominate 83% of Iran Android Phone MarketThe Android market Café Bazaar reports that 51% of its users have handsets produced by the South Korean tech giant Samsung which translates into 17.8 million users
Last Updated on Friday, 14 December 2018 17:47
Read more...
Posted by Joan Russow
Monday, 10 December 2018 11:19
from the Rea News 
https://therealnews.com/stories/lopez-obradors-plans-to-lead-mexico-out-of-neoliberalism-will-mean-crossing-swords-with-the-usDecember 9, 2018
We now have a politically experienced president in Mexico – gone are the days when Mexico kowtows to the US. This will mean a more sovereign economic and foreign policy, says Vijay Prashad of Tricontinental Institute for Social Research
SHARMINI PERIES: It's The Real News Network. I'm Sharmini Peries, coming to you from Baltimore.
A bold transformation of Mexico's economy is one of the many promises the newly inaugurated President Andres Manuel Lopez Obrador, known as AMLO, is promising his people. Some have deemed this the fourth transformation of Mexico. But that won't be easy for the newly elected president. Joining me now to discuss the challenge is Vijay Prashad. He is the executive director of the Tricontinental Institute for Social Research. Vijay, good to have you back.
Read more...
Posted by Joan Russow
Monday, 03 December 2018 23:01
In Germany—the birthplace of the modern automobile—carmakers are anticipating the day when people stop owning cars.
By Stefan Nicola and Elisabeth BehrmannAugust 16, 2018, 9:00 PM PDT
For years, Martin Bruesch was the bread and butter of the German auto industry. He routinely used his 211-horsepower Audi A4 station wagon for the 20-minute trip to the office.
Now on work days his car usually stays parked outside his apartment in the affluent Berlin neighborhood of Charlottenburg and the 32-year-old human resources executive hails a new carpooling service instead.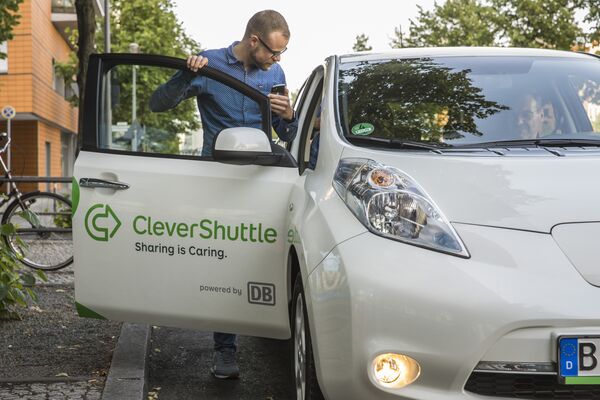 "If I'm truly honest with myself, then owning a car is too expensive with all these alternatives around," Bruesch said as he got into one of CleverShuttle's battery-powered Nissan Leafs one evening this month.
Last Updated on Monday, 03 December 2018 23:25
Read more...
Posted by Joan Russow
Sunday, 02 December 2018 14:43
Manitoba's hydro mess points to Canada's larger problem with megadams
As most of the Western world moves away from large-scale hydro projects, decommissioning dams across the planet, Canada is digging in with a trio of projects, the costs of which are spiralling out of control
Sarah Cox
Nov 22, 2018 12
For eight years, Graham Lane headed a watchdog commission that raised red flag after red flag about the Keeyask dam hydro project on Manitoba's Nelson River.
Politicians ignored the warnings and in 2012 Lane resigned as chair of Manitoba's Public Utilities Board, concerned that Manitoba Hydro had strayed far from its main purpose — to provide low cost energy to Manitobans.
Now the retired chartered accountant is speaking out in the hopes of stemming the losses from the Keeyask dam project and a related transmission line, which he calls "an albatross around the necks of Manitobans."
"In Manitoba basically everything has gone wrong," Lane told The Narwhal. "It's quite a disaster."
Last Updated on Sunday, 02 December 2018 14:49
Read more...
Posted by Joan Russow
Thursday, 22 November 2018 07:40
"We have come from the forest and we worry about what is happening."
byJessica Corbett, staff writer Common Dreams
https://www.commondreams.org/news/2018/11/21/calling-corridor-life-and-culture-indigenous-groups-amazon-propose-creation-largest
Amazon
The Xingu River flows near the area where the Belo Monte dam complex is under construction in the Amazon basin on June 15, 2012 near Altamira, Brazil. The controversial project is opposed by many environmentalists and indigenous groups. (Photo: Mario Tama/Getty Images)
Alarmed by rampant destruction in the Amazon rainforest and the long-term impacts on biodiversity, an alliance of indigenous communities pitched the creation of the world's largest protected area, which would reach from the Andes to the Atlantic Ocean, at a United Nations conference in Egypt on Wednesday.
Read more...
Posted by Joan Russow
Tuesday, 20 November 2018 20:54
New York Times reports says plans for Nicolas Maduro's overthrow fell apart after US officials declined to cooperate.
https://www.aljazeera.com/news/2018/09/trump-officials-met-venezuela-military-coup-plotters-180909061033703.html
9 Sept 2018
Trump officials met Venezuela military 'coup plotters'
Maduro took power after Hugo Chavez death in 2013 and has faced political and economic challenges [AP 
Maduro took power after Hugo Chavez death in 2013 and has faced political and economic challenges [AP Photo/Ariana Cubillos] 
MORE ON VENEZUELA
Venezuelan rape-survivor-turned-lawyer finally gets justice
4 days ago
Colombia opens first tent camp for Venezuelan migrants, refugees
5 days ago
UN: Number of migrants, refugees from Venezuela reaches 3 million
last week
Allying with Bolsonaro will harm Venezuela's opposition
last week
Trump administration officials held secret meetings with Venezuelan military officers to discuss plans to overthrow President Nicolas Maduro, according to a report by the New York Times.
The news outlet said on Saturday that at least three distinct groups from the military were involved in attempts at overthrowing the Venezuelan leader.
According to the report, there were plans for a coup in the summer of 2017, and later in March and May of this year. However, when US officials declined to cooperate, plans for Maduro's overthrow fell 
Last Updated on Tuesday, 20 November 2018 21:00
Read more...
Posted by Joan Russow
Tuesday, 20 November 2018 11:49
Alex Neve and Sarah Morales: Site C dam still far from 'point of no return'
ALEX NEVE & SARAH MORALES
Updated: November 19, 2018
Installation of concrete for the south-bank tailrace wall in July at B.C. Hydro's Site C dam construction project on the Peace River near Fort St. John. B.C. HYDRO / PNG
ADJUST
COMMENT
PRINT
Last month, the B.C. Supreme Court handed the Horgan government a victory that may prove much more costly than a defeat.
The West Moberly and Prophet River First Nations had asked the court to temporarily suspend construction of the Site C dam, or at least protect critical areas of the Peace Valley while their still unresolved Treaty rights challenge is being considered. On Oct. 24, Justice Warren Milman dismissed the injunction application entirely. This is exactly what the provincial government and B.C. Hydro had asked the court to do.
At the same time, the judge ruled that the First Nations' legal challenge can continue with the possibility that, if the First Nations are able to prove their case, the dam could be stopped before plans to flood the Peace River Valley are completed.
In other words, the court told the province, if you so choose, you're free to continue sinking billions of dollars into a project you might never be allowed to complete.
Read more...
Posted by Joan Russow
Sunday, 18 November 2018 21:02
Provincial rules require spraying of fire-resistant aspen trees to make way for valuable conifers
PLEASE SIGN PETITION 
https://www.change.org/p/government-of-british-columbia-stop-spraying-bc-forests-with-herbicide-to-kill-trees-like-poplar-that-wildlife-need?recruiter=728416211&utm_source=share_petition&utm_medium=copylink&utm_campaign=share_petition
Bethany Lindsay · CBC News · Posted: Nov 17, 2018 8:00 AM PT | Last Updated: November 17
https://www.cbc.ca/news/canada/british-columbia/it-blows-my-mind-how-b-c-destroys-a-key-natural-wildfire-defence-every-year-1.4907358
Aspen trees naturally flourish after a wildfire, but they're also less vulnerable to flames than coniferous trees. (Rick Wilking/Reuters)
Last year, 12,812 hectares of B.C. forest was sprayed with the herbicide glyphosate. It's an annual event — a mass extermination of broadleaf trees mandated by the province.
The eradication of trees like aspen and birch on regenerating forest stands is meant to make room for more commercially valuable conifer species like pine and Douglas fir.
But experts say it also removes one of the best natural defences we have against wildfire, at a time when our warming climate is helping make large, destructive fires more and more common.
Last Updated on Thursday, 22 November 2018 09:11
Read more...
Posted by Joan Russow
Tuesday, 13 November 2018 21:11
Maker of Roundup denies any hidden influence on studies used in approval process
Gil Shochat · CBC News · Posted: Nov 11, 2018 4:00 AM ET | Last Updated: November 11
https://www.cbc.ca/news/technology/monsanto-roundup-health-canada-1.4896311
Health Canada says its scientists are reviewing hundreds of studies used during the approval process for glyphosate, the active ingredient in Canada's most popular herbicide, Roundup.
Health Canada says in light of "troubling allegations," its scientists are reviewing hundreds of studies used during the approval process for glyphosate, the active ingredient in Canada's most popular herbicide, Roundup.
The decision comes after a coalition of environmental groups claimed Health Canada relied on studies that were secretly influenced by agrochemical giant Monsanto, the maker of Roundup, when it re-approved use of glyphosate in 2015 and confirmed that decision in 2017.
Read more...
Posted by Sue Hiscocks
Friday, 09 November 2018 13:02
The fossil fool industry has spent 31 million in Washington State to defeat carbon tax as opposed to 15 million others spent in support of carbon tax to fight climate change *

This is not a big deal in itself because even this lowly environmentalist thinks that tax is not effective but that carbon caps are effective if applied at the point that carbon comes out of the ground.

We need to bypass the carbon tax and calculate how much each country needs to cap their extraction of fossil fuels to save the planet and our descendants.

* Times Colonist Nov 8th 2018
Last Updated on Friday, 09 November 2018 13:27
<< Start < Prev 1 2 3 4 5

6

7 8 9 10 Next > End >>


Page 6 of 10