Posted by Joan Russow
Friday, 14 April 2017 13:15
https://www.commondreams.org/news/2017/04/14/americans-bracing-more-war-under-trigger-happy-trump'It is as if he has discovered the keys to the family gun cabinet'
The American public is bracing for war now that President Donald Trump has seemingly stumbled upon "the keys to the family gun cabinet," as one observer put it, after a week of rash and aggressive military action.
The unprecedented use of a GBU-43/B Massive Ordnance Air Blast Bomb (MOAB), known as the 'mother of all bombs,' on Thursday was just the latest in a series of attacks by the U.S. in recent days, prompting demands for a Congressional debate on the use of military force.
Dr. Gabriela Lemus, president of the Progressive Congress Action Fund political action group, issued a statement Thursday saying that the use of "the largest non-nuclear bomb in our arsenal...to target [the Islamic State or ISIS] without the advice and consent of Congress raises serious concerns about the potential for the United States' engagement in unchecked use of military force and blanket authorization for endless war."
Specifically, Lemus said there must be an "immediate and urgent review of the 2001 Authorization for Use of Military Force (AUMF)" and supports legislation put forth by Rep. Barbara Lee (D-Calif.) that calls for repeal of the 2001 AUMF.
Read more...
Posted by Joan Russow
Friday, 14 April 2017 07:54
By Joan Russow PhD
Global Compliance Research Project
(OUTLINE FROM A LARGER DOCUMENT)
(RELEASED NOW BECAUSE OF TRUMP'S INCREASED MILITARISM AND DEFIANCE OF THE RULE OF INTERNATIONAL LAW)
DISARMAMENT POSTER - NORTHERN fRIENDS' pEACE BOARD 1935
A.
PEACE PROMOTION
*COMMON SECURITY
1. We must reappropriate the word "security" and not allow it to be distorted by the military. (Dr. Ursula Franklin, internationally renowned scientist and pacifist (1984 at the lead up conference to Nairobi Conference on Women, 1985)
 2. "True security exists when all are secure, through "common security" (Olof Palme, 1982) whose objectives could be extended to include but not limited to the following:
(a) to achieve a state of peace, and disarmament; through    reallocation of military expenses and delegitimization of war;
(b) to promote and fully guarantee respect for human rights including  labour rights, civil and political rights, indigenous rights, social and cultural rights – right to food, to housing, to safe drinking water and sanitation , right to education and right to universally accessible not for profit health care system; right to water and sanitation
(c) to ensure the preservation, conservation and protection of the environment, the respect for the inherent worth of nature beyond human purpose, to reduce the ecological footprint and to move away from the current model of unsustainable and excessive overconsumption
(d) To enable socially equitable and environmentally sound employment, energy and transportation,
(e)  to fully implement the UN Declaration the Rights of Indigenous Peoples
Last Updated on Wednesday, 19 April 2017 16:29
Read more...
Posted by Joan Russow
Thursday, 13 April 2017 13:16
Rep. Barbara Lee (D-Calif.) said the "unprecedented use of an MOAB...marks a new front in the almost 16 year war in Afghanistan."
https://www.commondreams.org/news/2017/04/13/commander-chief-trump-drops-mother-all-bombs-afghanistan
Commander-in-Chief Donald Trump unleashed one of the most powerful U.S. bombs—the 20,000 pound GBU-43, known as "the mother of all bombs"—on Afghanistan on Thursday, the Pentagon has confirmed.
The MOAB, which stands for massive ordinance air blast, reportedly struck an Islamic State (ISIS) tunnel complex in Nangarhar province. According to the Department of Defense statement, "the strike was designed to minimize the risk to Afghan and U.S. Forces conducting clearing operations in the area while maximizing the destruction of ISIS-K fighters and facilities."
However, as observers pointed out, with a one-mile blast radius, the chance of numerous civilian causalities is high. The MOAB is said to be one of the largest non-nuclear bombs in the U.S. military arsenal and this is reportedly the first time it has been used.
Read more...
Posted by Joan Russow
Friday, 07 April 2017 05:21
by Joan Russow Global Compliance Research Project April 6, 2017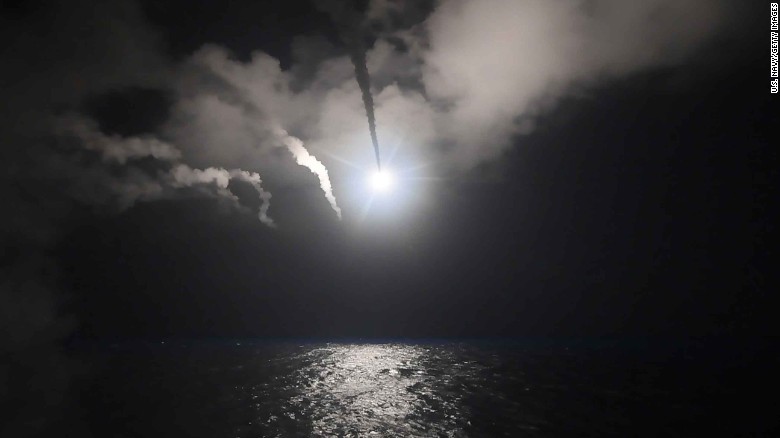 Yet again US disrespects the rule international law. Under the Charter of the United Nations is an important Chapter; Chapter VI- the peaceful resolution of disputes. Unfortunately, the US usually bypasses Chapter VI and goes to Chapter VII which does, if supported by the UNSC, legitimize an invasion, and when the US does not receive the support of the UNSC, the US acts, independently.   In this case, Trump did not even attempt to receive support of the UNSC, and did not wait for an investigation into the claim, about the source of the chemical weapons, made by Russia's Foreign Minister Sergei Lavrov  Sergei Lavrov opposed the invasions of Iraq, Afghanistan, and Libya, all of which were condemned by Trump during the election.
Under the Chemical Weapons Convention, there are provisions for bringing to justice any state or group that has used chemical weapons; none is military intervention; but going to the International Court of Justice is one of the provisions. 
SETTLEMENT OF DISPUTES 1. 2. When a dispute arises between two or more States Parties, or between one or more States Parties and the Organization, relating to the interpretation or application of this Convention, the parties concerned shall consult together with a view to the expeditious settlement of the dispute by negotiation or by other peaceful means of the parties' choice, including recourse to appropriate organs of this Convention and, by mutual consent, referral to the International Court of Justice in conformity with the Statute of the Court. 
Last Updated on Monday, 10 April 2017 18:27
Read more...
Posted by Joan Russow
Wednesday, 05 April 2017 09:36
Under President Donald Trump's budget, "war wins out"—over pretty much everything
Social movement leaders from groups across the progressive spectrum launched a campaign on Tuesday denouncing President Donald Trump's proposed $54 billion increase in the U.S. military budget, which is coming at the expense of the environment, education, human and civil rights protections, and public health.
The #No54BillionforWar effort is launching on the 50-year anniversary of Martin Luther King, Jr.'s speech "Beyond Vietnam: A Time to Break the Silence," which warned that "a nation that continues year after year to spend more money on military defense than on programs of social uplift is approaching spiritual death."
Last Updated on Wednesday, 05 April 2017 09:40
Read more...
Posted by Joan Russow
Tuesday, 04 April 2017 04:06
BRIDGETOWN, Barbados, Apr 4 2017 (IPS) - From tourism-dependent nations like Barbados to those rich with natural resources like Guyana, climate change poses one of the biggest challenges for the countries of the Caribbean.
Nearly all of these countries are vulnerable to natural events like hurricanes.
"Why is this such a big deal? The Caribbean is facing a climate crisis, which we need to tackle now - with urgency." --Dr. Warren Smith
Not surprisingly, the climate change threat facing the countries of the Caribbean has not gone unnoticed by the region's premier financial institution, the Caribbean Development Bank (CDB).
Read more...
Posted by Joan Russow
Monday, 03 April 2017 18:09
NEW YORK, Apr 3 2017 (IPS) - Is a paradigm shift now underway on nuclear weapons at the United Nations? That was the question posed as about 130 nations gathered this past week to begin negotiations on a treaty prohibiting nuclear weapons, leading to their total elimination. The treaty would prohibit development, possession and use of nuclear weapons, but would not contain detailed provisions relating to verified dismantlement of nuclear arsenals and governance of a world free of nuclear arms.
This is the first multilateral negotiation on nuclear weapons since the Comprehensive Nuclear-Test-Ban Treaty (CTBT) was adopted in 1996. It is also the first ever such negotiation relating to the global elimination of nuclear arms, despite the fact that the first UN General Assembly resolution, in 1946, called for the elimination of weapons of mass destruction.
The hope of the nations leading the negotiations, including Costa Rica, whose ambassador, Elayne Whyte, is president of the negotiating conference, is that the second session, to be held from June 15 to July 7, will succeed in adopting a treaty. The idea is to strike while the iron is hot.
Last Updated on Monday, 03 April 2017 18:13
Read more...
Posted by Joan Russow
Friday, 31 March 2017 23:36
Slide 3 UN-building-with-logo-overlay.jpg
http://thebulletin.org/120-countries-push-ban-nuclear-survivors-take-floor
Ray Acheson
Over the past two days, about 120 governments have participated in nuclear ban talks at the United Nations, determined to move ahead even though nuclear-armed states like the United States are refusing to participate and pressuring allies to do the same. The high-level segment of the meeting, which invited government ministers and UN permanent representatives to speak, was scheduled to end on Monday but ran until lunchtime on Tuesday due to overwhelming interest. States continued to cite the "historic nature" of the negotiations, with the delegate from Liechtenstein observing that "the broad and high-level representation today shows strong political support for this process."
A diverse set of delegations continued to set out their vision of the fu
Read more...
Posted by Joan Russow
Thursday, 30 March 2017 09:55
ROME/BERLIN, Mar 30 2017 (IPS) - The governments of Australia, Canada, the UK and the US need to close glaring legal loopholes to prevent the corrupt elite from laundering the proceeds of grand corruption in their local real estate markets, a major anti-corruption watchdog urges.
The Berlin-based Transparency International (TI), a global anti-corruption movement working in over 100 countries, on March 29 issued a new report, Doors Wide Open: Corruption and Real Estate in Key Markets, in which it identifies the 10 main problems related to real estate and money laundering in those four countries and makes recommendations on how to address them.
The report focuses on four countries that are known hot-spots for the corrupt to invest and launder money.
Last Updated on Thursday, 30 March 2017 10:02
Read more...
Posted by Joan Russow
Saturday, 25 March 2017 09:08
http://www.commondreams.org/news/2017/03/24/epic-gop-failure-dems-urged-go-bold-medicare-allAmericans rallied against the GOP to defend their right to healthcare, Democrats are being urged to seize on the moment
Physicians for National Health Program president Dr. Carol Paris said Friday's failure by the GOP to pass their "slash and burn" healthcare bill "presents a unique opportunity to move beyond" a profit-based system.
With the Republican attempt to replace the Affordable Care Act (ACA) going down in flames Friday as Americans rallied to defend their right to healthcare, Democrats are being urged, both by experts and constituents, to seize on the moment and counter with a plan that will truly provide coverage for all.
Last Updated on Saturday, 25 March 2017 10:23
Read more...
Posted by Joan Russow
Thursday, 23 March 2017 13:38
ROME, Mar 23 2017 (IPS) - Warning that as many as 600 million children – one in four worldwide – will be living in areas with extremely scare water by 2040, the United Nations children's agency has called on governments to take immediate measures to curb the impact on the lives of children.
In its report, Thirsting for a Future: Water and children in a changing climate, the UN Children's Fund (UNICEF) explores the threats to children's lives and wellbeing caused by depleted sources of safe water and the ways climate change will intensify these risks in coming years.
"This crisis will only grow unless we take collective action now," said UNICEF Executive Director Anthony Lake announcing the report, which was launched on World Water Day on March 22.
"But around the world, millions of children lack access to safe water – endangering their lives, undermining their health, and jeopardizing their futures."
Read more...
<< Start < Prev 1 2 3 4 5

6

7 Next > End >>


Page 6 of 7