Posted by Joan Russow
Thursday, 07 February 2019 14:10
The Right to Life, Liberty, and Land
UNITED NATIONS, Feb 7 2019 (IPS) - Sustainable land management is becoming more important than ever as rates of emissions, deforestation, and water scarcity continue to increase. But what if you don't have rights to the land?
While the impact of agriculture on land is well known, the relationship between land degradation and land tenure seems to be less understood.
In fact, research has shown that insecure land tenure is linked to poor land use as communities have fewer incentives to invest in long-term protective measures, thus contributing to environmental degradation.
"Establishing secure tenure and secure rights to territory and resources for indigenous people and local communities is one of the most important things we can do around achieving positive outcomes for conservation," said Erin Myers Madeira who leads the Nature Conservancy's Global Programme on Indigenous Peoples and Local Communities.
Read more...
Posted by Joan Russow
Tuesday, 05 February 2019 14:39
Below is the transcript of the speech of Greta Thunberg at the COP24 in Katowice, Poland. A hearthfelt, harsh speech she gave with a calm voice, addressing the world's leaders.
"My name is Greta Thunberg. I am 15 years old. I am from Sweden. I speak on behalf of Climate Justice Now. Many people say that Sweden is just a small country and it doesn't matter what we do. But I've learned you are never too small to make a difference. And if a few children can get headlines all over the world just by not going to school, then imagine what we could all do together if we really wanted to.
Last Updated on Tuesday, 05 February 2019 14:57
Read more...
Posted by Joan Russow
Tuesday, 05 February 2019 14:34
IPS correspondent Desmond Brown interviews DOUGLAS SLATER, Assistant Secretary General at the Caribbean Community (CARICOM) Secretariat.
GEORGETOWN, Feb 5 2019 (IPS) - In recent years Caribbean Community (CARICOM) countries have experienced escalated climate change impacts from hurricanes, tropical storms and other weather-related events thanks to global warming of 1.0 ° Celsius (C) above pre-industrial levels. And it has had adverse effects on particularly vulnerable countries and communities.
CARICOM countries and other small island and low-lying coastal developing states have long been calling for limiting the increase in average global temperatures to below 1.5 °C above pre-industrial levels by the end of the century in order to avoid the worst impacts of climate change.
Regional countries have also noted with grave concern the findings of the  Intergovernmental Panel on Climate Change (IPCC) Special Report on Global Warming of 1.5 °C. The report noted that climate-related risks for natural and human systems including health, livelihoods, food security, water supply, human security and economic growth are significantly higher at an increased global warming of 1.5 °C than at the present warming levels of 1 °C above pre-industrial levels.
Read more...
Posted by Joan Russow
Tuesday, 05 February 2019 14:17
WASHINGTON HAS BEEN trying to topple Venezuela's government for at least 17 years, but the Trump administration has taken a more openly aggressive tack than its predecessors. Last week, administration officials kicked their efforts into high gear by anointing their chosen successor to Venezuelan President Nicolás Maduro Moros in advance of any coup d'etat. The 35-year-old Venezuelan member of Congress Juan Guaidó announced that he was now president, and the Trump administration, along with allied governments, immediately recognized him — in accordance with a previously arranged plan.
Read more...
Posted by Joan Russow
Sunday, 27 January 2019 17:28
'There are certain places that are so biologically rare and important'
Matt Humphrey · CBC News · Posted: Jun 28, 2018 8:00 AM PT | Last Updated: June 28, 2018
https://www.cbc.ca/news/canada/british-columbia/rain-forest-gone-1.4724448
A total of 223 scientists from nine countries have signed a letter urging the provincial government to take immediate action to protect B.C.'s remaining temperate rain forests.
"There are certain places that are so biologically rare and important," said Dominick DellaSala, the chief scientist at the Geos Institute in Oregon who helped organize the letter.
"The B.C. rainforests are among those rare places."
NDP blamed for failing to save Vancouver Island old-growth giants from logging
DellaSala said both the province's coastal rainforests and rainforests further inland are dissimilar to anywhere else on the planet. Both play important roles in the preservation of biodiversity and the battle against climate change, he said.
Read more...
Posted by Joan Russow
Friday, 25 January 2019 16:33
About Us
Successes
Blog
News/Press
Contact https://www.baumhedlundlaw.com/toxic-tort-law/monsanto-roundup-lawsuit/where-is-glyphosate-banned/
Updated November, 2018
A number of cities, counties, states and countries throughout the world have taken steps to either restrict or ban glyphosate, the active ingredient in Monsanto's Roundup weed killer.
Read more...
Posted by Joan Russow
Thursday, 24 January 2019 19:32
MEXICO CITY/TAPACHULA, Jan 24 2019 (IPS) - A few months ago, Candelario de JesúsChiquillo Cruz reached Mexico's southern border and ran into a fence reinforced with barbed wire, while a barrier of police officers sprayed him with gas. Today, he is walking freely over the bridge that crosses the Suchiate River, a natural border with Guatemala.
Chiquillo, a 50-year-old from El Salvador, does not hide his pleasure at the welcome he has received in his new attempt to enter Mexico.
"It's an opportunity that I have sought for a long time," he told IPS on Jan. 22, as he showed the document with the number 0000004155128 issued by the Mexican government's National Migration Institute (INM) in Tapachula, a city in the southern state of Chiapas, on the border with Guatemala.
This document will be exchanged in a few days for a "humanitarian visitor card" that will allow him to live and work in Mexico for a year.
"I congratulate Mexico for the position it has taken, allowing us to legally enter the country without being persecuted as migrants. What we want is an opportunity to work," he says.
Mexico's immigration policy has taken a 180-degree turn under the administration of leftist President Andrés Manuel López Obrador, who took office on Dec. 1.
On Jan. 17, the government opened the border to thousands of migrants coming in a caravan from San Pedro Sula, Honduras, fleeing violence, poverty and repression, and announced that it would issue humanitarian visas for the Central American migrants.
Read more...
Posted by Joan Russow
Wednesday, 23 January 2019 18:38
Published on
Wednesday, January 23, 2019
byCommon Dreams
In response to Trump declaration, President Nicolas Maduro gives diplomats from 'imperialist' U.S. 72 hours to leave the country
byJon Queally, staff writer
President Nicolas Maduro of Venezuela officially cut off dipomatic ties with the U.S. government on Wednesday—and gave American diplomats 72 hours to leave the country—in response to President Donald Trump declaring formal recognition of an opposition lawmaker as the "Interim President" of Venezuela, despite not being elected by the nation's people for that position.
"They intend to govern Venezuela from Washington. Do you want a puppet government controlled by Washington?" 
—Venezuela President Nicolas Maduro"Before the people and nations of the world, and as constitutional president," declared Maduro to a crowd of red-shirted supporters gathered outside the presidential residence in Caracas, "I've decided to break diplomatic and political relations with the imperialist U.S. government."
According to the Associated Press:
Maduro said in his speech the U.S. was making a "grave mistake" by trying to impose a president on Venezuela and rattled off a long list of countries — Guatemala, Brazil, Chile and Argentina—that saw leftist governments toppled or come under military rule during the Cold War with U.S. support.
Read more...
Posted by Dragonslayer
Tuesday, 22 January 2019 17:25
Dear Donald ...Please shut down the USA.....thanks in advance Vlad
Dear Vlad....Done
Last Updated on Tuesday, 22 January 2019 17:30
Posted by Joan Russow
Tuesday, 22 January 2019 14:27
Home to vibrantly colored, tiny creatures, the ecosystems floating on the ocean's surface remain all but unknown.
REBECCA HELM - 10:18 AM ET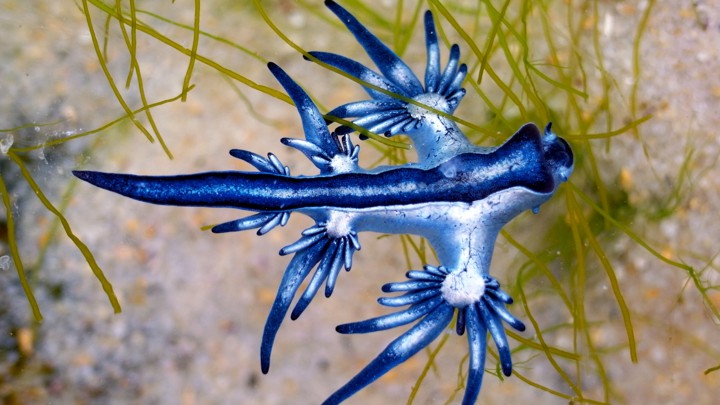 Blue sea dragons are part of the neuston.SHUTTERSTOCK
Imagine you're on a small boat in the middle of the open ocean, surrounded by what looks like a raft of plastic. Now flip the whole world upside down. You remain comfortably attached to your seat—the abyss towers above you, and all around, stretching up from the water's surface, is an electric-blue meadow of life. What you thought was plastic is actually a living island. This meadow is made up of a diverse collection of animals. The most abundant are blue buttons and by-the-wind sailors, with bright-blue bodies that dot the sky like suns, and deep-purple snails found in patches so dense one scientist described collecting more than 1,000 in 20 minutes.
Last Updated on Tuesday, 22 January 2019 17:46
Read more...
Posted by Joan Russow
Monday, 21 January 2019 16:38
UNITED NATIONS, Jan 21 2019 (IPS) - While the modern agricultural system has helped stave off famines and feed the world's 7 billion residents, the way we eat and produce food is posing a threat to future populations' food security.
With an expected increase in population to 10 billion in 2050, ensuring food security is more important than ever.
However, current food production is among the largest sources of environmental degradation across the world.
If such production and consumption patterns continue, we will soon exceed our planetary boundaries such climate change and land use needed to survive and thrive.
"It was quite dramatic to see how much those planetary boundaries would be exceeded if we don't do anything," said Marco Springmann, one of the authors of a report examining the impact of the food system on the environment
Read more...
<< Start < Prev 1 2 3

4

5 6 7 8 9 10 Next > End >>


Page 4 of 10