Posted by Joan Russow
Thursday, 27 April 2017 07:17
America's War-Fighting Footprint in Africa 
Secret U.S. Military Documents Reveal a Constellation of American Military Bases Across That Continent 
By Nick Turse 
http://www.tomdispatch.com/post/176272/tomgram%3A_nick_turse%2C_the_u.s._military_moves_deeper_into_africa/#more
General Thomas Waldhauser sounded a little uneasy. 
"I would just say, they are on the ground.  They are trying to influence the action," commented the chief of U.S. Africa Command (AFRICOM) at a Pentagon press briefing in March, when asked about Russian military personnel operating in North Africa.  "We watch what they do with great concern.
And Russians aren't the only foreigners on Waldhauser's mind.  He's also wary of a Chinese "military base" being built not far from Camp Lemonnier, a large U.S. facility in the tiny, sun-blasted nation of Djibouti.  "They've never had an overseas base, and we've never had a base of... a peer competitor as close as this one happens to be," he said.  "There are some very significant... operational security concerns."
Read more...
Posted by Joan Russow
Tuesday, 25 April 2017 10:38
UNITED NATIONS, Apr 25 2017 (IPS) - Despite progress, many gaps remain in international indigenous rights protection, said representatives during an annual UN meeting.
More than 1000 indigenous representatives from around the world have gathered at the UN for the 16th session of the UN Permanent Forum on Indigenous Issues (UNPFII). This year's meeting focuses on the UN Declaration on the Rights of Indigenous Peoples (UNDRIP) which was adopted 10 years ago by the General Assembly.
Read more...
Posted by Joan Russow
Tuesday, 25 April 2017 06:47
http://www.tomdispatch.com/blog/176185/tomgram%3A_aviva_chomsky%2C_deportations_%22r%22_us/
Ever since he rode a Trump Tower escalator into the presidential race in June 2015 and swore to build his "great wall" and stop Mexican "rapists" from entering the country, undocumented immigrants have been the focus of Donald Trump's ire. Now that he's in the Oval Office, the news has been grim. A drumbeat of frightening headlines and panicked social media posts have highlighted his incendiary language, his plans and executive orders when it comes to immigrants, and the early acts of the Border Patrol and U.S. Immigration and Customs Enforcement agents when it comes to round-ups and deportations. The temperature has soared on the deportation debate, so if you think we're in a completely unprecedented moment when it comes to immigration and immigrants, you're in good company.
Read more...
Posted by Joan Russow
Monday, 24 April 2017 15:38
Reprint from http://www.ipsnews.net/2017/04/fate-of-earth-must-not-be-decided-by-us-fellow-nuclear-states/
Dr Joan Russow is Co-ordinator, Global Compliance Research Project
VICTORIA, BC, Canada, Apr 24 2017 (IPS) - When the United Nations continues its negotiations in June for an international treaty against nuclear weapons, there must be a treaty that should cover every single aspect of the devastating weapons — and leading eventually to their total elimination from the world's military arsenals.
As envisaged, the treaty should not only prohibit stockpiling; use and threat of use, and planning for use of nuclear weapons but also the deployment; transfer, acquisition, and stationing; development and production of these weapons—along with testing; transit and transshipment; and financing, assistance, encouragement, and inducement and an obligation for the complete elimination of nuclear weapons and a framework to achieve it.(WILPH, Reaching Critical Will).
Last Updated on Tuesday, 25 April 2017 16:34
Read more...
Posted by Joan Russow
Friday, 21 April 2017 22:55
The Provincial  Peace and Disarmament Summit will be held on Friday, May 12  and on Satuday, May 13 at  at the University of Victoria, David Strong Building in room C118 -  
See Poster below,
For info and Registration visit www.vipdn.org 
Last Updated on Sunday, 23 April 2017 02:32
Posted by Joan Russow
Friday, 14 April 2017 13:15
https://www.commondreams.org/news/2017/04/14/americans-bracing-more-war-under-trigger-happy-trump'It is as if he has discovered the keys to the family gun cabinet'
The American public is bracing for war now that President Donald Trump has seemingly stumbled upon "the keys to the family gun cabinet," as one observer put it, after a week of rash and aggressive military action.
The unprecedented use of a GBU-43/B Massive Ordnance Air Blast Bomb (MOAB), known as the 'mother of all bombs,' on Thursday was just the latest in a series of attacks by the U.S. in recent days, prompting demands for a Congressional debate on the use of military force.
Dr. Gabriela Lemus, president of the Progressive Congress Action Fund political action group, issued a statement Thursday saying that the use of "the largest non-nuclear bomb in our arsenal...to target [the Islamic State or ISIS] without the advice and consent of Congress raises serious concerns about the potential for the United States' engagement in unchecked use of military force and blanket authorization for endless war."
Specifically, Lemus said there must be an "immediate and urgent review of the 2001 Authorization for Use of Military Force (AUMF)" and supports legislation put forth by Rep. Barbara Lee (D-Calif.) that calls for repeal of the 2001 AUMF.
Read more...
Posted by Joan Russow
Friday, 14 April 2017 07:54
By Joan Russow PhD
Global Compliance Research Project
(OUTLINE FROM A LARGER DOCUMENT)
(RELEASED NOW BECAUSE OF TRUMP'S INCREASED MILITARISM AND DEFIANCE OF THE RULE OF INTERNATIONAL LAW)
DISARMAMENT POSTER - NORTHERN fRIENDS' pEACE BOARD 1935
A.
PEACE PROMOTION
*COMMON SECURITY
1. We must reappropriate the word "security" and not allow it to be distorted by the military. (Dr. Ursula Franklin, internationally renowned scientist and pacifist (1984 at the lead up conference to Nairobi Conference on Women, 1985)
 2. "True security exists when all are secure, through "common security" (Olof Palme, 1982) whose objectives could be extended to include but not limited to the following:
(a) to achieve a state of peace, and disarmament; through    reallocation of military expenses and delegitimization of war;
(b) to promote and fully guarantee respect for human rights including  labour rights, civil and political rights, indigenous rights, social and cultural rights – right to food, to housing, to safe drinking water and sanitation , right to education and right to universally accessible not for profit health care system; right to water and sanitation
(c) to ensure the preservation, conservation and protection of the environment, the respect for the inherent worth of nature beyond human purpose, to reduce the ecological footprint and to move away from the current model of unsustainable and excessive overconsumption
(d) To enable socially equitable and environmentally sound employment, energy and transportation,
(e)  to fully implement the UN Declaration the Rights of Indigenous Peoples
Last Updated on Wednesday, 19 April 2017 16:29
Read more...
Posted by Joan Russow
Thursday, 13 April 2017 13:16
Rep. Barbara Lee (D-Calif.) said the "unprecedented use of an MOAB...marks a new front in the almost 16 year war in Afghanistan."
https://www.commondreams.org/news/2017/04/13/commander-chief-trump-drops-mother-all-bombs-afghanistan
Commander-in-Chief Donald Trump unleashed one of the most powerful U.S. bombs—the 20,000 pound GBU-43, known as "the mother of all bombs"—on Afghanistan on Thursday, the Pentagon has confirmed.
The MOAB, which stands for massive ordinance air blast, reportedly struck an Islamic State (ISIS) tunnel complex in Nangarhar province. According to the Department of Defense statement, "the strike was designed to minimize the risk to Afghan and U.S. Forces conducting clearing operations in the area while maximizing the destruction of ISIS-K fighters and facilities."
However, as observers pointed out, with a one-mile blast radius, the chance of numerous civilian causalities is high. The MOAB is said to be one of the largest non-nuclear bombs in the U.S. military arsenal and this is reportedly the first time it has been used.
Read more...
Posted by Joan Russow
Friday, 07 April 2017 05:21
by Joan Russow Global Compliance Research Project April 6, 2017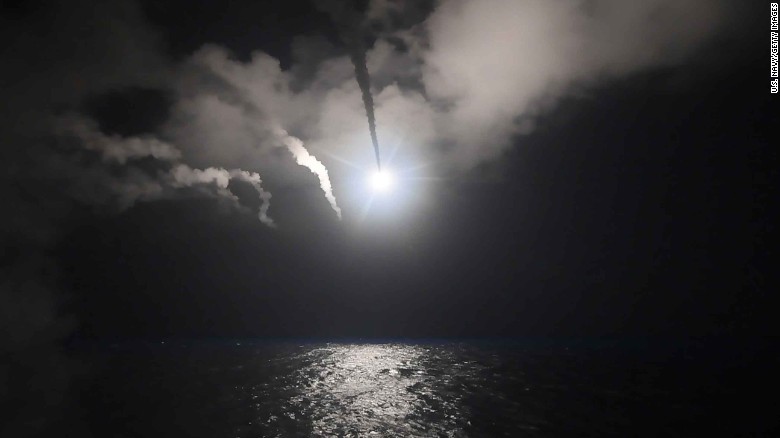 Yet again US disrespects the rule international law. Under the Charter of the United Nations is an important Chapter; Chapter VI- the peaceful resolution of disputes. Unfortunately, the US usually bypasses Chapter VI and goes to Chapter VII which does, if supported by the UNSC, legitimize an invasion, and when the US does not receive the support of the UNSC, the US acts, independently.   In this case, Trump did not even attempt to receive support of the UNSC, and did not wait for an investigation into the claim, about the source of the chemical weapons, made by Russia's Foreign Minister Sergei Lavrov  Sergei Lavrov opposed the invasions of Iraq, Afghanistan, and Libya, all of which were condemned by Trump during the election.
Under the Chemical Weapons Convention, there are provisions for bringing to justice any state or group that has used chemical weapons; none is military intervention; but going to the International Court of Justice is one of the provisions. 
SETTLEMENT OF DISPUTES 1. 2. When a dispute arises between two or more States Parties, or between one or more States Parties and the Organization, relating to the interpretation or application of this Convention, the parties concerned shall consult together with a view to the expeditious settlement of the dispute by negotiation or by other peaceful means of the parties' choice, including recourse to appropriate organs of this Convention and, by mutual consent, referral to the International Court of Justice in conformity with the Statute of the Court. 
Last Updated on Monday, 10 April 2017 18:27
Read more...
Posted by Joan Russow
Wednesday, 05 April 2017 09:36
Under President Donald Trump's budget, "war wins out"—over pretty much everything
Social movement leaders from groups across the progressive spectrum launched a campaign on Tuesday denouncing President Donald Trump's proposed $54 billion increase in the U.S. military budget, which is coming at the expense of the environment, education, human and civil rights protections, and public health.
The #No54BillionforWar effort is launching on the 50-year anniversary of Martin Luther King, Jr.'s speech "Beyond Vietnam: A Time to Break the Silence," which warned that "a nation that continues year after year to spend more money on military defense than on programs of social uplift is approaching spiritual death."
Last Updated on Wednesday, 05 April 2017 09:40
Read more...
Posted by Joan Russow
Tuesday, 04 April 2017 04:06
BRIDGETOWN, Barbados, Apr 4 2017 (IPS) - From tourism-dependent nations like Barbados to those rich with natural resources like Guyana, climate change poses one of the biggest challenges for the countries of the Caribbean.
Nearly all of these countries are vulnerable to natural events like hurricanes.
"Why is this such a big deal? The Caribbean is facing a climate crisis, which we need to tackle now - with urgency." --Dr. Warren Smith
Not surprisingly, the climate change threat facing the countries of the Caribbean has not gone unnoticed by the region's premier financial institution, the Caribbean Development Bank (CDB).
Read more...
<<

Start

<

Prev

1

2 Next > End >>


Page 1 of 2