Posted by Joan Russow
Saturday, 27 September 2014 13:35

Dario Aranda
Pagina12, 23 June 2014
http://www.pagina12.com.ar/diario/sociedad/3-249175-2014-06-23.html
English translation of the Spanish original by Google/GMWatch
A report by the Ministry of Health in Cordoba on deaths from cancerous tumours shows that the highest rate of deaths occur in areas where GM crops and agro-chemicals are used. The rate is double the national average.
Read more...
Posted by Joan Russow
Tuesday, 23 September 2014 15:37
By Joan Russow Global Compliance Research Project
The Harper government evaded the investigation, by the Parliamentary Committee on Ethics and Access to Information, into the fraudulent in-and out funding scheme; the Harper government prorogued parliament to avoid an investigation into Canadian complicity in torturing Afghani prisoners; and the Harper government again prorogued Parliament, to prevent the Opposition from forming a coalition. The then Governor General succumbed to his requests. Prior to the 2011 election there was a serious oil spill; this event was covered up and only revealed after the election
The Fixed election date in October 15 must not be changed to cover up Duffy's potential devastating testimony.  
SINCE 2006, THE HARPER GOVERNMENT HAS CAUSED CANADA TO BE PERCEIVED AS AN INTERNATIONAL PARIAH. BEFORE THE 2015 ELECTION WE HAVE  THE OPPORTUNITY TO DENOUNCE THE HARPER GOVERNMENT FOR YEARS OF TRANSGRESSIONS:
Last Updated on Tuesday, 23 September 2014 17:06
Read more...
Posted by Joan Russow
Tuesday, 23 September 2014 14:24

By Peter Van Buren  http://www.tomdispatch.com/post/175898/tomgram%3A_peter_van_buren%2C_back_to_the_future_in_iraq/#more
I wanted to offer a wry chuckle before we headed into the heavy stuff about Iraq, so I tried to start this article with a suitably ironic formulation. You know, a déjà-vu-all-over-again kinda thing. I even thought about telling you how, in 2011, I contacted a noted author to blurb my book, We Meant Well: How I Helped Lose the Battle for the Hearts and Minds of the Iraqi People, and he presciently declined, saying sardonically, "So you're gonna be the one to write the last book on failure in Iraq?"
I couldn't do any of that. As someone who cares deeply about this country, I find it beyond belief that Washington has again plunged into the swamp of the Sunni-Shia mess in Iraq. A young soldier now deployed as one of the 1,600 non-boots-on-the-ground there might have been eight years old when the 2003 invasion took place. He probably had to ask his dad about it.  After all, less than three years ago, when dad finally came home with his head "held high," President Obama assured Americans that "we're leaving behind a sovereign, stable and self-reliant Iraq." So what happened in the blink of an eye?
Last Updated on Tuesday, 23 September 2014 14:28
Read more...
Posted by Joan Russow
Monday, 22 September 2014 13:45
By Joan Russow Global Compliance Research Project
MEMBER STATE LEADERS MUST AFFIRM  AND COMMIT
 to substantial reductions of greenhouse gas emisslevelsions, conserving sinks and Establishing Pathways and methodologies to achieve cuts
Because of the global urgency, there must be the political will to return earth's temperature to its natural pre-industrial level, and strict time frames must be imposed, so that overall global emissions of greenhouse gases will begin to be reversed as of 2011. There must be a global target for greenhouse gas emission reductions of at least 30% below 1990 levels by 2015, at least 50% below 1990 levels by 2020, at least 75% below 1990 levels by 2030, at least 85% below 1990 levels by 2040 and 100% below 1990 emissions by 2050, while adhering to the precautionary principle, the differentiated responsibility principle *, and the fair and just transition principle. The required reductions in emissions cannot be achieved without an immediate end to the destruction of carbon sinks. Under the UNFCCC, every state signatory incurred the obligation to conserve carbon sinks; thus the destruction of sinks, including deforestation and elimination of bogs must end immediately.
Last Updated on Tuesday, 23 September 2014 08:57
Read more...
Posted by Joan Russow
Saturday, 20 September 2014 11:33
 Circulated at the 2014  58 CSW (Commission on the Status of Women  to indicate  endorsement.
This e-mail address is being protected from spambots. You need JavaScript enabled to view it  
The enclosed petition was submitted, by Canadian Voice of Women for Peace, to the Chair Chair of the Bureau for the 58th session (2014 )
During the Commission on the Status of Women the petition received  four hundred, half collected here at the meeting and half online (www.vowpeace.org).
The signatories are from thirty-six countries, and sixty-seven organizations. The NGOs countries represented are: Hungary, Iceland, USA, Canada Uganda, Hong Kong, Sierra Leone, UK, Sudan, Tunisia, India, Mexico, Tanzania, Kenya, South Africa, Zimbabwe, Ghana, Taiwan, Egypt, Sri Lanka, Bulgaria, Malaysia, Germany, Nepal, Nigeria, Burma, Pakistan, Australia, Greece, Switzerland, Sweden, Norway ,Guatemala, Japan. France, Finland.
Last Updated on Saturday, 20 September 2014 12:32
Read more...
Posted by Joan Russow
Saturday, 20 September 2014 05:01
World People's Conference on Climate Change and the Rights of Mother Earth
Building the People's World Movement for Mother Earth
People's Agreement of Cochabamba
April 24, 2010 in Announcement, News
World People's Conference on Climate Change
and the Rights of Mother Earth
April 22nd, Cochabamba, Bolivia
PEOPLE'S AGREEMENT
Today, our Mother Earth is wounded and the future of humanity is in danger.
If global warming increases up to 2 degrees Celsius, a situation that the "Copenhagen Accord" could lead to, there is a 50% probability that the damages caused to our Mother Earth will be completely irreversible. Between 20% and 30% of species would be in danger of disappearing. Large extensions of forest would be affected, droughts and floods would affect different regions of the planet, deserts would expand, and the melting of the polar ice caps and the glaciers in the Andes and Himalayas would worsen. Many island states would disappear, and Africa would suffer an increase in temperature of more than 3 degrees Celsius. Likewise, the production of food would diminish in the world, causing catastrophic impact on the survival of inhabitants from vast regions in the planet, and the number of people in the world suffering from hunger would increase dramatically, a figure that already exceeds 1.02 billion people. The corporations and governments of the so-called "developed" countries, in complicity with a segment of the scientific community, have led us to discuss climate change as a problem limited to the rise in temperature without questioning the cause, which is the capitalist system.
We confront the terminal crisis of a civilizing model that is patriarchal and based on the submission and destruction of human beings and nature that accelerated since the industrial revolution.
Last Updated on Saturday, 20 September 2014 11:05
Read more...
Posted by Joan Russow
Friday, 19 September 2014 17:29
Climate Change Advice; Curb Your Militarism and Abandon Spurious Solutions; Seven years of inaction since the September 7, 2007 DPI-NGO Summit
By Joan Russow Global Compliance Research Project
NO OIL FOR WAR /NO WAR FOR OIL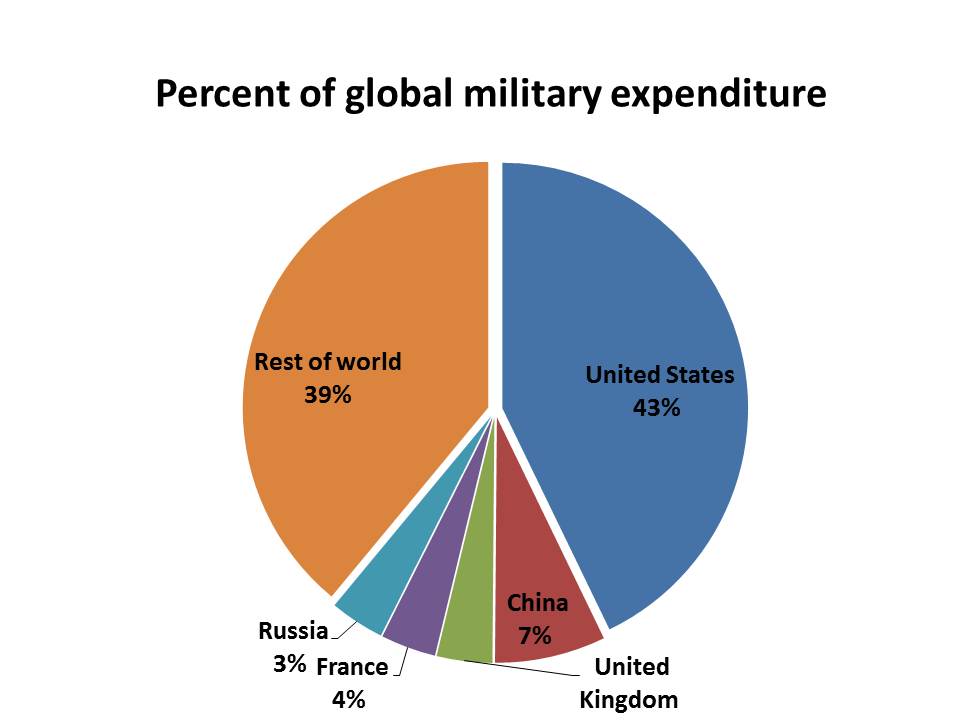 The Intergovernmental Panel on Climate Change has not taken into consideration the contribution of militarism in all its aspect to greenhouse gas emissions. Even though the Chair, Rajendra K. Pachauri, was a co-recipient of the Nobel Peace Prize, the Panel has not yet agreed to consider the impact of militarism on climate change. The military budgets of members has substantially increased to about 1 trillion per year (not including the 800 Billion of US additional funds allocated since 2001 for US-led invasions in Afghanistan and Iraq). (See enclosed charts). For years, every member state in the United Nations has made commitments to reallocate military budgets.
If citizens are willing to do their part in reducing greenhouse gas emissions, member states of the the Global community  must substantially reduce their military budgets and be prepared to release relevant military budget information to the Panel so that the Panel can estimate the full impact of militarism not only on all aspect of society, but also on greenhouse gas emissions.
Last Updated on Saturday, 20 September 2014 12:36
Read more...
Posted by Joan Russow
Tuesday, 16 September 2014 19:25
The Canadian Press Posted: Jul 10, 2014
A study has found evidence of "advocacy chill" among charities who've been subject to some of the dozens of political-activity audits being conducted by the Canada Revenue Agency. (Sean Kilpatrick/Canadian Press)
The Harper government's "ramp-up of anti-activist rhetoric," as it's been called, has drawn criticism in media and academic circles since 2012, but the targets themselves — environmental charities and others — have been muted and self-censored.
That's largely because they've been subject to new, high-stakes tax audits into their political activities that could strip them of their coveted charitable status.
Last Updated on Saturday, 20 September 2014 10:54
Read more...
Posted by Joan Russow
Tuesday, 16 September 2014 08:39
by Joan Russow
Global Compliance Research Project 
 In 2008, I filed a complaint to Revenue Canada about the Conference of Defence Association. After several  years of audits of environmental groups, media groups and the left wing think tanks, I am wondering if my 2008 complaint against the charitable status of the Conderence of defence Association was ever investigated. 
Conference of Defence Association's Charitable Status Challenged

PEJ News - Joan Russow - Global Compliance Research Project - On May 14, 2008 a complaint to Revenue Canada was made to challenge the Canadian Defence Association Institute's (CDAI) charitable status. (Russow)
Read more...
Posted by Joan Russow
Friday, 12 September 2014 10:04
By  Joan Russow PhD - Global Compliance Research Project
Posted November 1, 2012  http://pejnews.com/index.php?option=com_content&view=article&id=8611:fipa-should-be-declared-null-and-void-for-violating-international-norms&catid=74:ijustice-news&Itemid=216
revised Tuesday, January 22, 2013
The Foreign Investment Promotion and Protection Agreement (FIPPA), an investment agreement between Canada and China was tabled by the Harper government at the end of September, and purported to become law IN 2013. FIPPA will increasingly lead to violations of international peremptory norms. Anti- trade activists must use international law related to human rights including civil and political rights, social, cultural and economic rights, labour rights, rights of indigenous peoples, rights of migrant workers, children's rights, and right to a safe environment. .etc. to counteract these trade agreements.
Last Updated on Friday, 12 September 2014 10:46
Read more...
Posted by Joan Russow
Thursday, 11 September 2014 17:38
** Photo of an FSC certified clearcut logging of old-growth Canadian boreal forests for toilet paper
TAKE ACTION to protect old-growth forests and Earth's climate and biosphere:FOREST ACTION ALERT
By Forests.orga project ofEcoInterne
http://forests.org/shared/alerts/sendsm.aspx?id=fsc_logging
The Forest Stewardship Council (FSC) claims to certify the sustainability of forest management. Yet FSC greenwashes industrial scale old-growth forest logging - across an area two times the size of Texas for throw away consumer items such as toilet paper and lawn furniture - as being environmentally sensitive. A new motion has been presented by FSC member Greenpeace at FSC's General Assembly which would increase protections for primary and other old-growth forests, something which EcoInternet has demanded for a decade. Please make it clear that best science indicates old-growth forest logging is never ecologically sustainable, and FSC must stop claiming it is, starting by supporting Motion 65 to begin to end FSC greenwash of old-growth forest logging.
Last Updated on Friday, 12 September 2014 16:37
Read more...
<<

Start

<

Prev

1

2 3 4 Next > End >>


Page 1 of 4