Posted by Joan Russow
Tuesday, 14 August 2018 19:00
Historic Disclosures Prove That Safety of FDA and EPA-Approved Chemicals Were Based on Tobacco Industry-like Collusion Promoting Demonstrably Faked Science
Jon WoodhousePosted on August 2, 2017
by Jon Woodhouse and Jonathan Greenberg  9090  57
https://mauiindependent.org/poison-papers-major-monsanto-document-release-exposes-toxicity-collusion/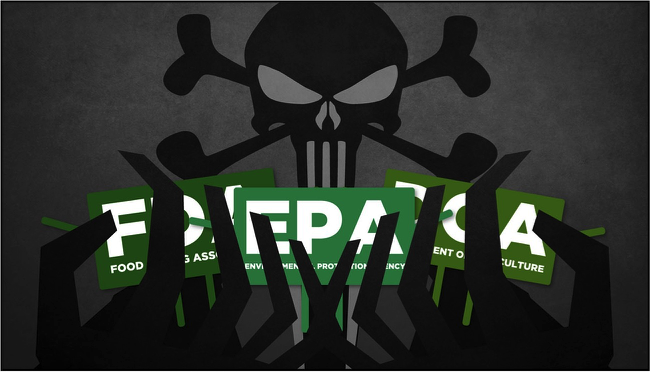 More than 100,000 pages of documents exposing how the chemical industry and government regulators knew about the extraordinary toxicity of many chemical products, yet worked together to conceal this information from the public and the press, were made publicly available last week through a remarkable project called the Poison Papers.
This morning, a second group of important documents reached the public for the first time after a judge allowed, for the first time ever, the public release of hundreds of pages of incriminating documents regarding Monsanto and its collusion with federal regulators to keep secret scientific evidence of the toxicity of Roundup, the world's best selling  –and most controversial—herbicide.
Today, critical documents released by the law firm of Baum Hedlund, which is suing Monsanto in a California federal court are available at the firm's website here under the headline, "Monsanto's Secret Documents."
Robert F. Kennedy Jr. noted that with this disclosure, "We can now prove that all Monsanto's claims about glyphosate's safety were myths concocted by amoral propaganda and lobbying teams."  Kennedy noted that federal agencies that were supposed to protect public health instead protected Monsanto's toxic products from public oversight.
Read more...
Posted by Joan Russow
Saturday, 11 August 2018 03:01
"This is a company that has always put profits ahead of public safety, and today, Monsanto has finally been held accountable."by Common Dreams staff
In an historic victory for those who have long sought to see agrochemical giant Monsanto held to account for the powerful company's toxic and deadly legacy, a court in California on Friday found the corporation liable for damages suffered by a cancer patient who alleged his sickness was directly caused by exposure to the glyphosate-based herbicides, including the widely used weedkiller Roundup.
Last Updated on Saturday, 11 August 2018 03:16
Read more...
Posted by Joan Russow
Thursday, 09 August 2018 09:38
BC Hydro lawyers argue Treaty 8 never guaranteed any "practical, traditional, cultural, or spiritual connection to any land" for First Nations
By Sarah Cox Aug 7, 2018  
https://thenarwhal.ca/arguments-in-site-c-dam-court-case-represent-cynical-denial-of-indigenous-rights-b-c-indian-chiefs/
The Union of B.C. Indian Chiefs has taken the unusual step of writing an open letter to Premier John Horgan denouncing legal arguments made last week by BC Hydro as a form of "neo-colonization" and demanding a formal apology from the provincial government.
BC Hydro's lawyers made the arguments during ongoing B.C. Supreme Court hearings for an injunction application by West Moberly First Nations to halt work on the Site C dam on B.C.'s Peace River, pending a full civil trial to determine if the $10.7 billion project violates treaty rights.
"We call on you to publicly denounce these statements that diminish Indigenous rights in an open letter to the B.C. Supreme Court, and to apologize formally for the disrespect shown to the Treaty 8 First Nations," said the letter, signed by Grand Chief Stewart Phillip, president of the Union of B.C. Indian Chiefs (UBCIC), as well as vice-president Chief Robert Chamberlin and secretary treasurer Judy Wilson.
Read more...
Posted by Joan Russow
Thursday, 09 August 2018 02:50
By Jamison Ervin is Manager, UNDP's Global Programme on Nature for Development 
 
This article is part of a series of stories and op-eds initiated by IPS on the occasion of the International Day of the World's Indigenous Peoples, on August 9.
UNITED NATIONS, Aug 9 2018 (IPS) - Indigenous peoples, who comprise less than five percent of the world's population, have the world's smallest carbon footprint, and are the least responsible for our climate crisis. Yet because their livelihoods and wellbeing are intimately bound with intact ecosystems, indigenous peoples disproportionately face the brunt of climate change, which is fast becoming a leading driver of human displacement.
In Papua New Guinea, for example, residents of the Carteret Islands – one of the most densely populated islands in the country – have felt the effects of climate change intensify over recent years. With a high point on their islands of just 1.2 meters above sea level, every community member is now at risk from sea level rise and storm surges.
Last Updated on Thursday, 09 August 2018 02:54
Read more...
Posted by Joan Russow
Monday, 30 July 2018 21:34
By JoanRussow  Global Compliance Research Project
Joan Russow founded the Global Compliance Research Project that  calls upon countries to comply with their international obligations and commitments. She has attended many international climate change, and environmental conferences. She walked 76 km from Victoria to Burnaby against Kinder Morgan. Injunctions should be against those who cause irreversible harm not those who strive to prevent irreversible harm. Since Clayoquot Sound, she has been concerned about the misconstruing of injunctions and she is still saying, as she did then, "who are the real criminals?
/www.orcanetwork.org/nathist/salishorcas1.html
Is it a crime to strive to prevent crime or is it a crime to cause and condone it?
A. NOT HEEDING AN INJUNCTION AS BEING AN EQUITABLE REMEDY THAT MOVES WITH TIME AND CIRCUMSTANCES AND TREATIES MUST BE COMPLIED WITH IS UNIVERSALLY RECOGNIZED (PACTA SUNT SERVANDA)
B. DISREGARDING "BEING HARMFUL" TO ECOSYSTEMS AS BEING A CRIME TO STATE AND SOCIETY –
C. OVERLOOKING THE PRECAUTIONARY PRINCIPLE AND CONSERVATION  COMMITMENTS
D DISCOUNTINGA GLOBAL VISION FROM COP21 CONFERENCE  IN PARIS
E. DISRESPECTING RIGHTS OF FUTURE GENERATION
F. DISPENSING WITH UN DECLARATION ON THE RIGHTS OF INDIGENOUS PEOPLES (UNDRIP)
G.  JEOPARDIZING FUTURE CONSERVATION PROJECTS IN THE SALISH SEA,
H. FAILING TO APPLY THE DOCTRINE OF LEGITIMATE EXPECTATION
I. IGNORING A MEANS TO CANCEL KINDER MORGAN WITHOUT A REPRISAL FROM NAFTA UNDER CHAPTER  11
J. CLOSING THE EYES TO A POTENTIAL BOONDOGGLE OF AN INVESTMENT
K. CONCLUSION  AND POEM BY NNIMMO BASSEY
Last Updated on Thursday, 09 August 2018 02:46
Read more...
Posted by Joan Russow
Thursday, 26 July 2018 12:05
By BOB WEBERThe Canadian Press
The largest and most precise study yet done on acid emissions from Alberta's oilsands suggests they could eventually damage an area almost the size of Germany.
The study finds that in 2013 more than 330,000 square kilometres in northern Alberta and Saskatchewan absorbed acid deposits high enough to eventually damage life in rivers and lakes.
A tailings pond reflects the Syncrude oilsands mine facility near Fort McMurray, Alta. A new study finds that in 2013, more than 330,000 square kilometres received acid deposits high enough to eventually damage life in rivers and lakes.
lakes.  (JEFF MCINTOSH / THE CANADIAN PRESS FILE PHOTO)
"This work is a warning," said Paul Makar, an Environment Canada scientist and lead author on the paper published in the Journal of Atmospheric Chemistry and Physics.
"If emissions continue at 2013 levels, there will be ecosystem damage over a very large area."
Read more...
Posted by Joan Russow
Tuesday, 24 July 2018 11:20
Credit: Institute for Palestine Studies
UNITED NATIONS, Jul 24 2018 (IPS) - The Group of 77 (G77) — the largest single coalition of developing countries at the United Nations– is to be chaired by Palestine, come January.
"It's a historical first, both for Palestine and the G77," an Asian diplomat told IPS, pointing out that Palestine will be politically empowered to collectively represent 134 UN member states, including China.
Created in June 1964, the 54-year-old Group comprises over 80 per cent of the world's population and approximately two-thirds of the United Nations membership
Read more...
Posted by Joan Russow
Monday, 23 July 2018 12:12
By joan Russow PhD
Global Compliance Research Project
Notes for a presentation August 17, 2018 NOTE ARTICLE UNDER CONSTRUCTION
A.

Destabilization of Venezuela
B. Use of destabilization in Venezuela in elections in Latin America
C. Brief time line in Bolivia, Colombia, Chile  Honduras, Ecuador, El Salvador, Guatemala Mexico,  Nicaragua Venezuela  
Last Updated on Thursday, 02 August 2018 00:00
Read more...
Posted by Joan Russow
Thursday, 19 July 2018 06:33
OVALLE, Chile, Jul 17 2018 (IPS) - The retention of rainwater which otherwise is lost at sea could be an excellent medicine against the advance of the desert from northern to central Chile, but there is no political will to take the necessary actions, according to experts and representatives of affected communities.
"One of the priority actions, especially in the Coquimbo region, is the retention of rainwater. That is key because since we have eroded and degraded soil and we have occasional rains in winter, the soil is not able to retain more than 10 percent of the water that falls," Daniel Rojas, the head of the Peña Blanca farmers' association, told IPS.
"The rest ends up in the sea," added Rojas, the head of the association of 85 small-scale farmers, located 385 km north of Santiago, which has 6,587 hectares, 98 percent of them rainfed, irrigated exclusively by rainfall.
Read more...
Posted by Joan Russow
Sunday, 01 July 2018 19:27
BY Center for Economic and Policy Research (CEPR) This e-mail address is being protected from spambots. You need JavaScript enabled to view it via mail.salsalabs.net 
View this email in your browser
Mexico Votes Overwhelmingly for "Change" by Electing López Obrador President, CEPR Experts Say
Sluggish Economy, Corruption, Crime Fueled Voters' Discontent with the Status Quo
For Immediate Release: July 1, 2018
Contact: Dan Beeton, 202-239-1460
Washington, DC and Jilotepec, Mexico ? Voters in Mexico have "made history" and opted for change in electing Andrés Manuel López Obrador president today, experts from the Center for Economic and Policy Research, based in Washington, said. Candidates from López Obrador's National Regeneration Movement (Morena) party are also projected to have a plurality of seats in the Chamber of Deputies.
Read more...
Posted by Joan Russow
Friday, 29 June 2018 15:20
Leopoldo López Is Not Venezuela's Savior
Despite US support, the revolutionary has only succeeded in pushing like-minded opposition leaders far, far away.
By Greg Grandin  the NATION
JULY 29, 2015
https://www.thenation.com/article/leopoldo-lopez-is-not-venezuelas-savior/JULY 29, 2015
fbtwmailPrint
Caracas_Venezuela_protest_rtr_img
Opposition supporters protest against the Venezuelan government and in support of jailed opposition leaders Leopoldo Lopez and Antonio Ledezma on February 28, 2015. (Reuters / Carlos Garcia Rawlins)
Ready To Join The Resistance?
Sign up for Take Action Now and we'll send you three actions every Tuesday. 
Enter Email
You will receive occasional promotional offers for programs that support The Nation's journalism. You can read our Privacy Policy here.
Roberto Lovato has just published a great investigative essay in Foreign Policy on Leopoldo López, the jailed darling of Venezuela's opposition. López is celebrated in the US press as a cross between Gandhi and Martin Luther King Jr. He is handsome, like King, and, like Gandhi, occasionally shirtless. Newsweek blushes over López's "twinkling chocolate-colored eyes and high cheekbones." He is, apparently, a "revolutionary who has it all": an "attractive and supportive wife, two children who get along with each other and impossibly adorable Labrador puppies." Everything except a revolution.
Last Updated on Friday, 29 June 2018 15:31
Read more...
<<

Start

<

Prev

1

2 3 4 5 6 7 8 9 Next > End >>


Page 1 of 9