Posted by Joan Russow
Sunday, 01 July 2018 19:27
BY Center for Economic and Policy Research (CEPR) This e-mail address is being protected from spambots. You need JavaScript enabled to view it via mail.salsalabs.net 
View this email in your browser
Mexico Votes Overwhelmingly for "Change" by Electing López Obrador President, CEPR Experts Say
Sluggish Economy, Corruption, Crime Fueled Voters' Discontent with the Status Quo
For Immediate Release: July 1, 2018
Contact: Dan Beeton, 202-239-1460
Washington, DC and Jilotepec, Mexico ? Voters in Mexico have "made history" and opted for change in electing Andrés Manuel López Obrador president today, experts from the Center for Economic and Policy Research, based in Washington, said. Candidates from López Obrador's National Regeneration Movement (Morena) party are also projected to have a plurality of seats in the Chamber of Deputies.
Read more...
Posted by Joan Russow
Friday, 29 June 2018 15:20
Leopoldo López Is Not Venezuela's Savior
Despite US support, the revolutionary has only succeeded in pushing like-minded opposition leaders far, far away.
By Greg Grandin  the NATION
JULY 29, 2015
https://www.thenation.com/article/leopoldo-lopez-is-not-venezuelas-savior/JULY 29, 2015
fbtwmailPrint
Caracas_Venezuela_protest_rtr_img
Opposition supporters protest against the Venezuelan government and in support of jailed opposition leaders Leopoldo Lopez and Antonio Ledezma on February 28, 2015. (Reuters / Carlos Garcia Rawlins)
Ready To Join The Resistance?
Sign up for Take Action Now and we'll send you three actions every Tuesday. 
Enter Email
You will receive occasional promotional offers for programs that support The Nation's journalism. You can read our Privacy Policy here.
Roberto Lovato has just published a great investigative essay in Foreign Policy on Leopoldo López, the jailed darling of Venezuela's opposition. López is celebrated in the US press as a cross between Gandhi and Martin Luther King Jr. He is handsome, like King, and, like Gandhi, occasionally shirtless. Newsweek blushes over López's "twinkling chocolate-colored eyes and high cheekbones." He is, apparently, a "revolutionary who has it all": an "attractive and supportive wife, two children who get along with each other and impossibly adorable Labrador puppies." Everything except a revolution.
Last Updated on Friday, 29 June 2018 15:31
Read more...
Posted by Joan Russow
Thursday, 28 June 2018 10:53
By Center for Economic Research (CEPR)
On the eve of historic elections, and five years after leaders of Mexico's then most prominent political parties agreed on a "Pact for Mexico," the Mexican economy is mired in a "trap of low investment and low growth," and imperiled by liberalization of financial markets. These are the findings of a new CEPR report. With the left-leaning candidate Andrés Manuel López Obrador far ahead in the polls, co-director Mark Weisbrot was interviewed about how the lackluster 
Last Updated on Thursday, 28 June 2018 11:33
Read more...
Posted by Joan Russow
Tuesday, 26 June 2018 08:46
B.C. pension fund manager pouring billions of public workers' retirement dollars into fossil fuels, report finds
By JENNY PENGStarMetro Vancouver
https://www.thestar.com/vancouver/2018/06/25/bc-investment-management-corporation-still-betting-on-fossil-fuels.htmlMon., June 25, 2018
VANCOUVER—Policy analysts and researchers are calling out a large, but low-profile, pension fund manager for pooling billions of dollars worth of public workers' retirement plans into the fossil fuel industry.
The findings come in a report by the Canadian Centre for Policy Alternatives and University of Victoria, which examines where British Columbian public servant pension funds are invested.
An examination of the B.C. Investment Management Corporation's investment portfolio, the fourth largest such fund manager in Canada, found it invested $3 billion in the top 200 public fossil fuel companies.
The BCI oversees pensions funds for 500,000 people through 11 provincial government plans, including WorkSafe BC and the teachers' pension plan.
Critics say investing in oil and gas hinders Canada's ability to meet its Paris Agreement commitments signed in April 2016, which seeks to limit the rise in Earth's average temperature to 2 C.
"You see the BCI calling themselves 'responsible investors' throughout much of their publications but we find that really, in the context of climate change, this is absolutely misinformation," said Zoë Yunker, University of Victoria graduate and co-author of the report released Monday.
Read more...
Posted by Joan Russow
Sunday, 24 June 2018 12:08
Venezuelan citizens living in Miami line up last year to vote in a nonbinding referendum against the Venezuelan government. The vote was organized by groups seeking to undermine Venezuela's unpopular president, Nicolás Maduro. (Rhona Wise/AFP/Getty Images)
By Anthony Faiola and Nick Miroff
https://www.washingtonpost.com/world/national-security/even-as-trump-tightens-asylum-rules-thousands-of-venezuelans-find-a-warm-welcome-in-miami/2018/05/15/5e747fec-52cf-11e8-a551-5b648abe29ef_story.html?utm_term=.357892d28b78May 18
MIAMI — Venezuelans seeking asylum in the United States are arriving to this city in soaring numbers — and receiving a far warmer welcome than the Central American migrants President Trump wants to block at the Mexican border.
Last year, 27,629 Venezuelans petitioned U.S. Citizenship and Immigration Services for asylum, an 88 percent increase from 2016 and up from 2,181 in 2014. So far this year, the number of Venezuelans who have applied — nearly all of them in Miami — is almost three times as great as any other nationality, according to the latest USCIS asylum data.
Unlike the Central Americans who wade illegally across the Rio Grande and turn themselves in to U.S. border guards, the Venezuelans typically land at the Miami airport with tourist and business visas.
Read more...
Posted by Joan Russow
Sunday, 24 June 2018 11:11
The destablization of Latin America ; the Guatemala example .  It is important to take into consideration the role of the US in destabilizing Latin America, along with the US role in the School of Americas;. the US obsession over the years with stamping he " red infection "cannot be ignored in the discussion of refugees. The three enclosed articles provide background of the US involvement in destabilizing Guatemala, in supporting dictators and in protecting corporate interests.
Joan Russow 
Global Compliance Research Project.

Guatemalan President Jacobo Arbenz (center facing camera) in 1951, before a U.S.-led overthrow (HO/AFP/Getty 
Congress, the CIA, and Guatemala, 1954
STERILIZING A "RED INFECTION"
CONGRESS, THE CIA, AND GUATEMALA, 1954
DAVID M. BARRETT
One of the paradoxes of legislative oversight of intelligence in the early Cold War period was that the United States Congress could give strong, if de facto, support of aggressive covert action while, with the exception of a few leaders, not really knowing which such policies were being carried out. Guatemala is a perfect example. Following its 1944 revolution, which brought democratically elected leftist governments to power, this Central American government faced an increasingly hostile neighbor to the north, the United States. Guatemala's treatment of US-based corporations, especially the United Fruit Company, in expropriating land and other assets, did nothing to improve relations. Elites in Guatemala helped persuade US journalists and members of Congress, not to mention the executive branch, that their government was veering further and further leftward toward Communism in the early 1950s.
Late in the Truman presidency, the US government aborted an attempt to support Guatemalans who aimed to overthrow President Jacobo Arbenz. Those at CIA Headquarters who were involved in the effort felt "grimly" about that "horrifying" turn of events, one Agency leader noted in his diary. But, not surprisingly, new administration leaders--President Dwight Eisenhower, Secretary of State John Foster Dulles, and DCI Allen Dulles--also persuaded themselves that the Guatemalan government was "red." The CIA leader had help from the Board of National Estimates, which informed him on 22 April 1954 that "The Communists now effectively control the political life of Guatemala." 1 A deal made by Arbenz's government to purchase Soviet-made armaments from Czechoslovakia that spring only sealed the matter in the American leaders' minds.
Last Updated on Monday, 25 June 2018 17:24
Read more...
Posted by Joan Russow
Saturday, 23 June 2018 14:14
Global Compliance Research Project
THE INFLUENCE OF IRWIN COTLER AND UN WATCH
The panel's members — Santiago Canton of Argentina, Irwin Cotler of Canada and Manuel Ventura of Costa Rica — called for a formal investigation into the charges and asked the Secretary General of the Organization of American States (OAS), Luis Almagro, to submit their report to the ICC.
Irwin Cotler is a member of UN watch a right wing group that has targeted socialist countries and countries that have criticized Israel. Venezuela has been their target since at easy 2012 when Caprile, a Jewish opposition Leader ran against Chavez. The head of the group is Hillel Neuer a lawyer from Montreal. The group was also concerned about Chavez protesting against Israeli treatment of Gaza and in 2009 and against the expelling of the Israeli embassy. On Chavez death,  Hillel Neuer, the head of UN Watch, a pro-Israeli front group referred to Chavez, internationally, as a "symbol of evil;" and decried that Chavez was given a one-minute of silence tribute at the UN Human Rights Council.
UN watch has targeted President Chavez over the years and has had an inordinate amount of access to the international media.. Disturbingly one of UN Watch`s directors is another Canadian, MP Irwin Cotler.
The NGO, UN Watch, targets specific states like Venezuela and leaders, such as Hugo Chavez and ignores the failings of other states, such as the US, Canada and Israel.
http://pejnews.com/index.php?option=com_content&view=article&id=8981:the-ngo-un-watch-targets-specific-states-like-venezuela-and-leaders-such-as-hugo-chavez-and-ignores-the-failings-of-other-states-such-as-the-us-canada-and-israel&catid=74:ijustice-news&Itemid=216
UNITED STATES HAND IN UNDERMINING DEMOCRACY IN VENEZUELA
Last Updated on Saturday, 23 June 2018 19:38
Read more...
Posted by Joan Russow
Thursday, 21 June 2018 14:32
Time for a US Apology to El Salvador
Obamaexpressed regret for US support of Argentina's "dirty war." It's time Washington did the same regarding our active backing of right-wing butchery in El Salvador.
By Raymond Bonner APRIL 15, 2016
https://www.thenation.com/article/time-for-a-us-apology-to-el-salvador/
Women look over the excavation site where the remains of their friends and relatives are being exhumed by forensic anthropologists in El Mozote, El Salvador. (AP Photo / Luis Romero)
Ready To Join The Resistance?
Sign up for Take Action Now and we'll send you three actions every Tuesday. 
You will receive occasional promotional offers for programs that support The Nation's journalism. You can read our Privacy Policy here.
Over the ages, the United States has routinely intervened in Latin America, overthrowing left-wing governments and propping up right-wing dictators. President Obama pressed a reset button of sorts last month when he traveled to Cuba and Argentina. Now it's time for him to visit a Latin America country that is geographically smallest but where Washington's footprint is large and the stain of intervention perhaps greatest—El Salvador.
Last Updated on Thursday, 21 June 2018 15:11
Read more...
Posted by Joan Russow
Thursday, 21 June 2018 13:45
October 31, 2016 9.00pm EDT - Author
 Joseph Nevins Associate Professor of Geography, Vassar College
Disclosure statement
Joseph Nevins is a member of the editorial committee of the North American Congress on Latin America (NACLA).
Partners
View all partners
Republish this article
Republish Republish our articles for free, online or in print, under Creative Commons licence.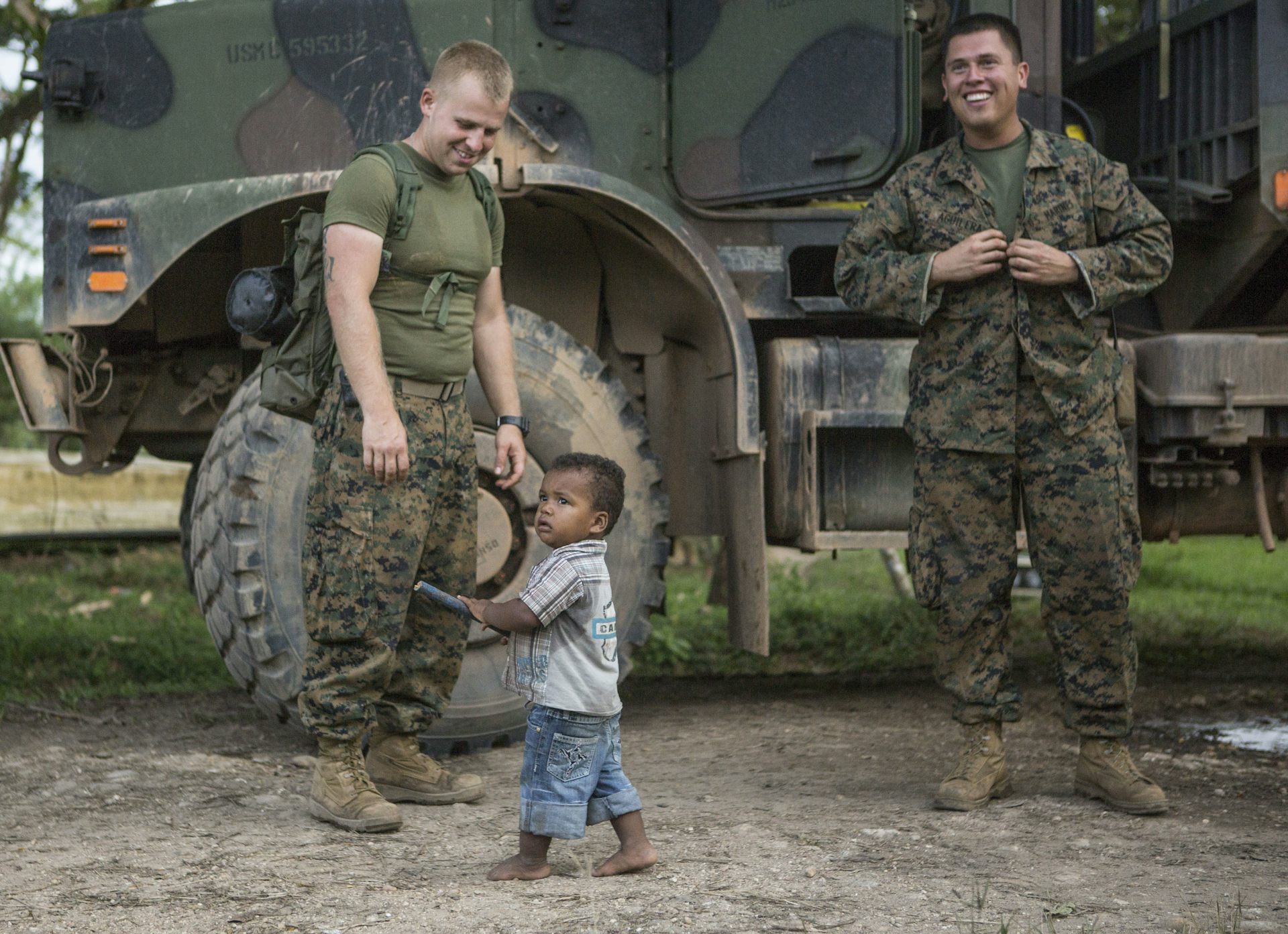 U.S. Marines in Honduras in July 2016. 
Central American migrants – particularly unaccompanied minors – are again crossing the U.S.-Mexico boundary in large numbers.
In 2014, more than 68,000 unaccompanied Central American children were apprehended at the U.S.-Mexico boundary. This year so far there have been close to 60,000.
The mainstream narrative often reduces the causes of migration to factors unfolding in migrants' home countries. In reality, migration is often a manifestation of a profoundly unequal and exploitative relationship between migrant-sending countries and countries of destination. Understanding this is vital to making immigration policy more effective and ethical.
Through my research on immigration and border policing, I have learned a lot about these dynamics. One example involves relations between Honduras and the United States.
U.S. roots of Honduran emigration
Last Updated on Thursday, 21 June 2018 22:03
Read more...
Posted by Dragonslayer
Thursday, 21 June 2018 11:43
Well Donald ... Your dream of being on the cover of TIME has come true. For someone who thinks any news is good news; how do you like this
Last Updated on Thursday, 21 June 2018 11:48
Posted by Joan Russow
Thursday, 21 June 2018 10:18
Photo taken on June 20 World Refugee Day  on the Steps of the BC Legislature
The United States is the only country that has not ratified the Convention on the Rights of the Child
Under the Convention on the Rights of the Child is the recognition of the inherent dignity and of the equal and inalienable rights of all members of the human family is the foundation of freedom, justice and peace in the world:  (Convention On the Rights of the child)
1.  To not detain refugee claimants (and other immigrants) as a matter of routine, for lengthy periods of time because they lack money or family is unable to post bond. The UNHCR has published guidelines on the detention of asylum seekers objecting to such detention. The concern is that the grounds and powers of arrest result in abuses of fundamental human rights. powers of arrest result in abuses of fundamental human rights.
In a debate,  a Trump supporter exclaimed that Trump would be a hero if he anounced that the children would no longer be separated from their parents, his opponent said that is like praising the arsonist who put out the fire [given it was Trump who initially gave the zero Tolerance edict]
Last Updated on Friday, 22 June 2018 09:45
<<

Start

<

Prev

1

2 3 4 5 6 7 8 Next > End >>


Page 1 of 8